"sympathy for the poor emerges from the hearts of the poor. One beggar knows the pain of another." The dog, he says, is "a creature similar to me, who begs to eat." – Bangdel wrote in his most famous short novel The Cripple's Friend.
While Nepali society knows Lain Singh Bangdel as an artist, and while scholars laud his contributions to Nepali art history, his lasting legacies are uncountable. In addition to being a leading authority on Nepalese art, Bangdel was responsible for introducing the modern trend of Western art into Nepal("Bangdel era")with his pioneering one-man exhibition in Kathmandu in 1962. He is supposed to have introduced realistic writing in Nepali literature during his stay in Calcutta during 1940s.
Lain Singh Bangdel born to Ranglal Rai and Bimala Rai in 1919 in Darjeeling. As a child, he would paint everywhere, even on the walls of his home and street. Ranglal worked at a tea estate, and one day came home with a small collection of postcards given to him by his British employer. Bangdel was only eight then, but the images of various Impressionists and post-Impressionist artists, Corot, Millet, Monet, Manet and Turner were etched in his young mind. More than the others, Bangdel said later it was the French painter Corot whose work 'captured his soul' and inspired him to pursue his passion.
In 1952, Bangdel enrolled at the French National Art School in Paris. Part of the cost was defrayed in a strange way. Bangdel had painted a portrait of Balkrishna Sama and it impressed General Keshar Shumsher Rana so much that he sent over Rs5,000, quite a hefty sum in those days.
In later years, Bangdel went on to receive many national and international awards, including the French Ordre des Arts et des Lettres, the Order of the Crown of Italy (Commendatore) for his contribution to the study of Nepal's early history and art. In 1987, Bangdel was awarded the honorary Knight Commander of the Victorian Order by Queen Elizabeth II.
It was only in high school that Bangdel came to realize that he wanted to be an artist. In 1939, he joined Calcutta Arts College. Calcutta was where he met Indian filmmaker Satyajit Ray, and the two became lifelong friend BP Koirala. Bangdel and Koirala were very good and close friends- until the very end of their lives. Their friendship had started when Bangdel was a student in Calcutta Arts College. Even though Bangdel was not a politically active person, Bangdel can be described as a very influential person in BP Koirala's life. Later, Bangdel had helped Koirala to escape Nepal and settle in Darjeeling for few years, where Koirala started to practice law at first in Darjeeling District court, (which later he described- 'a phase where I understood the problem of Nepali diaspora.") It was Nepali literature and common interest in arts that had brought two figures together. Koirala often visited Bangdel in his official and unofficial tour, indeed Koirala stayed in Bangdel house not as a guest but as a family member.
They often exchanged letters and their letters hold very important academic thoughts, not only them, but their spouses too were very close to each other.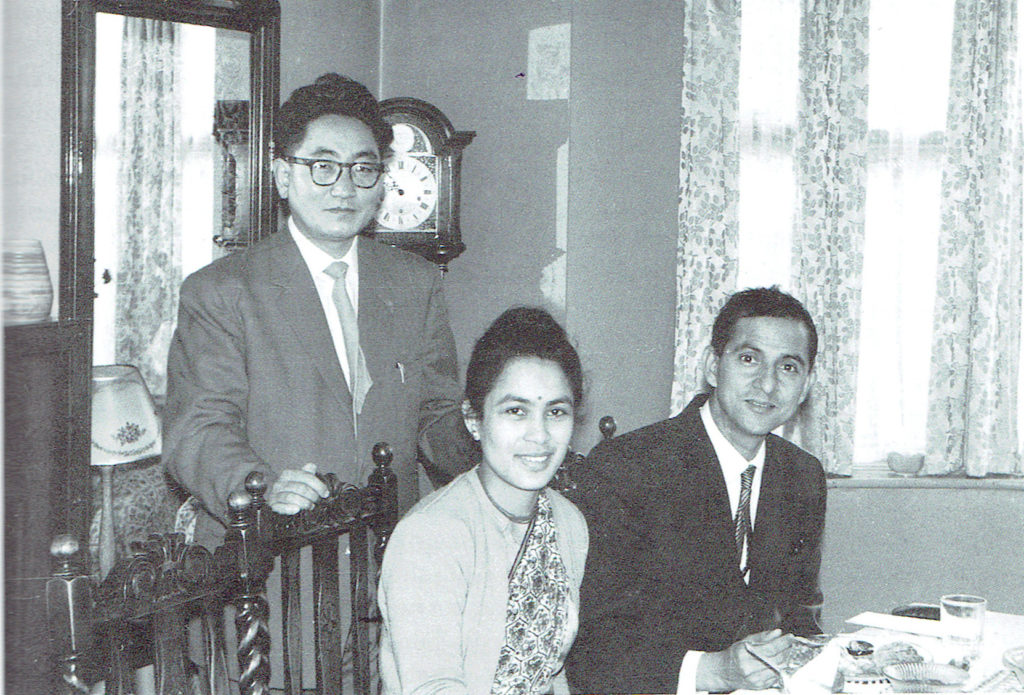 After graduation, Bangdel got a job as a professional artist in a DJ firm in Kolkata. Bangdel produced pictures of daily life in Bengal, including the poor suburbs of Kolkata. He had published many novels and works focusing on writing in Nepali. Many of his literary works are now being taught at the university level in Nepal and India.
Before the mid-century, Nepalese literature was dominated by romantic novels and sentimental poetry written by and for the upper classes. Then Bangdel, a commoner outside of Nepal from Darjeeling, made a clean break from the past and wrote three novels of social realism. Two of them describe the lives of Nepalese prabasi (exiles, migrants) who sought employment and settled in northeast India as laborers or soldiers returning from military service after World War-II. The third exposes the suffering of a crippled beggar on the streets of Darjeeling. Each reflects the artist's Nepalese identity, each displays a level of humanism and authenticity unparalleled in previous Nepali writing, and each is clearly the work of an artist. Bangdel's novels portray life 'as it is,' featuring the struggles of ordinary people coping with difficult circumstances. He wrote as a naturalist who saw the world as a painter sees it, inscribing its colors and its moods in print.
As a child, Bangdel heard stories about the home his grandparents left behind in Nepal and of their struggles adapting to a new life in the hills of Darjeeling. He grew up in the close-knit, ethnic subculture of a Nepalese laborers' village on a Darjeeling tea plantation. Some of the principal inspirations for the realism he achieved in his paintings and novels were drawn from those experiences, especially of migrant families far from their ancestral home and of the economic and social traumas and misfortunes they suffered. These are what grounded Bangdel's identity as a Nepali.
In high school, young Lain's talents for painting and for writing were recognized and encouraged. He perfected it by studying art and writing novels in Calcutta (1939-50) and by scrutinizing and emulating the styles of the Great Masters. The realism he encountered in Western literature and film also influenced him. In Calcutta, his creativity benefited from his identity as a Nepali born and raised in the Himalayan hills, and it is clear that the autobiographical overtones from his youth and young adulthood show up in his early paintings and his novels. Later in life, the strong Nepalese themes he wrote into his novels were subsequently reflected in the more mature paintings he produced in Paris and London (1952-60) and in Kathmandu after he and his wife Manu settled there in 1961. Then King Mahendra often requested and invited him to get back to Nepal, and establish a school or institution that would help Nepali cultural reform in arts and literature, but Bangdel often stepped back with his work. It was later in early 1960's Koirala made a special request with the words of King Mahendra on which Bangdel agreed to. He was offered a job at the Royal Nepal Academy and eventually became its vice-chancellor. He later went on to become the founding general-secretary of Nepal Art Council and the New Art Circle, where he taught 15 talented new artists for free.
Lain Singh Bangdel found distinctiveness in his own ethnic background, particularly through the portrayal of the Nepali people and their social conditions, with the preoccupation of poverty and misery derived from the same inspirations as were those in his novels and paintings. In fact, the difference between his writings and paintings was only that of the medium; in terms of theme and mood, the message was the same. He had a skill which was attributed to his artistic prowess that cannot be challenged.
Writes – Anuvishub Sanjay Tamang. He is an essayist, fiction writer based in Darjeeling, and student of postcolonial studies.