Coimbatore
Some of you might have heard of Isha Yoga headed by the popular spiritual mystic, Sadhguru Jaggi Vasudeva. Isha first consecrated a grand bust of Adi Yogi (First Yogi) Shiva at the 2017 Mahashivrati festival at Coimbatore. At a mind-boggling height of 112.4 ft. and length of 147 ft., the steel masterpiece is recognised as the largest bust in the world by good ole Guinness World Records. Amish Tripathi and I amongst others believe that Shiva is a Himalayan being originating from the Trans Himalaya south of the Tibetan Plateau region, where Mount Kailash is situated. In a physical form, it is natural to visualise Shiva with Mongolian racial features and weather-burnt skin. But what profuse are depictions of him with big eyes and a long nose? Definitely not like Mohit Raina in the TV serial Devon ka Dev-Mahadev. When Isha unveiled the statue I was disappointed to see the same Aryan features with a super chiselled nose. But as I watched the Isha Mahashivratri celebration this year, I was in for a pleasant surprise. The night lighting suddenly transformed the same face, especially the eyes as distinctively Mongolian. See for yourself.
Denials, denials, denials from Pakistan
You know most of us to get into deadlock situations when one side is always denying. Truth, simple truth is the way to carry on. But ego and fear come in the way leading to the breakdown of all trust. Now that is what is happening between Pakistan and India. Pakistan's Major General Mehmood Qureshi claimed on March 6 that JeM does not exist in Pakistan. Now, what exactly did he mean? Did the Balakot attack terminate them all? Earlier, on March 2, the same General had said that the JeM Chef Masood Azhar was in Pakistan and on March 5, he said that 44 of the lot including son and brother were in 'preventive custody'. Within four days the General played the game of 'Now you see me, now you don't'. Ex-President and Military Chief Pervez Musharraf now say JeM flourished out of Pakistan during his time. All of them need to get together and sort it out, with proofs, of course. Or else they will shout 'saboot, saboot, saboot'.
As for Pak PM Imran Khan, his colourful past life still dogs him with either ex-wife commenting on TV or a long time ago ex-girlfriend Sita White popping up again and again. Now on 11 March, Lahore Court will hear a plea of disqualifying him as PM. Why? Because, at the time of filing his nomination papers in 2018, he had hidden the fact of having fathered a love child Tyrian, with Sita way back in I992.
Noisy people in Shimla
An issue related to us hilly-billys happened at the Ripon Hospital, Shimla. A poor hill woman patient was scolded by the doctors saying "people from hilly areas make unnecessary noise'. Further, due to medical negligence, her right arm was amputated. Now, her case has resulted in a Supreme Court order of Rs10 lakh in compensation be granted to her by the hospital for their 'insensitivity'. The hospital has been given three months time to make the payment or bear the burden of piling interest. Patients do tend to display a lot of hysteria making it difficult for doctors to identify genuine cases. But at the end the day, docs will have to refrain from making personal remarks.
Brit Booty
The Brits carried off all our fortune back home aboard their ships. God knows how many British homes still have the booty of their great granddads. Guess what a couple found in the attic home of their Berkshire home? Eight goodies belonging to the mighty eighteenth-century ruler Tipu Sultan of Mysore, which includes a Grand flintlock gun, a gold-encrusted sword, shield and a betel nut casket. The 220 years old items are expected to fetch millions of pounds in an auction this month! Rightfully, they should all be returned to India. In 2014, Tipu's gold ring was sold at Christie's auction for 145,000 pounds and in 2016, some other belongings sold at an auction for six million pounds!
Mera, Lady of the Week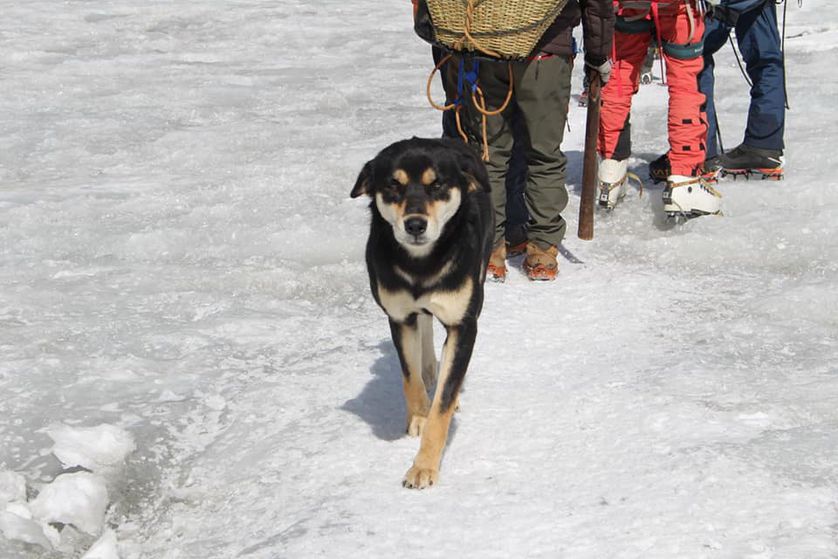 The week's special is about a dog called Mera who deserves an Award for Outstanding Female Animals. This Himalayan female stray crossed a glacier and padded past other climbers straight to Don Wargowsky, the leader of a mountaineering expedition on their way to climb the 7000-metre high peak called Baruntse, near Mt Everest in Nepal. Through many trials and tribulations of mountain terrain, Mera remained attached to Don for the next three weeks. On the day of the final climb, she was left sleeping in the tent when the climbers set off early 2 am. But she woke up later and in two hours, caught up with the team over a route, which had taken them seven hours. Amazing achievement at -20 degrees Celsius with no gear, no coat, no snowshoes, no compass. In fact, she raced ahead of them to the top and in Don's words "I'd never been on top of something like that with a dog. She was leaning against me and wanted to be petted. It was pretty surreal." Time and again animals especially dogs have shown great connect with humans. Reminds me of the 2009 Richard Gere movie 'Hachiko' based on a true story of the attachment of an Akito Hun breed dog to his master Professor Ron Parker. The bonding of Mera, the Himalayan mastiff and Himalayan sheep cross stray and Don Wargowsky is a story waiting to unfold on celluloid, with Mera actually replaying her role.