The TMC and GJM (BT) faction yesterday held a booth level meeting of their cadres at Gorkha stadium in Lebong, where everyone decried. Present in the meeting were almost all the Development Board representatives, TMC leaders, their candidate Amar Singh Rai and Binay Tamang and Anit Thapa.
Speaking at the occasion, Binay Tamang attributed peace and development to Mamata. He said, "the Chief Minister has ensured peace and development in the hills, and she has assured us that she will resolve the identity crisis faced by the Gorkhas." He also announced that Mamata will address a TMC-GJM rally in Darjeeling on April 10th.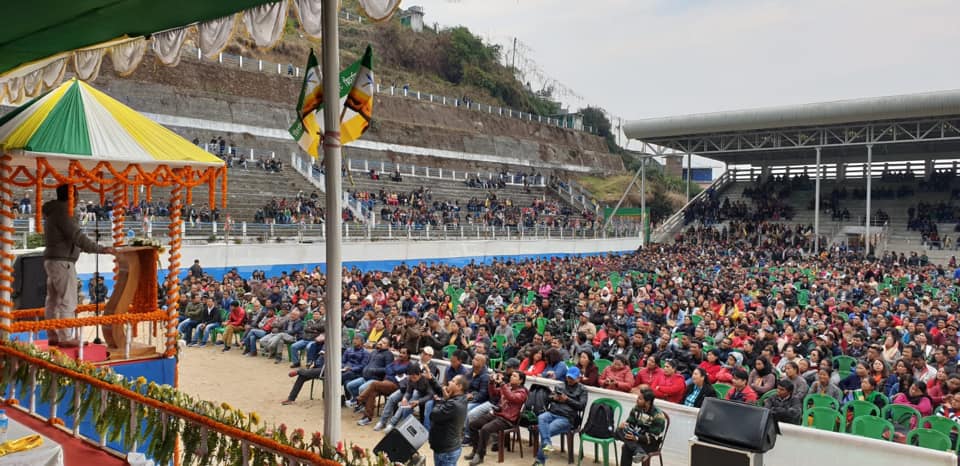 Calling for politics of rational, instead of emotions TMC candidate Amar Singh Rai said, "We have done enough politics with emotions and sentiments. What have we gained? It is time we indulged in politics with our heads and not just our hearts. We have to revive the past glory of Darjeeling."
Coming down heavily on BJP. TMC observer for Darjeeling, Aroop Biswas alleged that BJP leaders have constantly hoodwinked the Hills.
Reminding the crowd of BJP betrayals, he said, "Even Prime Minister Modi had said that the dreams of Gorkhas are his dreams, in the election campaign for Ahluwalia. Where did Modi disappear? Did he ever come to Darjeeling to find out how the Gorkhas are doing? Whether everything is fine with the Gorkhas?"
"On the contrary, Modi's government has been sitting over a recommendation given by Chief Minister Mamata Banerjee on February 28, 2014, for the inclusion of 11 Gorkha communities in the Scheduled Tribe list" he added.
Crediting the GTA and Municipalities for doing tremndous development work, Mr. Biswas stated, "In the Hills, the GTA and municipalities have done great work. They have ensured peace and development, this is why we will win with landslide margin."