One of our readers working as a teacher in Kathmandu sent to us a story about a group of fraudsters, who are going from school to school in Kathmandu, extorting money from Darjeeling based teachers. They call themselves to be Darjeeling residents and pretend to be facing some trouble, and then request for monetary help. The story as narrated by our reader goes as follows:
This is to aware people about an exasperating incident of extortion of money by Swindlers!! (Calling themselves from Darjeeling)
A couple accompanied by an old woman is going around schools in Kathmandu, identifying themselves to be from Darjeeling, narrating their helplessness and extorting money from Darjeeling teachers.
Their story is :
The old lady had a son like a figure from Khotang. They had good relationship bond. He suggested the old lady that flying to European countries like Denmark is easy from Nepal than from India. Thus, as he suggested, the old lady came to Kathmandu with her daughter-in-law, to be sent for a job in Denmark carrying 4lakhs INR. The man who came along was her Dharam Putra(according to her). The man from Khotang received them in Kathmandu and made them stay in a hotel in Swayambhu. He took the cash telling he has to deposit it for processing. He did not return. Not seeing him return, they went to Police but police could not verify without his any identity proof. They were helpless. They had 15000 INR which made them pay the hotel bills and food for a week. The Dharam Putra wanted to run errands and earn but a huge problem of stay struck them. The old lady remembered her distant relative daughter Yangzi to be working in a Hospital (which is near my school) and came to get some aid. She could not trace her there and happened to land near the school gate am working now. They wanted Rs 5000 to get back home.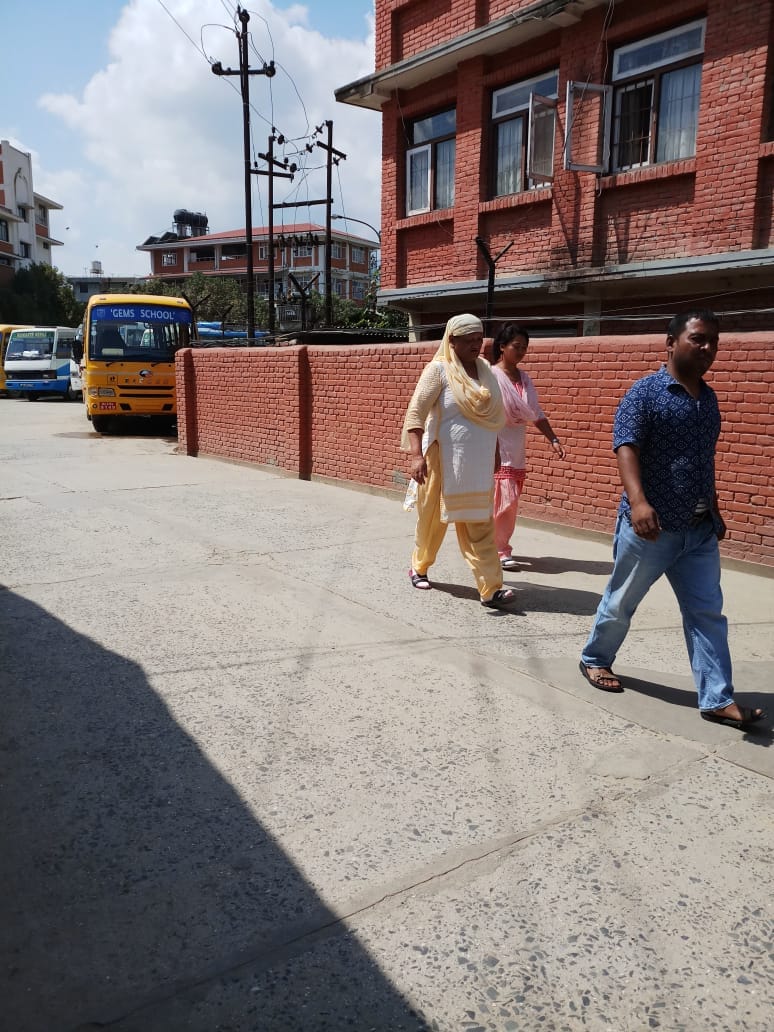 (The old lady identified herself having a stall in front of Das Studio before and now shifted to Mall Road).
What actually happened:
Friday, 28th September 2018(9.30 am approx)
They inquired in our school gate if any teachers from Darjeeling worked here. Guard with honesty gave my friend and my name. They got in (most probably allured the guard too), and was allowed to sit in Hostel Office (office near to the main gate). I was occupied with back to back classes that day till lunch. I had no information what was going around. My colleague ( the other from Darjeeling) was free in the first half and was notified, that people from Darjeeling have come to meet. Staying away from home, definitely, we get excited to know who and why from our Hometown? She met them and the above story was narrated to her. She was emotionally carried away with their helplessness and gave Rs 2000 from her side and they wanted to meet me too. But as I was stuck with my classes, I couldn't come, rather I had no idea what was happening there. I was free by lunch, till then they had already left.
Somewhere, I remembered, a similar post being shared on Facebook. I fiddled to find out the pic. When I showed the picture to my colleague, she confirmed, it was them!!
My reason to share is- They are still here in Kathmandu, doing such a distressing act. If anyone here in Facebook knows them, or know about their whereabouts, be it, neighbour, friend or relative, please ask them to stop such act. They have no right to malign the good image of Darjeeling.
Amazingly, an ex-teacher at a school in Kathmandu also says to have come across these fraudsters around 7 years ago, using the same trick to dupe people of their money.