Other than a select group of people who deal in curios, we can safely bet that no one has ever heard of the term – "Jorebunglow Tibet," we had not.
It piqued our curiosity and we wanted to know more about what this term "Jorebunglow Tibet" meant.
Our search led us to the amazingly talented brothers – Krishna Bahadur BK (born in 1954) and Dil Bahadur BK (born in 1957), two of the many such personalities that almost all of-of us have never heard of before today, or would have cared to pay attention to, This is their story and the ordinarily extraordinary story behind the phrase "Jorebunglow Tibet."
GURU-JI
In 1971 a monk Nawang Dorjee came from Tibet and settled in Jorebunglow near where the brothers live today. The Monk belonged to Tashi Lamu Gumba in Tibet. Gradually over time the brothers came to know the monk better, turned out that he was an extraordinarily talented Master of Tibetan Wooden Carving and Bone Carving (Yak Bone). The monk took the brothers under his wings and taught them the art of Bone and Woodcarving. The monk went on to become their GURUJI.
The Guruji taught them to make the product – a bone made apparel made by carving Yak Bone called RUGEY (In Tibetan) or Tantrik (In Nepali). Mainly Monks (In monasteries) wear these apparels while performing their Tantrik rituals. GURUJI used to sell his Bone Carved products to Monasteries in Darjeeling, specifically Dali Monastery.
When the duo learned his skills, GURUJI started giving work to them. In the year 1971 GURUJI used to pay them Rs. 20 to Rs. 30 per day as their labour charge. During this time other labourers who were engaged in construction work or other such works used to get Rs. 9 per day. They were earning well and much more than others.
Later GURUJI started selling his product at Curio Shops in Darjeeling. Along with the two, there were around 13 people working together carving bones and wood.
And when they gained more efficiency they started taking orders from GURUJI also and started making more products. GURUJI used to buy that product for Rs. 3000 from them. Later they found that their product was sold at Rs. 27000 to Rs 28000 by GURUJI at different Curio Shop.
In the Year 1992, their mentor GURUJI left them and went to Mysore, after his departure, the brothers started working independently and started taking orders. Some of Darjeeling's most famous curio shops, including HABIB MALLICK, who went on to become their main buyer, bought handcrafted products from them. During the year 1998, they used to sell their products for Rs. 17000 per piece to curio shops.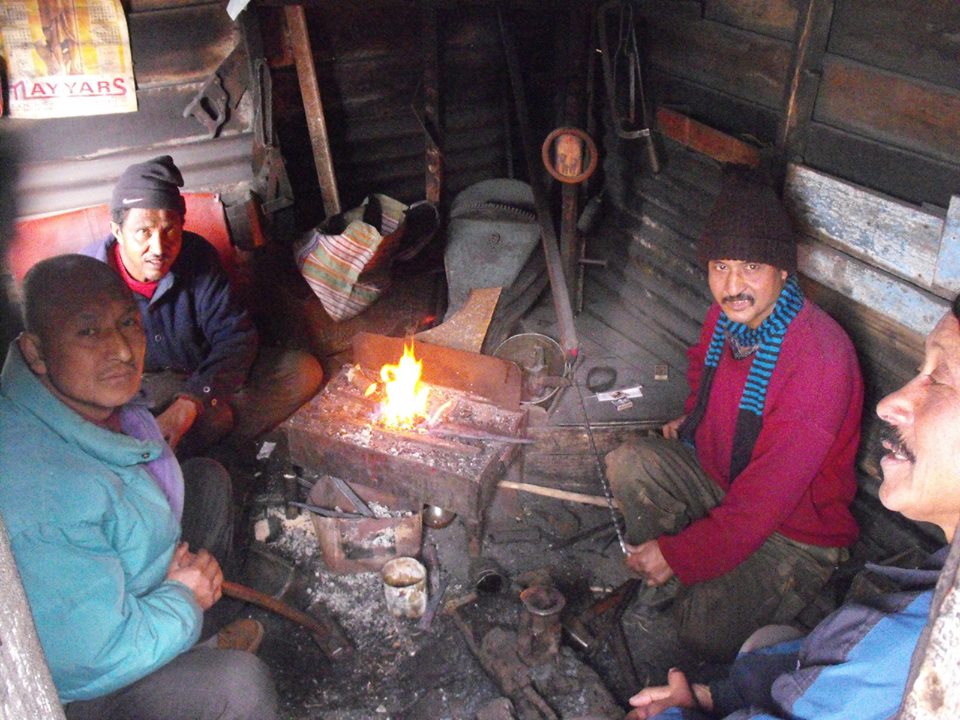 JOREBUNGLOW TIBET
Their work was so exquisite and so perfect that even the most keen eyes in the curio business mistook their products as "Made in Tibet" – even the experts could not tell the difference.
Hence in the curio business circles in Darjeeling/Sikkim/Nepal region, Jorebunglow is better known as 'JOREBUNGLOW TIBET' – in honour of the brothers who were making products, or as amazing a quality, as by the finest craftsmen of Tibet.
Even today they can produce an extraordinary range of products from bones – Skulls of Buddhist deities, wooden works in monasteries, Dyangro (Drum). In the past, the younger brother Krishna Bh. Biswakarma has even repaired a wooden product called LEPSING for Dali monastery (Lepsing is used for covering Postaks).
MISSED OPPORTUNITIES
During their heyday's they travelled to far off places like Bodh Gaya to work and carve in monasteries. Apparently, at one point in time, Krishna Bahadur even got a job as Ward Boy for Rs. 90 per month. Also, he joined MES (Military Engineering Service) as a helper in Metal work-related section. But he was an artist at heart, and could not concentrate on anything else. So he quit the job and returned to carving.
The younger brother Dil Bahadur, like every Gorkhali, wanted to join the Army and even tried for it, but he could not make it. However, even he did not want to do anything else, other than perfect the art of Bone and wood carving.
But now both of them regret their decisions. They expect stability, but that is one thing they don't have.
UNAPPRECIATED ARTISTS – DYING ART
Sadly for the past some years, business has been very slow, today the monasteries use Plastic made products, most of which is ironically made in China, instead of the real products made from carved bones.
So how do they sustain themselves? They are blacksmiths by profession and are one of the very few people in the vicinity of Darjeeling who still make traditional weapons and agricultural implements right from the scratch.
In the developed countries handcrafted products sell for extraordinarily high prices, in Japan those who craft items from hands have legions of followers, but sadly in Darjeeling and as in every other part of India, we do not respect such amazing talents, and often prefer to buy tools forged by the machines.
There is romance in what they do, and we were completely blown away by their skills, knowledge and passion for their work. Seeing the brothers work to create various tools was almost like watching a master painter paint, or a master musician plays the best music of their life.
Sadly their's is a dying art, as no one came to them to learn their skills. They lamented that no one even from their family or village knows their unique skill, and even though they want to teach what they know to someone willing to learn, so far no one has approached them for training them.
TheDC REQUEST
This is not just the story of Krishna Bahadur and Dil Bahadur alone, there are many such amazingly talented artists amongst us, whose work often goes unseen, unheard and unappreciated.
We request our readers to support these local workers, even if you buy one Khukuri made by them, or even if you buy one kodalo or even a chino, you will not just be supporting them economically, but you will be supporting their art and the artist in them.