Dr Choden Norbu is the first doctor from the hills of Darjeeling and Sikkim to obtain Super specialisation MCh ( Magister Chirurgiae) in the Field of Plastic and Reconstructive Surgery from SSKM & IPGMER Hospital Kolkata in August 2018.
Dr C Norbu is the youngest daughter of Mr Sonam Norbu Bhutia WBCS exe (Retd) and Mrs Tshering Lhamu Bhutia of 122, Gandhi Road, Darjeeling and did her early schooling from Loreto Convent Darjeeling. Sensing better opportunities for her dream of securing a medical seat she left for Delhi in 1994 to complete her higher education from Mount Carmel School, Delhi and subsequently cracked the Delhi Medical Entrance in 1996 and was granted admission in Maulana Azad Medical College, Delhi. On Completion of her MBBS in 2002, she took another year of preparation for cracking the Postgraduation Entrance Exams as her first attempt was unsuccessful. As perseverance would have it she was successful this time around in 2003 and opted for General Surgery (MS) in the same parent institute and was awarded the degree in 2006. She further worked as a Senior Resident in the same institute for another year before she returned to settle down with family closer to home in Siliguri, in the process spurning a job offer from a reputed Hospital in Singapore around the same time.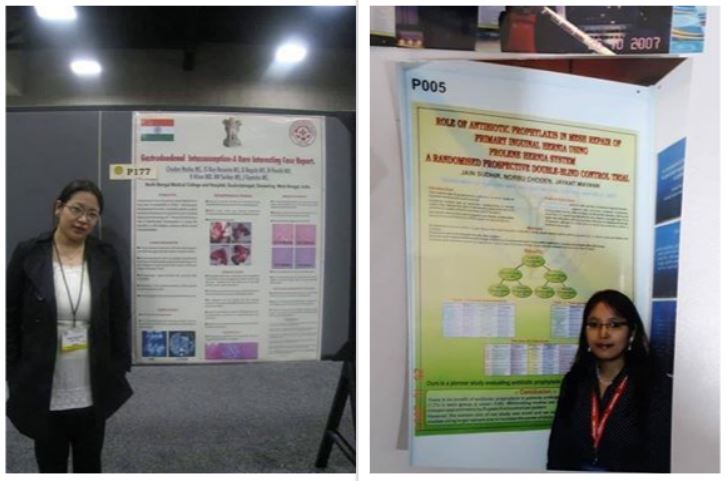 In 2010 she was appointed as an Assistant Professor with the West Bengal Medical Education Service and posted in the Department of Surgery in North Bengal Medical College and Hospital from 2010 to 2014. A promotion came her way in 2014 and she was elevated to the rank of Associate Professor and worked in this post till 2015.
She has presented and authored many peer-reviewed articles which have been published in both national and international journals ..the most notable presentations being one that was presented in Singapore in October 2007 at the Asia Pacific Hernia Society (APHS), titled "Role of antibiotic prophylaxis in mesh repair of primary inguinal hernia using Prolene Hernia System:" a randomised prospective double-blind control trial and in the prestigious Society Of American Gastrointestinal and Endoscopic Surgeons (SAGES) San Diego, California , USA
March 7- 10, 2012 for Gastroduodenal intussusception, a rare interesting case report.
In 2015 ,having set her sight for a bigger goal , she cleared the postdoctoral entrance examination and chose Plastic and Reconstructive surgery as she realised that there was a huge vacuum in this discipline in the Govt Sector in North Bengal where most of these patients requiring a Reconstructive surgery had to be referred to Kolkata for further management .
As a Plastic surgeon in her academic capacity ,her paper titled "Aesthetic Penile Reconstruction -A Plastic Surgical Reality" has already won her the best paper award on the Foundation day Scientific Committee Session of the Institute of Post Graduation,Medical Education and Research (IPGME&R), Kolkata ,and also in the State Conference of the Association of Plastic and Reconstructive Surgeons of West Bengal that was held in September 2018. This paper was also selected to be presented at the Annual National Conference of Association of Plastic and Reconstructive Surgeons of India in Lucknow 20th November and bagged the third prize.
Though Plastic and Reconstructive surgery is a huge and diverse field and involves time and a multidisciplinary approach where sometimes one has to operate continuously for more than 10 hours while doing a microvascular surgery ,It is also a fact that it is a poorly misunderstood subject where people only associate it with cosmetic surgery which is in fact only a small portion of it. She hopes to come back and do some good and sincere work in this field and through her work educate the people to what this subject entails. And With her special interest in Breast Disorders, she also hopes to establish a fully functional Breast clinic with the support of the administration to tackle this huge problem of Breast Cancers that have been almost reaching epidemic proportions.
We wish her all the best in this new journey of hers.