Today the world celebrates the International Women's Day. The United Nations began celebrating the International Women's Day in 1975, the International Women's Year. In 1977, the United Nations General Assembly invited member states to proclaim March 8 as the UN Day for women's right and world peace.
Women being the most important cog in the wheel of life need to be given their share of opportunities and the freedom to define their own life. They have no doubt come a long way but much more needs to be done to lessen the gap between genders.
As per the report of the World Economic Forum this gender gap won't close entirely until the year 2186. What a long time to go still. This gender inequality exists in all sphere of our lives. Therefore the theme chosen this year for the International Women's Day is "Think Equal, build smart, innovate for change", focusing on innovative ways to advance gender equality and the empowerment of women, particularly in the areas of social protection systems, access to public services and sustainable infrastructure.
Antonio Guterres, the Secretary-General of the United Nations says, "Let's make sure women and girls can shape the policies, services and infrastructure that impact all our lives. And let's support women and girls who are breaking down barriers to create a better world for everyone".
We in India have a great deal more to do. The change here has to start from our home as that is where our subjugation starts. Although we have come a long way, yet there are belts where discrimination is rampant. Every other day we get to hear about female foeticide and honour killing. The girl child is not allowed to go to school and she is overlooked by parents in lieu of the male child. Then comes the society. We need to make the male chauvinist system aware that the girl and woman both need to be respected at home as well as outside. Education has been and is a great leveller to make aware of our rights and necessities and education has to reach the masses, especially to the last girl in the queue.
Brigham Young had written, 'you educate a man; you educate a man. You educate a woman, you educate a generation'. Thanks to the parents who dreamt to make the girls educated and battled odds to bring them to the fore that we are proud to take their names and hold them as shining examples for the future generations to come because 2186 is still many years away.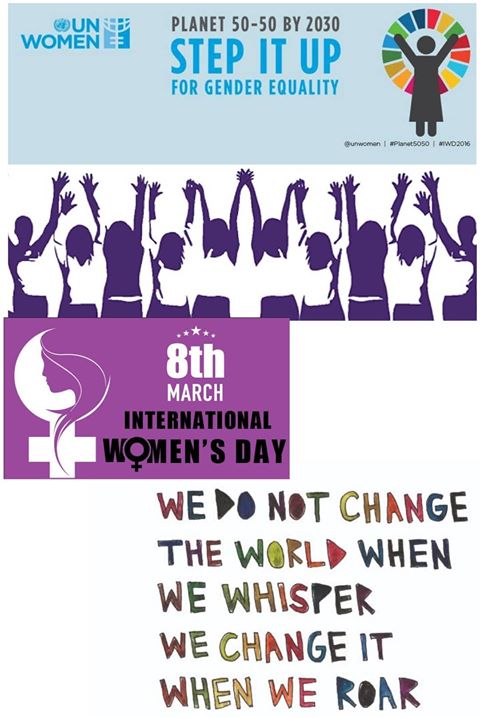 The way we celebrate women when they succeed without blinking an eye as if we had ourselves won them, the same attitude should be shown towards women as a whole. Let them speak their minds. Let them take part in professions of their choice. Let them be themselves. Let the choice be theirs as is ours for us. If we have to impose something let us impose it on ourselves to help them reach their goals and achieve their aspirations and keep in check our egos. Let us impose on ourselves to respect the women with the respect they deserve, to respect their feminism, to respect their womanhood, their independence, their competitiveness. Let us believe that a woman is complete on her own and needs no sympathy from us. Said Mahatma Gandhi, 'of all the evils for which man has made himself responsible, none is so degrading, so shocking or so brutal as his abuse of the better half of humanity to me, the female sex, not the weaker sex. It is the nobler of the two, for it is even today the embodiment of sacrifice, silent suffering, humility, faith and knowledge'.
Women have narrowed the gap but yet she suffers indignation at the hands of male chauvinism. Assault on them is ever increasing be it at the work place or at home, at the public transport or in the park. Even in a place like Meghalaya where they follow the matrilineal system there too the girl child is often violated. This mindset has to change and this can only happen at home and in the school because these are the two places where we all spend the maximum amount of time grooming and inheriting.
As Napoleon Bonaparte said, 'Give me good mothers and I shall give you a good nation' and how true it is. An educated mother, a knowledgeable mother, a strong willed mother, will give birth to strong willed sons and daughters who can change the destiny of the society. And Babasaheb Dr. B. R. Ambedkar said, 'unity is meaningless without the accompaniment of women. Education is fruitless without the education of women, and agitation is incomplete without the strength of women'. Therefore, the onus is on us to give the woman a helping hand and lets change the way we see and think about the women.
Former President Pranab Mukherjee had said about women, "with their incomparable compassion, tolerance and hardwork, generations of Indian women have made an invaluable contribution to the development and progress of the country".
"When women moves forward, the family moves, the village moves and the nation moves" said Jawaharlal Nehru in 1951.
The Buddha had laid a fine model for taking everyone along through his Middle Way approach to all things in life. He encouraged women to come out to attend his discourses and meditate and liberate themselves from the emotional and social bindings. He was the first person who encouraged women to come out and take part in religious and social activities. He gave them entry to the Sangha although he faced opposition. The first to gain entry was none other than his foster mother Mahaprajapati Gautami. There were innumerable women who got equal status in society during his time. The Buddha accepted invitations for lunch offerings and discourses from many women devotees who came from all types of social strata.
Living in a modern world and an era of digitization, we find innovation and technology can provide unprecedented opportunities. India being a vast country where most of the population lives in its villages and they are still deprived of many opportunities than that what is available in the towns and cities. Innovation and opportunities unless it reaches them, this digital divide will add another factor in this inequality. May we all have the right motivation to take along the girl child on our forward march to a better universe and creating a society where both the male and female are equal to each other.
[Writes: Bhikkhu Bodhipala]