I clearly remember that I had walked into the house late one Saturday afternoon in the autumn of 1985. I was in class six then. My mother asked me if I had sneaked out to watch 'the' film. I said no. She gave me an uncanny look and then went on to believe what I had said reminding me it was "A" categorized film and was 'not good' for me. I spoke the truth. I had not seen the film. I also saw that Siliguri town was suddenly gripped by a fever. It was Sagar, the film which was the talk of the town. The bold posters that were plastered across the city were enough to raise quite a few eyebrows. It was much later that I actually got to see the film. I did not know that it was Rishi Kapoor then.
When the craze of rent out VCR sets began, we used to watch films almost the whole day and night till we felt that we had recovered the money that we had paid as rentals. 'Karz' was among them. In those days we hardly went out to watch films. Call it spendthrift or the huge snaking lines for a ticket. When the VCR came next time, I remember I had asked my seniors at home to get the film Karz. I discovered Rishi Kapoor for the first time. In those times (many will not know) there were audio cassettes which had dialogues of films recorded and sold. I almost knew Amar Akbar Antony by Heart. Other than Big B, I didn't recognise any of the other actors. Again much later I saw Amar Akbar Anthony and found that it was Rishi Kapoor.
Later, when contemporary films started getting beamed on Doordarshan and satellite channels my late mother always watched whenever Rishi Kapoor was on the screen. She would keep reminding me of the beautiful and colourful cardigans and sweaters that he wore. She detested my choice of wearing dull colours. ' Oohhaer ta! Parai yo hmer ma pani kasto mitho mitho colour ko sweater lagaunchha (See! He wears such colourful sweaters even at this age !) '. Be it In Deewana, Bol Radha Bol, Damini or Chandni. This was Rishi Kapoor for us. I have always seen an appreciation for this man from all quarters. For varied reasons of course. For me, however, I always felt that he had a radiant, cheerful, smiling persona. An aura that he gracefully carried. I saw Booby much later. Maybe in the late 90's.
Rishi Kapoor was an enigma. A game-changer. So much so that in 1977, when the Ram Lila Maidan was getting ready for a protest rally against Indira Gandhi for the imposition of Emergency in 1975, The Doordarshan beamed the popular film Bobby to lure the people to stay at home and watch the film. Though it had little impact on the rally, It proved that Bollywood and Bobby was a force to reckon with. Rishi and dimple rocked then.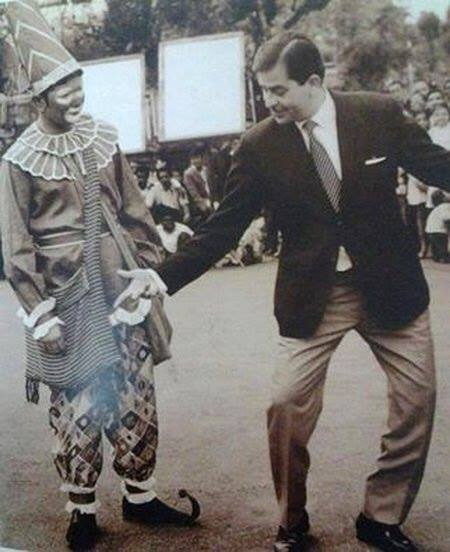 Rishi Kapoor belonged to the 1st family of Bollywood and yet we hardly saw any tantrums from his end making it to the news except when he was brash to speak his mind. He did not have great films or so-called "Arty' films to flaunt and yet his presence in Bollywood has been seen with much respect and appreciation. The films were mostly feel-good films. His last few films did unravel the enormous talent he possessed. Be it as a middle-class mathematics teacher in Do Dooni Chaar with his wife Neetu Singh( in her come back to film) as his co-star or as RaufLala, the dangerous gangster whom you would love to hate in Agneepath or as Murad Ali Mohammad in Mulkwhere you sympathise with him. He had always been underrated by the critics and serious moviegoers. But for the ordinary mass, he was a star. For me too. Of Course!
Rishi never stayed out of controversy. He did not mince any words to express himself or even his lifestyle. When lynching had started against beef eaters he had the courage to challenge the current disposition and wrote– 'I am angry. Why do you equate food with religion?? I am a beef-eating Hindu. Does that mean I am less God-fearing than a non-eater?'. He even did not even spare the Congress and its dynastic politics when he wrote – 'Change Gandhi family assets named by Congress.Bandra/Worli Sea Link to LataMangeshkar or JRD Tata link road. Baapkamaalsamjhrakhatha ?'. Even in his last days one of his controversial tweets during this COVID19 Lockdown period was- 'Think. The government should for sometime in the evening open all licensed liquor stores. Don't get me wrong. Man will be at home only what with all this depression, uncertainty around. Cops, doctors, civilians etc… need some release. Black mein to sell ho hi raha hai '.
That was Rishi Kapoor. Straight and simple. He talked about his mind. He did not care about his public image. No wonder his Autobiography was titled Khullam Khulla. RIP Rishi Kapoor. You Lived your life and Oh yes! You really played the Dafliwell.
Writes: Satyadeep Chettri. The author is a regular columnist and teaches at NBB Degree College, Tadong, Gangtok and opinions expressed is his personal view)