Major Jaswant Singh, Fox/11 served with the Central India Horse (CIH) also referred to as 21 Horse and later resigned to answer another greater calling, to be a public servant. While there is much of him already in the public domain since he had such a giant international stature, this morning's news that he had gone on to the abode of the warriors, the Valhalla nevertheless comes as a jolt.
Being an early riser (he would be up at 3.30-4 am) and as per habit, he would make his own cup of tea and then go on to be his study and to start the most creative part of his day when he would write and pen down whatever came to his mind. Amongst the many books that he has written, most of them would have been penned in this early part of the day. It was on one of such mornings, six years ago that he missed his step on the kitchen floor and fell first striking his head on the stone floor. While he physically recovered, this injury to the head imposed itself as a barrier between his razor-sharp mind and the world that we all live in and made us poorer to be privy to the wisdom that he held.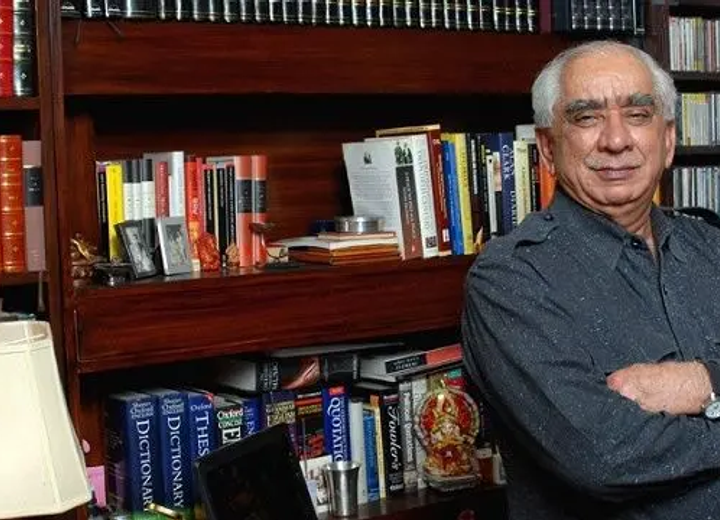 I first met him at the General Harbaksh Singh stadium at Delhi Cantt, when I was posted at Army Headquarters and had, as one of the responsibilities, the sustenance of Equestrian Sports and Polo in the country. Major Jaswant Singh's (shall hereafter refer to him as JS, as that is how he wanted us to do so) nephew, Col Bhawani Singh, my good friend with whom my association started at the Service Selection Board where we both got selected for the 55th NDA course, who then was the Commandant of the President's Bodyguards introduced me to him. JS had come to attend, unannounced (in his signature style, he never demanded attention) to the Delhi Horse Show, such was his love for horses, polo and all things, equestrian.
JS had wanted someone from a military background to join his staff and bring to it the rigor taught at Staff College of being detailed and be yet concise. It was on Bhawani's recommendation that a while later after I had taken pre-mature retirement from the army after serving for 23 years that I got absorbed. I cannot ever forget my second interaction that took place in the imposing North Block Finance Minister's office when he called me in on my first day at my new assignment. I walked in to find Frédéric Chopin's Piano Sonata No. 2 in B-flat minor, Op. 35 wafting in the air, the smell and twirling smoke of incense sticks at the base of the Ganesha statue and sitting serenely at his chair, a very calm and composed JS. Very softly, he asked, "why do you want to work for me? And immediately correcting this, he said, "with me and not for me?" I don't remember my fumbled reply as I was so struck by his humble depth that he didn't want people to work for him but with him.
And this pretty much was the yardstick of my association that ran from 2003 till very much the time that he sustained his injury. While many are fully acquainted with his discourse in English language, he was equably formidable in his Hindi, Sanskrit and native dialect in which he wrote extensively. His love for music was spread across western & Indian classical which would always be playing in the background, there were times while sitting and discussing some very serious issues, he would recline, close his eyes and then relate to us the significance of the note that had suddenly moved him. Those hours at his study while working with him would always be fascinating as he would reveal to us, the nuances and deep understanding of our own tradition and culture. His success internationally and not just at External Affairs, was because he understood every region of the world not just by its current political present but by the very depth of its culture, history and traditions. He admired many soldier statesmen and his voracious reading habit would see him reading some 4/5 books simultaneously. In times before Amazon and Flipkart, many of his diplomatic colleagues who had served with him, would always be scouring for books that weren't available locally. His prodigious reading, even at the zenith of his official responsibilities was unabated. When not working, he would just open up his book and with the music in the background, reinvigorate himself.
A no nonsense person, if any visitor waffled for more then five minutes in his presence, then he would switch off, smile courteously and gently ask the person if he had finished, a very soft dismissal. Off course later he would ask us, on his staff, as to why we hadn't sufficiently established the veracity of why such a person had been ushered in. For those who engaged him, he was a rapt listener, carefully weighing in what was being conversed and then summarised with remarkable clarity.
There is so much more that comes to mind, but at this moment, let's take a pause and reflect on what he had stood up for. And I conclude this short remembrance by the withering look that he had fixed on Tim Sebastian and his gravely responses during BBC's "Hard Talk" interview sometime after the 1998 nuclear tests, that had made each Indian puff up with pride. And Tim Sebastian, combative that he always was, took that rare step back.
Writes: Ashwini K Channan