Cross-fire of rhetoric
Mai re! The rhetoric exchanged between Modi and Didi B last Wednesday!
Modi on Didi B:
" She is a speed breaker". He must have suffered severe jolts on the roads of Siliguri.
"Didi ki naiya doob chuki hai." Reminds of Life of Pi.
"Expiry Babu."
Didi B on Modi:
She must have thrown away many expired medicines that day.
"You claim to have a 56 inch and you are resorting to lies. The 56 inch chest is now peddling 560 lies".
Chhee, chhee Didi B, it is not nice for a woman to talk about a man's body. Just like women should not be referred to by any physical attribute. Chest and lies is another one of Did B's strange combination of phrases. Reflects illogical thinking.
"Catch me if you can, touch me if you can".
If you have heard this old song on boxer Muhammad Ali 'Catch me if you can' by Johnny Wakelin, you canimagine Didi B in boxing outfit moving like a butterfly and stinging like a bee.
"I am also from a Hindu family…but I don't go by your Hinduism. My parents did not teach me this type of Hinduism where you hate people."
Friends, Hinduism is in these days with even Priyanka Gandhi making rounds of Hindu temples. Didi B too has for the first time I think asserted it. It seems that BJP has awakened the divine lotus in everyone's heart.
Who is the father, Naroola or Ahuja?
Not a good week for Didi B. Her Thai national niece-in-law by the name of Rujira nee Naroola nee Ahuja, has been served a show cause notice by the Ministry of Home Affairs, for falsehood in her application for Overseas Citizen of India and PAN card. Rujira had mentioned Niphon Naroola as her father for PIO card, and later her marriage certificate was found to mention Gursharan Singh Ahuja as her father.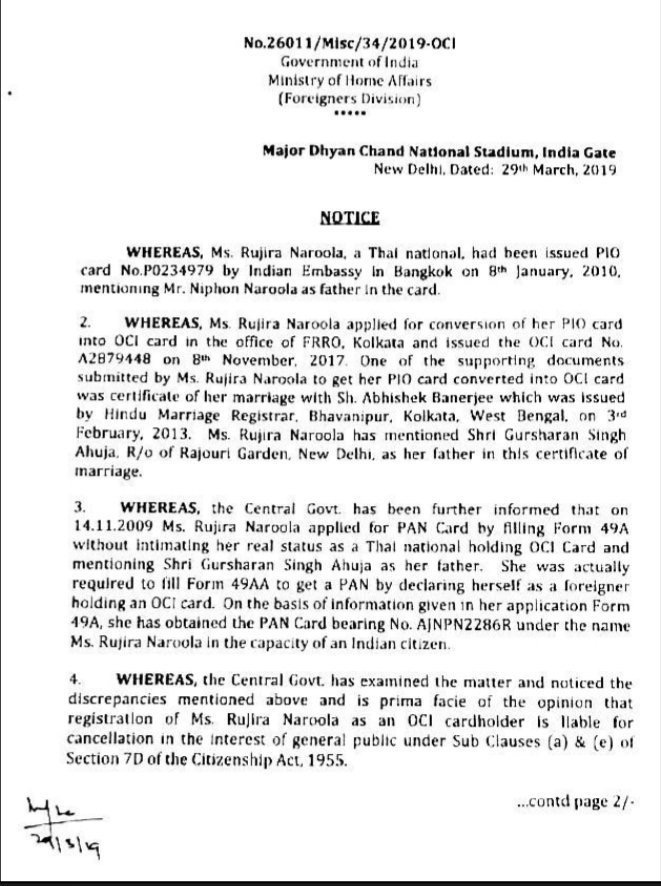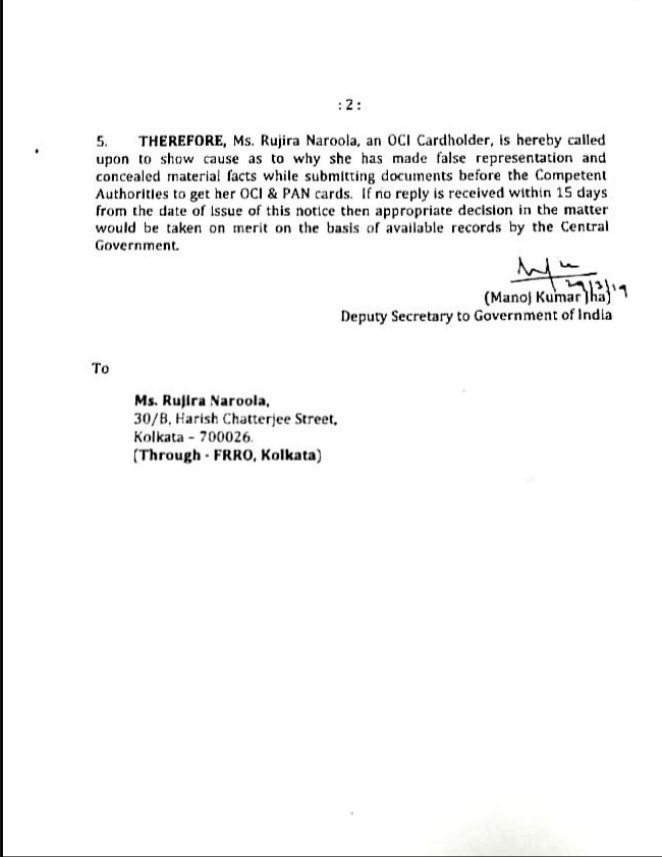 How all this gol-maal happened under the nose and within the tall ideologies of Didi B's household?
Rujira's husband and Didi B's beloved nephew Abhisek Bannerjee is also National President of the All India Trinamool Youth Congress. Last month, Rujira, was also held up by customs at the Kolkata airport for carrying a whopping 2 kilograms of gold with her from Bangkok. She has to appear before the HC for this on 8 April. Mamata aunty sure has a lot to explain but she is playing mum.
No black allowed
If black is your favourite colour, you will not be allowed in to any rally held by UP Chief Minister Yogi Adityanath. The choice remains—either you go shirtless, or borrow from someone else or go back home. Many who attended the Sanyasi CM's rally at Greater Noida last Monday, faced such a dilemma. Totally unaware of the rule, those who wore sporting black T-shirts, shirts or kurtas were barred entry by the security personnel. The reason given was that black was a colour of protest worn earlier by protestors. So, some borrowed, some went in shirtless, some preferred to listen from the roadside and others just decided to return home. Anyway, those who preferred to keep their favourite blacks on missed a comment by the CM, which has landed him in a soup. His reference to the Indian Army as Modi's Sena has met with strong disapproval.
Didi B who has to quip on everything criticised saying "…We are proud of our Army. They are a great asset of our nation, and not a cassette of the BJP". Didi B should know that cassettes are non-existent today or rather she has to get more tech-savvy. Asset? Cassette? Can anyone enlighten me as to what she meant. She has never honoured the death of any Indian Army martyr from Darjeeling Hills. 
I am powerful, I am healthy, I am beautiful
Recently, BJP candidate Raju Bista kick-started his elections rally in Kalimpong with a feel-good exercise. Itrequired folding the arms up in a wrestler pose and repeating after him, "Main Shaktishaali hoon, main Swastha hoon, main sundar hoon".
That is a new one on audience participation. He assured the audience that Modiji was very aware of the problems of the Gorkha people and will definitely do something to alleviate their miseries. 
In the 2017 agitation, Didi B's frenzied attacks and attempts to malign the people of Darjeeling was a politically incorrect approach, however much her supporters might glorify her able ability in crushing the agitation. She dug her grave in the hills with that one.