We live in a small hill town with the smooch of simplicity. We tend not to be 'Hindi' but sub-consciously we have a craze for Bollywood. We pray to our deity offering flowers of rhododendron and make country liquor with the same flower. We love to laugh and make comic statements which is a borne fact, as our favorite pass-time is 'Humjayega's jokes' and our frisky moment in a funeral house is playing cards.
We love giving expressive exclamatory tones while speaking as- "amboo", "apuii", "lyaa", aieeh", etc. We even have our own self invented linguistic lingo as- " syatis", "sacri", "ghanta", heabby", "chuppa"," lyapax",etc.
The most interesting part of our linguistic power house is the fusion of English and the native words observed mostly in rural areas, eg: ' Boot jutta', 'Cap topi', ' Bus gaadi', 'plate ko thaal', "center ko beech," "corner ko kuna" etc.
Due to the British imperialism once, a colonial hybridism can be observed in the diction of Darjeeling. Here are some examples with the original English and its local derivatives:
VISKEY– meaning Whiskey
GILASS– meaning Glass
PEELATE– meaning Plate
ISKOOL– meaning School
KITLI- meaning Keetle
ONE GILASS– meaning Wine Glass
BOOT JUTTA- meaning Boots
BUS GAADI- meaning a Bus
CAP TOPI-meaning a Cap
PAALISH– meaning Polish
DAKTAAR-meaning Doctor
CAMBIS- meaning Canvas
SENTROBOS- meaning St. Robert's School
SENTRIZA– meaning St. Teresa's School
SWISS- meaning a Switch
POP BISKOOT- meaning Puff biscuit
FOGGY – meaning Fog (as in "kasto FOGGY lagyo hai kancha!")
HUMBAR-meaning Hammer
BEG/ BYAAG- meaning Bag
KIRKET– meaning Cricket
HERANDA– meaning Hero Honda bike
YAMMA- meaning Yamaha bike
GLENRIS– meaning Glenery's
KABINTES– meaning Keventer's
SASSIS– meaning sausage
BUFFMALEY-meaning Bob Marley
ISTANITISE- meaning Stand at ease
EZIKOLTU- meaning "is equal to"
AMRITE– meaning "Am I right?"
BYAARING-meaning Bearing (as in BYAARING GAADI khelung!")
ASPATAAL– meaning Hospital
ANGREEZI- meaning English
PENSAL– meaning Pencil
NEKLISS- meaning Necklace
YARRING– meaning Ear-ring
QUETESS– meaning Nail- Polish
GO-DAAM- meaning Godown
LIBISTIK- meaning Lip-stick
JURKIN- meaning Jerrycan
PYAKIT- meaning Pocket
GOGOLS– meaning Gogles
MISIN- meaning Machine
TOSH- meaning Toast (as inTOSH ROTI khanu parcha!")
TACH- meaning a Torch-light
ALAKATRA- meaning Oil and tar
FALLENLANE- meaning Fall in Line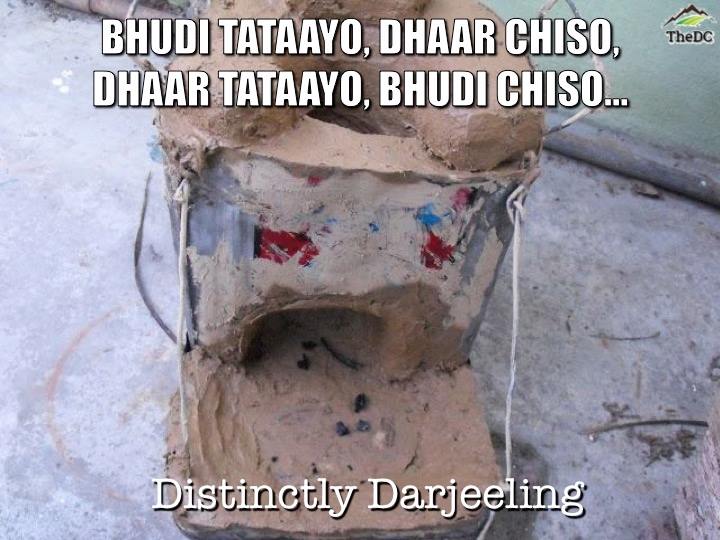 There can be ample of such words which depends on regional usage of things, goods.
I am charmed by the dual speech tonal vibes in which we make our statements. We the hill people have inborn quality of saying the same thing in two ways- Decent way and Indecent way. For eg, Decent way of calling someone- "Yetta aunuhos!". Indecent way of calling someone- "Yetta munti".
Decent way of asking someone to eat- " khaana khanuhos!". Indecent way of asking someone to eat – " Gheechdainas!"
Decent way of telling that someone has gone to roam in the town- "Bazaar ghumnu niskeko chha". Indecent way of telling that someone has gone out to roam- "Bhatuwa laagnu goyo!"
We often interrelate people and things with Hollywood and Bollywood actors, eg if someone's father is too strict- " amboo tero baau ta Amrish Puri chha ni". If someone's boyfriend is not so good-looking- " chyaa! Kadar Khan jasto". If someone tries to show hyper chauvinism – " amamama, yo ta Rambo ho ni". Even if the road condition is bad- " ghanta ko! yo baato ho ki Om Puri ko gaala!"
There is something interesting about the behavioural habits and verbal diction about the people of Darjeeling. I will cite a few examples:
If there is a foggy weather around Ghoom- Jorebunglow, you will say- "yo ta Hunuman ley padheko thaau ho!"
If someone returns back from a ration shop you will ask – "aaju cheeni payo hola?"
If you touch someone's feet accidentally with your feet then you will touch your forehead and chest to say – "bishnu! bishnu!"
If someone in your village passes away then the first plan with your friends would be -"beluka taas khelnu aaija hai!"
If a boy sees a girl with a loud make-up, he will shout aloud – " amamama….baini ta FAIR AND LOVELY ko jhol ma churlummai dubera ayecha!"
If a boy looks somewhat fresh then his friend will say – "aaju ta pura handsome po bhayechas ta…kaalo sabun ley mukh dhuyis!"
The most renowned fact of Darjeeling is that both ghodawala and ghoda lives on GRASS.
A true verdict laid by the common mass in Darjeeling is Driver ko life, golaai pachi wife.
The most delicious delicacy is to eat bhuteko bhaat in karaai.
If you purchase a new pant, the first thing you do is go to "Tailor line" near Gol Ghaar and cut it short and make it choose
In Darjeeling all middle aged man is a 'bada' and middle aged woman is a 'badi'
All colleges in Darjeeling has an awesome place nearby: Southfield- Chowrasta, GC- Graveyard, NP- Freedom and Makailogy.
In Darjeeling, when you are asked "How are you?" your instant reply would be- "Life is full of jhyaang jhyaang, sombay!"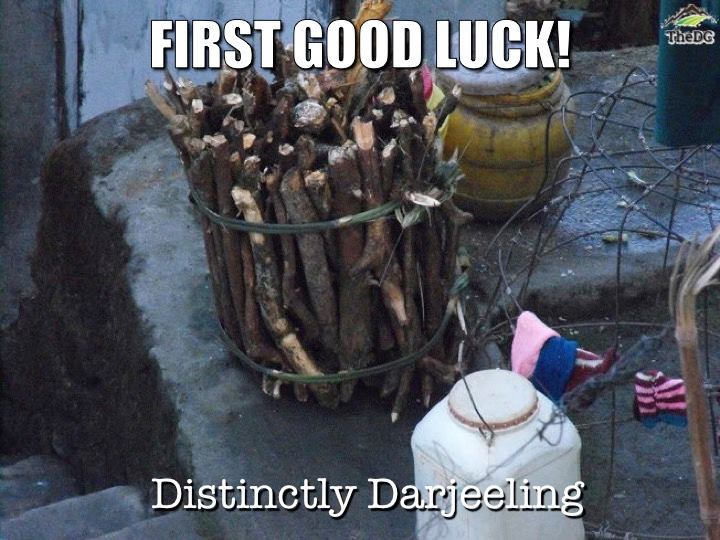 There is a special vibe in the festivals of Darjeeling. We have pristine memories of our own when we bring into the reference of festivals. For example:
We remember that orange headed 'Dassai Keera' flying all over the bloomed golden headed 'sayapatri'
We remember the fresh smell of the new clothes and magical steps walked through new shoes
We remember how tasty were 'sale roti' and 'teel ko mithai'
We remeber the solemn odour of 'tongba, kodo ko chyaang' mixed with 'fakshya, langsya' and roasted chicken on the courtyard
We remember the fragrance of 'titaaaypatti' and 'dhoop' and the beating of ricegrain inside 'okhali'
We remember the colours of 'chudi, paana , eeta, jhandi, makoot, bhotay' while playing dice underneath the 'lingaay ping'
We remember the tunes of few 'malashree' and 'sorki' sung during the setting of orange sun at western horizon
We remember my forehead covered by red 'Chamal ko tika' and jamaara clipped ear with a blessing to be a 'thulo manchey'
We remember the housefull relatives, singing, gossiping and 'kaalo dekchi to bhaat'
We remember the 'mela ko mithaai', 'lingaay ping ko ghumai'
We remember my grandpa's old face and wrinkles with time's pace sipping the most costly Indian rum.
We remember my mom's new saari and her makeup set coming out in existence after many months
We remember my father's growing grey hair dyed all black
We remember my fist full of coins and currency notes, maybe it was the only time for a child like me to get rich
We remember the digging up of "ban tarul", "ghaar tarul", "sakarkhanda", "pindaloo", "iskoosh ko jara", "pustakhari" during Maghaay sakrai
We remember shouting "uppiya jaa, ruppiya aaija" at the arrival of Saunay sakrati at the beat of "naanglo"
We remember the crowed town of Darjeeling where people roamed with the most fancy outfits
We remember Darjeeling looking like a constellation during the night time
This is what makes our place a unique one located at a fine corner of the world which corresponds to make us a big "aloodum family".
Writes: Binod Pradhan