The Philosophy
As obvious, any art form has always been a means of locating dynamic reflection of the ever shifting society. Literature is the best tools for deep-rooted observation, logical imagination and conscious introspection of history of any specific time era in which the concerned literature has been created.
Apart from her incredible natural beauty – the land of thunderbolts – Darjeeling – stands out as one of the humble hubs for modern creation. Since the colonial British era, Darjeeling happened to be a happening locus in the history of mankind.
Though, Darjeeling was made synonymous to world famous Tea, Toy Train, Timber, she holds numerous un-archived narratives, untold tales and un-read myths. The unstoppable political unrest of Darjeeling is attributed to the hitherto unanswered question of 'identity' – the question that hunts the entire world today. Nevertheless, the mostly marginalized section is the stories of the people of Darjeeling.
This fest aims at reviving the lost glory of Darjeelingian-Narrative in a creative manner. The eminent litterateurs, artists, intellectuals, performers from neighbouring states and countries will give their significant presence to witness the times of Darjeeling reflected onto the creative mirror.
The participants will certainly pass through the amazing cross-literary, cross-cultural, cross-linguistic transaction of thoughts, ideas, and creations in the fest. This annual creative extravaganza is expectedly going to be a door-knocker to the changing times and trends in the holistic history of humankind.
Sangri~La Darjeeling Literature Festival – Profile
Pledge: SDLF will starve to create a free environment of literary, intellectual and creative transactions among the mass residing in naturally beautiful and historically interesting North Bengal/Darjeeling.

Mission
To generate contemporary creative exposure to general public.
To build a healthy, rational and interactive thinking environment.
To deliver quality, dynamic and pro-active literary activism.
To bridge the authors and the readers
To inculcate reading habits among youths
Expectations
The audience/delegates will get a wonderful exposure in the fest, which will host noted authors, poets, artists, intellectuals, journalists, thinkers from PAN south Asia.
Deliverables
Discussions – Literature, Culture & Politics
Books – Release & Reading
Art – Exhibition cum Workshop
Art, Culture, Films – Debates, Discourse & Dissections
Poetry – Performance & Workshops
Films – Challenge & Workshops
Photography – Challenge & Workshops
Performance – Music & Poetry
Sculpture – Exhibition cum Workshop
Tattoo – Workshop
Awards – Literature, Art, Music, Science, Journalism
Felicitations
Dates and Venue
29th March 2019: SDLF Film Festival
Sangri~La Book Café, 1st Floor, Bhanubhakta Smiti Building, Veer Jawan Chowk, Gurung Basti, PO Pradhannagar, Siliguri, District Darjeeling, West Bengal – 734003
30-31 March 2019: Art and Literature
Basundhara, Dagapur, Near Gyan Jyoti More, Siliguri, Dist – Darjeeling, West Bengal, India – 734009.
Basundhara, known as'the Shantiniketan of Siliguri'. Surrounded by number of educational institutions – Basundhara – was started decades back by the visionary philanthropist and nature-lover Sujit Raha as a parallel school of community development parallel learning pedagogy.
The 17 acre lush green natural area on the backdrop of Darjeeling hills and Mt. Kunchanjunga, dedicated for the off-school training and development programmes for the deprived and under-privileged kids, Basundhara – is the prestigious location for SDLF.
Participants and delegates
Manglesh Dabral (Hindi Author, Delhi)
Anjan Dutt (Bengali Singer, Kolkata)
Daya Hang Rai (Nepali Actor, Kathmandu)
Bairagi Kainla (Nepali Poet, Kathmandu)
Parimal Bhattacharya (English Author, Kolkata)
Chador Wangmo (English Author, Bhutan)
Sonam B Wangyal (Historian, Darjeeling)
Arunabh Saurav (Hindi & Maithili Poet, Guwahati)
Guru T Ladaki (English Poet, Gangtok)
Jacinta Kerketta (Hindi/English Poet & Journalist, West Singbhum)
Bipul Chakraborty (Progressive Singer & Poet, Kolkata)
Goshai Pahlavi (Sculpture Artist, Dhaka)
CK Shresta (Dramatist, Kalimpong)
Rajendra Bhandari (Nepali Poet, Kathmandu)
Ajoy Roy (Journalist, Kolkata)
Sharda Sharma (Nepali Author, Nepal)
Jobaida Akhter Choudhury (Bengali Poet, Bangladesh)
Sheeba Shivangini Shah (Nepali Author, Goa)
Kumar Nagarkoti (Nepali Author, Kathmandu)
Raj Basu (Social Worker and Sustainable Tourism Developer, Siliguri)
Around 100 from Delhi, Kolkata, Kashmir, Manipur, Darjeeling, Dooars, Sikkim and Nepal, Bhutan, Bangladesh are expected.
Felicitation
Sangri~La Samman: This annual award will be conferred to the noted authors, musicians, artists, scientists, social activists to encourage the culture of rational social evaluation and to promote the intellectual bravery among youths.
Competitions
Sangri~La Yuva Pandulipi Puraskar:Sangri~La Books – Ind will offer this opportunity to the most skilled, potential young author at SDLF. Sangri~La Books – Ind will publish the book of the awardee.
Jhajhalko : Music Video Challenge
Tasvir : Photography Challenge
Bioscope : Short Film Challenge
Abhivyakti :  Poetry Video Challenge
Rang-Ghar : Painting Challenge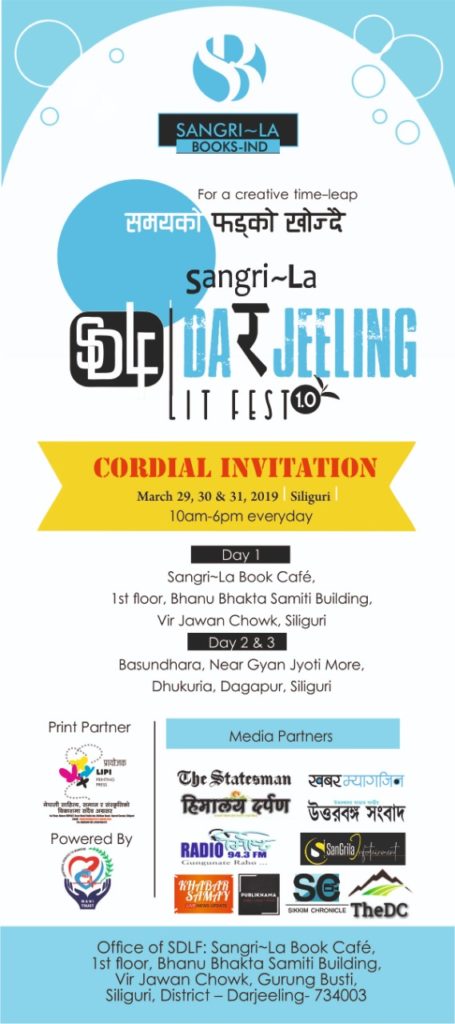 Special Performance: Anjan Dutt
The inaugural ceremony, to be held on March 30, 2019, will witness the breathe-taking musical performance and Darjeeling-gossips by legendary singer-songwriter Anjan Dutt.
Dutt is a trendsetter 'alternative music' personality, film director, actor, reminiscent of western folk music, who was raised in the mountains of Darjeeling. He had his schooling from St. Paul's School in Darjeeling. He is by heart a Darjeelingian.
Dutt has produced number of songs dedicated to his nostalgia of Darjeeling. His music is said to be influenced by blues, bluegrass, folk and Bengali country music. He is also a national award-winning film maker and is one of the most prominent directors of Bengali cinema with acclaimed movies like The Bong Connection, Chalo Let's Go, and Ranjana Ami Ar Ashbona to his credit. Phenomenal Dutt will perform and talk about his Darjeeling-experiences on 30st March, 2019 at Basundhara.

Book Release & Reading Sessions
Book Cover Release : Nepali Edition of 'The Free Voice' by Ravish Kumar
Acclaimed TV anchor, writer and media personality Ravish Kumar is a gigantic personality in the Indian mainstream media. His recent book "The Free Voice – On Democracy, Culture and The Nation" has jolted the book-market as a fresh bestseller.
Ravish Kumar is one of our bravest and most mature public thinkers and speakers. Few journalists today have as keen an understanding of Indian society and politics and as strong a commitment to the truth. Fewer still can match him in eloquence and integrity. In the wide-ranging book 'The Free Voice – On Democracy, Culture and The Nation', Kumar examines the spaces available for people to speak out, whether in the mainstream or on social media, and why they are constantly shrinking. He investigates the threats to free expression—censorship, the fear of institutional, physical and psychological violence—and how these threats are being used to replace civilized debate, dialogue and social harmony with intolerance and hate.
Sangri~La Books-Ind will release the book cover of Nepali edition of 'The Free Voice – On Democracy, Culture and The Nation' during the fest.

Music and Food
Kalimpong based budding band 'Teestay Fistay' will rock the stage with highly profound and magically catchy numbers on inaugural day, 31th March, 2019 at SDLF.
Besides, you can also savour local delicacies and fine cooking at the:
Organic Foods Hat
Tribal food courts
Local and regular food courts
Registration and Contacts
To register for the schedule please visit www.sdlf.in
Office of SDLF: Sangri~La Book Café
1st floor, Bhanu Bhkata Samiti Building, Vir Jawan Chowk, Gurung Busti, Siliguri, District – Darjeeling, West Bengal, India – 734003
Contact Numbers:
Conveners – raja Puniani +91-9002320631, Manoj Bogati – 9851280145
Creative Coordinator – Pallawib Rai – +91-7551092339, Shantila Singer Tamang
Nepal Coordinator – Mani Sharma – +977-9851139651
Marketing Coordinators – +91-9832064390, 9647871467
Website: www.sdlf.in
Email ID: sangriladarjeelinglitfest@gmail.com
Please follow us on Facebook page for regular updates at http://www.facebook.com/sdlf2018www.facebook.com/sdlf2018.