For the past two days, an urgent notice, has been circulating on Social media , hinting at possible female suicide bomber attempting to strike at Monasteries during the upcoming Buddha Jayanti celebrations in Darjeeling and nearby regions.
Highly placed sources in the security establishment have confirmed that the notice is authentic.
The notice reads, "IT IS RELIABLE LEARNT THAT IB HQ DELHI HAVE ISSUED AN ALERT OF A POSSIBLE FEMALE SUICIDE BOMBER TARGETTING MONASTERIES ON THE OCCUASION OF BUDHA PURNIMA ON MAY 18 (18) IN WEST BENGAL (.) (.) ALL UNITS ARE REQUESTED TO MAINT HIGHEST LEVEL OF ALERTNESS AND PREPAREDNESS" [sic].
We request all our readers not to panic, such alerts are issued to make people aware of a possible strike.
In 2017 too Terrorist organization Jamaat-ul-Mujahideen Bangladesh (JMB), which was involved in the Khagragarh and Bodhgaya blasts, had initially planned to strike at targets in North Bengal, specifically Buddhist Monasteries using suicide bomber in Darjeeling. However, it was reported that JMB later changed its plan after the law and order situation broke down due to Gorkhaland agitation lead by Bimal Gurung's Gorkha Janmuti Morcha.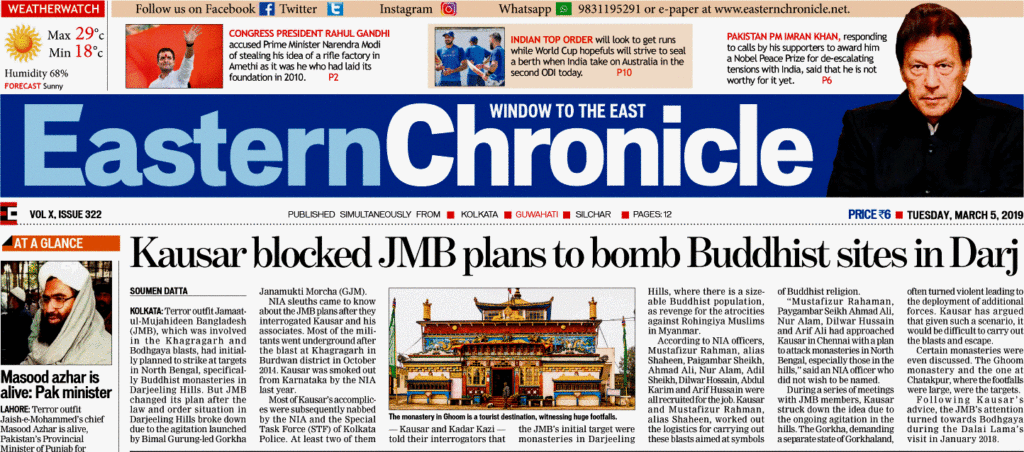 We also request our readers who would be participating in the Buddha Jayanti Procession or celebration at Monasteries to be extra alert and vigilant of their surroundings.
If any of you see something suspicious, please report the same to the authorities and your nearest police station without any delay.