The Traffic Problem in Darjeeling and its consequences are known to all. Our author Noel Giri offers some practical solutions to it.
Every morning, a single question always bothers me before leaving for the office: 'will I reach the office on time or not?' For instance, from New-Jalpaiguri to Howrah, it takes approximately 7.5 hours now, and reaching Darjeeling from Sukhiapokhri or Sonada takes nearly 3.5 hours more than usual. This situation poses significant seriousness and challenges due to increased slow traffic movement; which not only affects mental stress and emotional imbalance in individuals but also aggravates air and noise pollution.
The traffic management system in the region, especially Darjeeling town becomes severely affected by the arrival of tourists with every tourist season in Darjeeling.
The residents, including taxi drivers and even tourists who come to explore Queen of Hills, face the consequences. Additionally, a viral video on social media showing the chaotic traffic situation in Darjeeling by four elderly tourists from Nagpur, Maharashtra, trying to navigate through it highlights the problem of daily traffic congestion in this area.
Covering a distance of about 7-8 kilometers from Darjeeling Railway Station to Chowk Bazaar becomes a compulsion for us, the local commuters, to face the expenditure of valuable time due to long hours traffic jams during the tourist season.
Elderly parents wander disoriented, small children hunger-stricken, patients unable to meet doctors due to being trapped in traffic, students missing their schools and colleges, employees engaged in public service unable to reach on time, the inconvenience faced by businessmen unable to conduct their businesses on schedule, and the list goes on. These are the compulsions that locals as well as visitors experience in almost every tourist season.
Furthermore, the influx of a large number of tourists leads to an increased demand for local taxis, resulting in another problem of fewer cars available in the vicinity of the Darjeeling bazar areas for local commuters.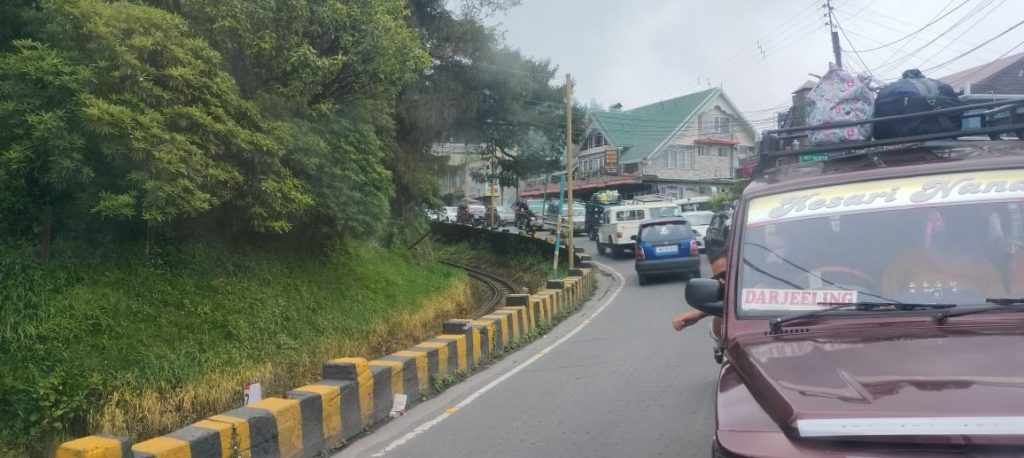 As highlighted in various studies and media reports, similar traffic problems are witnessed annually in the hilly tourist destinations of India. Manali, Mussoorie, Shimla, Nainital, Gangtok, and others face the daily ordeal of severe traffic congestion. The increasing number of tourists, rapid urbanization, insufficient alternative traffic management, lack of parking spaces, unsuitable geographical conditions and unplanned factors, along with the irresponsibility and ignorance of us (drivers, tourists, locals/commuters) become the major factors contributing to the daily long hours traffic jam issue.
Local traffic administration, including the Darjeeling Police, is also seen actively taking various initiatives and implementing solution-oriented plans in advance of the tourist season to manage traffic on the roads throughout the day. Additionally, the Chief Executive Officer of Gorkhaland Territorial Administration (GTA) has recently announced a project related to alternative routes to reduce the burden of traffic to some extent. However, the current traffic situation remains quite complex.
Hence, smooth traffic management becomes the responsibility of all of us. We can take certain necessary and practical steps to contribute to smooth traffic management and ensure that everyone participates in it:
Within the Darjeeling bazar, there are several bottle-neck roads where only small vehicles can easily commute. Even in such bottle-neck areas, if the drivers show some consideration and cooperation, unnecessary traffic congestion can be avoided.
The police administration or traffic police have designated parking areas in various locations. As responsible travelers/commuters, we should only park and ascend in the designated parking areas. Each responsible traveler should be aware that causing inconvenience to others while seeking our own convenience can create problems. For instance, when we reach Gangtok, the capital of Sikkim, we rarely violate traffic rules (where we follow the designated areas for parking and ascending, avoid honking unnecessarily, maintain disciplined driving in our own lane, etc.). However, it is unfortunate that we tend to neglect discipline and civic responsibilities in our own areas.
Various small activities such as haphazard parking, taking U-turns anywhere, blocking the road by parking vehicles in the middle etc. also contribute to obstructing the flow of organized traffic. To control this, all driver friends need to be vigilant and responsible.
The concerned transportation department and local administration also need to enforce traffic regulations on the roads strictly. In addition, skilled and efficient traffic police or assistant/volunteers who are stationed on the road segments where traffic is heavy will help strengthen traffic management.
In every election manifesto, almost all political parties promise to manage parking spaces for the resolution of traffic problems in Darjeeling. However, these promises are rarely seen implemented after the elections. Such indifferent accountability is the main reason why the Darjeeling's problems persist.
Foot-over bridges for public and proper footpaths in crowded areas of Darjeeling market can significantly alleviate traffic congestion. While it may not be feasible or safe to construct flyover for vehicles entirely due to the geographical location of the hills.
Furthermore, the Darjeeling District Police have issued a number to report any violations related to illegal parking, unauthorized vehicle honking, or any actions that disrupt traffic. If the general public or travelers/commuters share the vehicle number, along with a photo of the vehicle and its location (place), on the provided number via WhatsApp, the Darjeeling Police will take necessary action. The provided number for reporting traffic-related violations is 91478 89073.
Apart from this, there is an appeal for travelers/commuters to pay their fare of the vehicle they ride inside the vehicle or before getting in. Even this small step can contribute to maintaining smooth traffic flow.
Within the city of Darjeeling, almost all types of vehicles move daily without any restrictions or regulations. Tourists bring their private vehicles inside the city, which can be risky from a certain perspective, as they are not well-informed and knowledgeable about the city's roads, traffic management, etc. Therefore, in order to control this, the local administration may establish a law to restrict private vehicles from outside the city to a designated area only, limiting them from entering the city from other states or countries.
We hope that this step will bring positive changes and contribute to maintaining a smooth traffic flow in Darjeeling. This step may help our local taxi drivers toward sustainable self-employment. Hope that the concerned administration will ponder and take decisive action on this matter.
At the end, let us be responsible and accountable on the road. Even our small step can contribute to significant change.
Writes: Noel Giri, Sukhia Pokhari