After an inordinate delay, the much-awaited Post Office Passport Seva Kendra (POPSK) is finally set to become operational in Darjeeling from the 4th of February, 2019. The Post Office Passport Seva is set to benefit the hill people, who had to travel long distance for their passport-related works.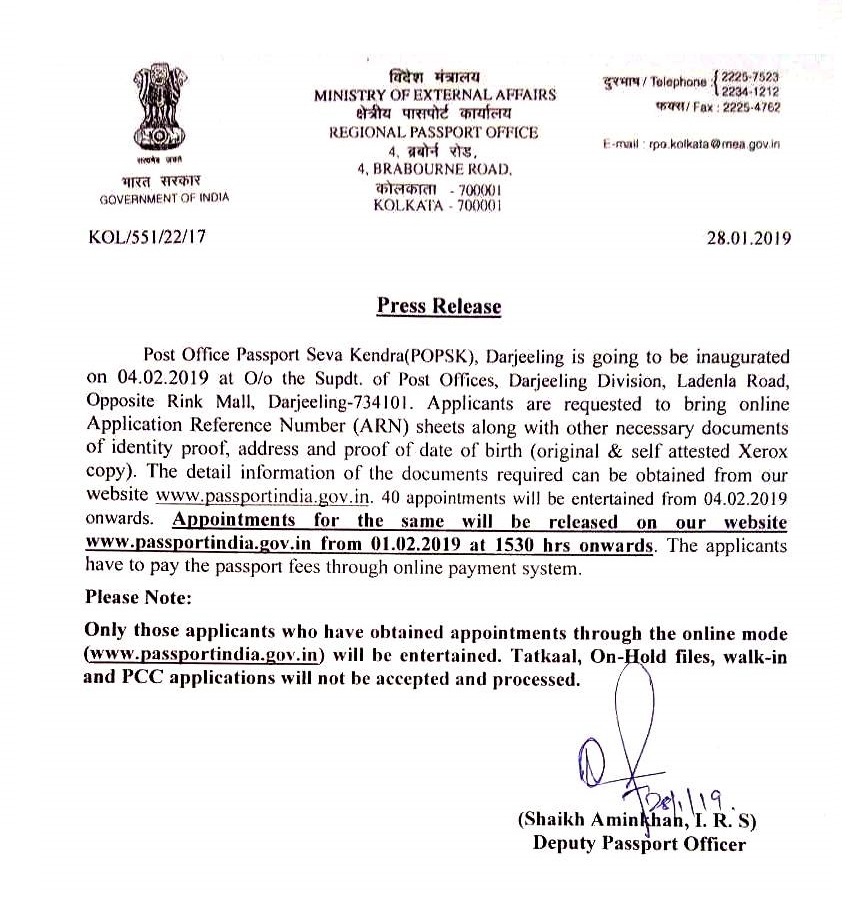 As per information, two employees from the Department of Posts will work with official from the Passport Office, Kolkata, and 40 appointments will be entertained every day.
The Ministry of External Affairs (MEA) and the Department of Posts (DOP) had decided to utilize the Head Post Offices (HPO)/ Post Offices in the country as Post Office Passport Seva Kendras (POPSK) for delivery of passport related services to the citizens of the country. The objective of this partnership as stated by an MEA official "is to extend passport related services on a larger scale and to ensure wider area coverage. In the first two phases, it was decided to open 251 POPSK in the country out of which 192 have become functional as on 14 May, 2018. Soon all the head post offices across the nation will function as a Passport Seva Kendra.
Here's how you can apply ONLINE
Register through the Passport Seva Online Portal. Click on "Register Now" link on the Home Page
Login to the Passport Seva Online Portal with the registered Login Id
Click "Apply for Fresh Passport/Re-issue of Passport" link.
Fill in the required details in the form and submit.
Click the "Pay and Schedule Appointment" link on the "View Saved/Submitted Applications" screen to schedule an appointment.
Online Payment has been made mandatory for booking appointments at all Passport Seva Kendras/Passport Offices. Online Payment can be made using any one of the following modes:

Credit/Debit Card (MasterCard and Visa)
Internet Banking – State Bank of India (SBI) and Associate Banks and Other Banks
SBI Bank Challan

Click the "Print Application Receipt" link to print the application receipt containing Application Reference Number (ARN)/Appointment Number.
Note: Carrying printout of Application Receipt is no longer required. An SMS with your appointment details is also accepted as proof of appointment during your visit to Passport Office.
Visit the Post Office Passport Seva Kendra (POPSK)/ Passport Seva Kendra (PSK)/ Regional Passport Office (RPO) where appointment has been booked, along with original documents.