We recently discovered two new species of mites which we have named "Floridotarsonemus kukri" and "Steneotarsonemus amlisoae" in honour of the Gorkha people and the hill region.
Writes: Priyankar Mondal
Taxonomy is a rare branch of biological sciences that deals with discovering and naming plants and animals. It is rare because it takes a great amount of reading, skills and patience to discover and differentiate species, and not many people are interested to work for hours looking through a microscope. The fun part of doing taxonomy is visiting new places, meeting new people and exploring their culture. It is like being nomadic for a scientific cause.
I visited a lot of places in different parts of India to search for new species, from the Western Ghats to eastern India, but probably the most successful expeditions took place in the Himalayan forests of North Bengal which is also one of the richest biodiversity hotspots, harbouring a huge assemblage of plants and animals.
Along with my supervisor Professor Krishna Karmakar of Bidhan Chandra Krishi Viswavidyalaya, I have discovered several new species of mites (four-footed tiny arthropods and distant cousins of Insects) from the Gorkhaland Territory Administration (GTA) in the northern part of West Bengal and some of the genera were reported for the first time from India.
With my colleagues, I have visited places like Ramadhura, Rishyap, Daragaon, Kalimpong, Darjeeling, Icchegaon, Rock Garden and a lot of places, amidst the curves and crevices of hilly forests for which GoogleMaps doesn't have a particular name.
I come back to this part again and again not only to discover the mites, but also the tranquillity which these hills offer in addition to the generosity of the Gorkha people. They are the most helpful, generous and kind. From taking us to the deepest of forests, to protecting us from falling off the cliffs, from preparing a delicious breakfast to making us dance during 'Deusi-Bhailo', they always treat us like a family.
From our second expedition to North Bengal, we reported the genus Floridotarsonemus for the first time from Asia and one of the new species was discovered on the leaves of Cinchona officinalis in Icche Pahar.
Floridotarsonemus is a genus of Tarsonemid mite (thread footed mites that principally consume fungus and algae grown over plant leaves and stems) which was earlier reported only from Florida and adjacent states in USA. The male mites are peculiar in having a blade-like claw on their fourth leg.
When I discovered a remarkably unique species having a claw resembling the Gorkha machete 'khukuri', my professor Dr. Karmakar immediately told me to name this species after this traditional Gorkha weapon. Besides, we found our way to tribute the Gorkha people for their hospitality and hence the species was named "Floridotarsonemus kukri Karmakar & Mondal 2021".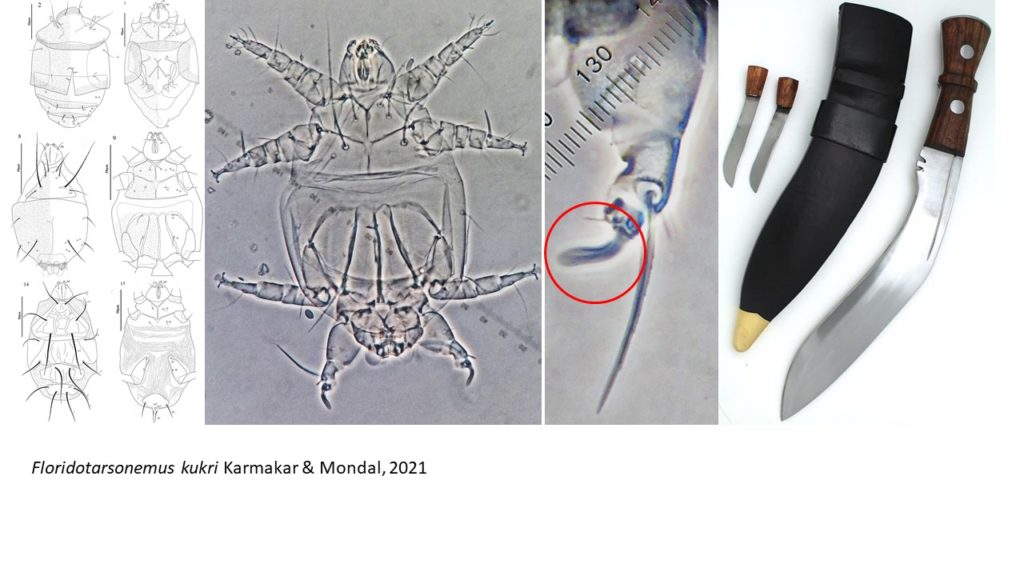 We described and illustrated the mite, and published this discovery in the journal Systematics and Applied Acarology (Vol. 26 Issue 6).
Very recently, I collected a new species of plant-feeding Steneotarsonemus mite infesting the broom grass (Thysanolaena latifolia), also known as 'amliso' in the regional Gorkha language.
This is an important economic crop in this part of the state and the mite causing harm to this plant was completely unnoticed until we described it and published it in the journal Zootaxa (Vol. 5023 Issue 3) under the name "Steneotarsonemus amlisoae Karmakar, Ganguly & Mondal, 2021".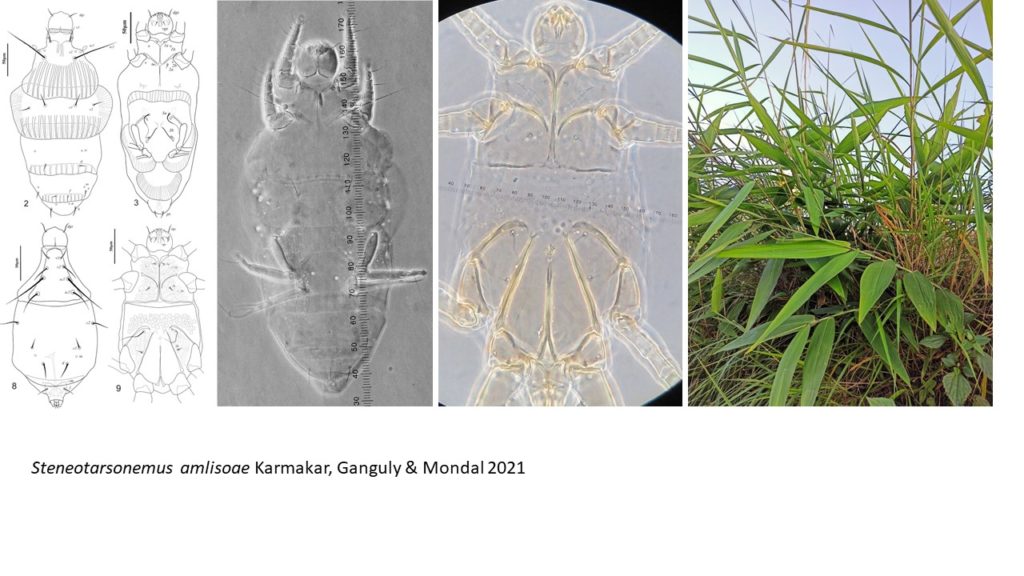 Interestingly, the lead author of this paper and my colleague Moumi Ganguly also cited the association of this particular plant with Devi Parvati in Gorkha folktales and Hindu mythology.
Highlighting the regional language through scientific names was a brainchild of Professor Karmakar. Under his supervision, our lab has described many new species of mites naming them in the Bengali language such as Amblyseius parbatabasi (Parabatabasi meaning one who lives in the hills), Floridotarsonemus kathali (Kathal is Bengali name for Jackfruit), Fungitarsonemus baganbilasae (Baganbilas means one enjoys the ecstasy of beautiful gardens) and many more.
We followed the same path to name these two species after the Gorkha (Nepali) language so that we can exhibit the Gorkha people, their language and their rich culture to the scientific community of the world. Also, we believe this will help more Gorkha students to connect with Science, to involve in taxonomy and engage in discovering the flora and fauna of their region.
………………………………………………………………….
TheDC Editorial Note: We thank Scholars Priyankar Mondal and Moumi Ganguly, and Professor Krishna Karmakar of Bidhan Chandra Krishi Viswavidyalaya for their thoughtfulness and for their love of our hills. Respect is displayed in many forms, these three scientists have earned our respect, through the depth of care they have displayed towards our place, people and sentiments.
Thank You