Ghazal writer Khusendra Rai has released the first visuals from his soon-to-be-released album, 'Aadha'.
"आधा बन्द आधा खुले जस्तो
जिन्दगीको ढोका हुरीमा झुले जस्तो…"
(half-closed, and half-open it feels… life's doors, swinging in the storm)
About the Song
Featured by the popular Nepali YouTube channel, OSR Digital, singer Melina Rai of "Kutu ma kutu" fame has lent her mellifluous voice to this ghazal. The ghazal was recorded in Kathmandu and the visuals released under the banner of Parul Production, Sikkim.
'Aadha', the ghazal is a representation of the extremely busy and self-centered society. It reflects upon the superficial satiety that society wishes to project but, in reality, it is becoming lonelier every day. The writer seems to represent this slowly diminishing the core identity of every individual living in the society, through this ghazal. 'Aadha' is a search for one's own lost face among an ocean of faces.
In an attempt to represent the dilemma of people struggling to find a face, the dilemma faced by people in making choices, into a visual, the prodigious Director/ Cinematographer Pallawib Rai from Darjeeling has turned it into a little abstract piece of art.
In the Backstage
"It was my wish to release a last anthology of ghazals and its album. While discussing the album Aadha, we decided to come up with a visual for one of the ghazals. We found a director in Pallawib Rai, and it was decided that we would have to go to Kathmandu to record the ghazal in Melina Rai's voice. Raja Puniani, the poet, agreed to act in the video. Pallawib and his team worked relentlessly for eight months to present to us this wonderful visual. It took two years for the album to take shape and during this period, I learnt that it is not wish alone that turns a dream into reality. It also requires the support and unconditional advice from close friends." – expressed Khusendra Rai on the release of the visual.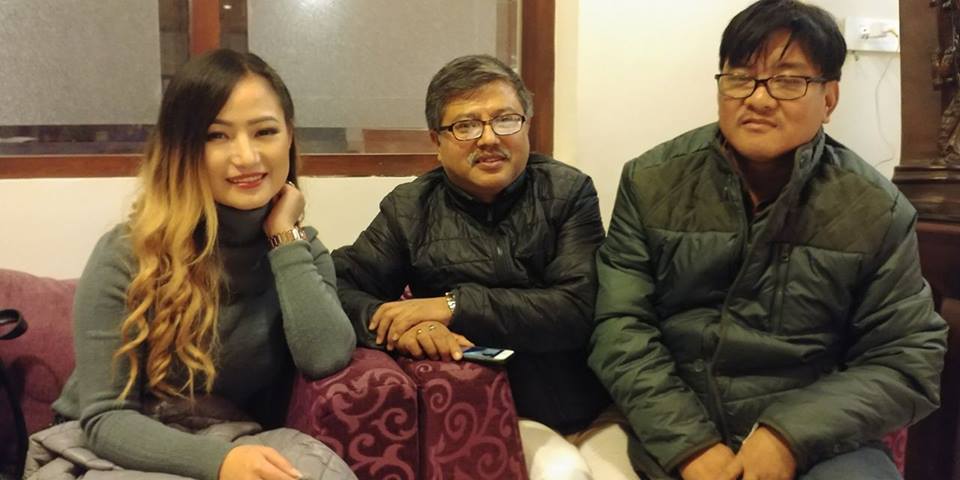 Pallawib has done the cinematography for world-famous musician Ricky Kej's visual and it has won the artist, the coveted Grammy Award. After having worked in Mumbai for many years and after honing his skill, Pallawib decided to return for the love of his hometown. He took up the challenging project of combining cinematography with poetry through poet Raja Puniani's poems, 'Bhramapahad' and 'Encounter' and with this, he started a new trend of multimedia poetry.
He has gained popularity through works like 'Cycle' for Raja Puniani, 'Mounta' for Dr.Sudarshan Tamang, 'Dumping Ground' for Pushkar Parajuli, 'Khulla Aakash' for Prakash Sundas and 'Saacho Maya' for The Travellers.
The Inspiration
On the release of the visual of Aadha, Pallawib remarked," I used to listen to ghazals on my father's tape recorder and the lyrics of those ghazals used to fascinate me. When I was given the task of creating a visual for Aadha, I felt that lyrics must be the heart of the visual. Raja Puniani and I drew a concept for Aadha over the messenger at midnight. Khusendra Rai's composition Aadha is like a door during a storm – it is neither open nor closed. That door is a reflection of an uncertain time and an emotional state. I felt that the visuals and the story had to represent this uncertainty, the abstractness of the lyrics of this ghazal."
He added, "Time may move on but I felt that I needed to keep the character's imaginations and desires dormant at some point. What we bring forth onto the real stage may not justify our imagination and aspiration for a character since turning imagination into real visuals is a real challenge, so I feel what I have presented here is not exactly what I wanted to project. But again, as my 'ghazal listening' father would put it – One isn't born a Ronaldo, it is practice and perseverance that makes a Ronaldo – so the bug for creating music videos for ghazals has definitely bitten me but for now we have served a ghazal which may not be perfect in many ways. However, we request you to please like and share and encourage us, so that we can come up with more polished ones in future."
About the Music Composers
The music has been composed by one of the finest music composers of Darjeeling, Diwas Gurung, and the music has been arranged by Jiwan Prakash Pradhan.
The characters in the video are portrayed by Raja Puniani and Puja Kadel. Famed for his collection of stories 'Khurmi', Khusendra Rai's story was published by Sangrila India. He lives in Joom, Sikkim
Just as his stories have been accepted and loved by the readers, we hope that he will be loved equally for his ghazal album 'Aadha'. At present, Khusendra Rai is busy with the publishing of his ghazal anthology and is also occupied with the writing of a new novel.
About the Song
Vocal: Melina Rai
Composition: Diwas Gurung
Arrangement and Mixing: Jiwan Prakash Pradhan
Recorded At: Sangeet Sagar, Kathmandu, Nepal
Introducing: Sambodhan Gurung (Child Artist) Ft. Raja Puniani & Pooja Kadel
MUA: Eallina Pradhan
Rigs & Technical Support: Kingshuk Sharma (Digital Canvas)
Concept: Pallawib and Raja Puniani
Direction/ Cinematography/ Editing: Pallawib
Location Partners: Sangria- La Book Café, Siliguri, Kempe House, Patharghatta, Basundhara, Dagapur, Siliguri