On 29th November, 2018 we had shared a heart warming story of how students accompanied by their Professors from Ghoom-Jorebunglow College had travelled to Hope Old Age Home in Rohini to spend time with the elderly residents there. As a follow up question, we had asked Prof. Priyanka Tamang Lama who teaches at Ghoom-Jorebunglow College, "do you guys intend to do more?" She had said, "definitely…"
Here is her letter to us, received yesterday. 18th of Feb, 2019.
"I got an opportunity to visit HOPE HOME Welfare Society with my students and Colleagues. After spending the day with them, I couldn't stop the battle that my heart and mind was constantly fighting. "I WANTED TO DO SOMETHING FOR THEM." As a young writer aspirant, I locked myself at night told my mother not to call me for the dinner. I didn't want to eat that day.
I sat on my bed reminiscing of the whole day and then I took my pen and a diary to write about the Old People in the old age home. After completing my write up, I forwarded it to The Darjeeling Chronicle. They published my write-up on 29th November 2018.
After a deliberate attempt to awaken Humanity among all the population through my article I received a message from Navraj Rai who is currently based in Australia. He was very keen in sending some financial help to the people at the Old Age Home. Consulting Usha who looks after the elderly people, I forwarded all the bank details to Mr Navraj Rai.
Today in collaboration with his friends he contributes AUD-550 that equals to RS.26,378.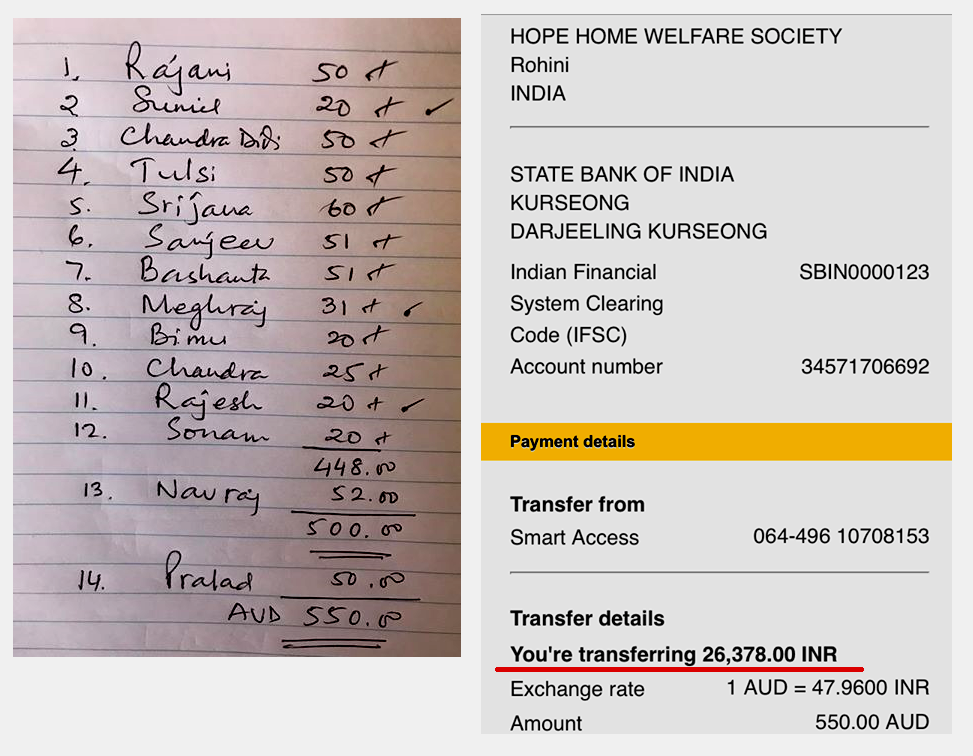 Yes Humanity is still alive.
Thank you to all the contributors whose care is definitely going to help the residents at Hope Old Age Home.
We would like to send the warmest SHOUT OUT to Prof. Priyanka who acted as a bridge in helping connect people from Jorebungla to Australia. To Mr. Navraj and all the donors from Australia, we are sending you our WARMEST HUGS and heartfelt GRATITUDE for caring for our place and people, even from so far away. It is this sense of community and togetherness, that sets the people of Darjeeling apart from others. We hope all of your actions will inspire thousands of our people to contribute similarly, and upkeep our the "Darjeeling Spirit"
Take a bow people, you all have earned it.