In a shocking incident, there was an attack on Darjeeling MP Raju Bista and his convoy today at a forested place between Sinji and Samthar in Kalimpong District. Thankfully, he is safe.
According to sources, MP Raju Bista was on his way to Sinji Primary School, which is incidentally celebrating its Golden Jubilee. MP Bista was expected to inaugurate a new school building there.
In a Press release, MP Raju Bista has said, "Today, while I was on my way to Sinji in Kalimpong, to inaugurate Sinji Primary School, which is celebrating its Golden Jubilee, there was an attempt on my life."
According to Raju Bista they were attacked by a group of 80-100 goons allegedly belonging to TMC on reaching Mandir Khola, Char Pul. Bista has claimed the attackers were drunk.
He added, "Initially they were shouting slogans, which quickly turned into a physical attack accompanied by Khukuri, knife, other sharp weapons and heavy stone pelting on our supporters and myself. Many of our BJP party workers and our alliance partner GJM party workers have been injured in the attack, who were sitting duck against a well-organized ambush. My private security officer was stuck on chest and upper body following his attempt to cover me from the oncoming barrage of blows and stones thrown at me. My Personal Security Officer was also injured when stones pelted on us hit his legs."
Blaming West Bengal police, Raju Bista has said, "This attack wouldn't have been possible without the tactical support of West Bengal Police. Having received the information about pre-planned attack by hired goons brought in from outside that could take place today, I had called Kalimpong Superintendent of Police SP Yadav last night, and appraised him of the security threat that I faced owing to this organized hooliganism. I had asked West Bengal Home Secretary and West Bengal Director General of Police to instruct Kalimpong Police to provide adequate security so that no untoward incident takes place today, and I am not stopped from performing my Parliamentary duties. I was assured that everything was normal, and that I had no reason to worry about my security or the security of people around me. However, my security arrangements were inadequate and there was an attempt on my life, in which my security officers, GJM and BJP party workers have been injured."
On September 11th, 2019 too, the convoy of Raju Bista had come under attack on their way to Singla via Patlebas-Tukvar valley.
Earlier in the day, supporters of Anit Thapa and Binay Tamang had gathered in Sinji and were seen burning effigy and chanting slogans against Darjeeling MP Raju Bista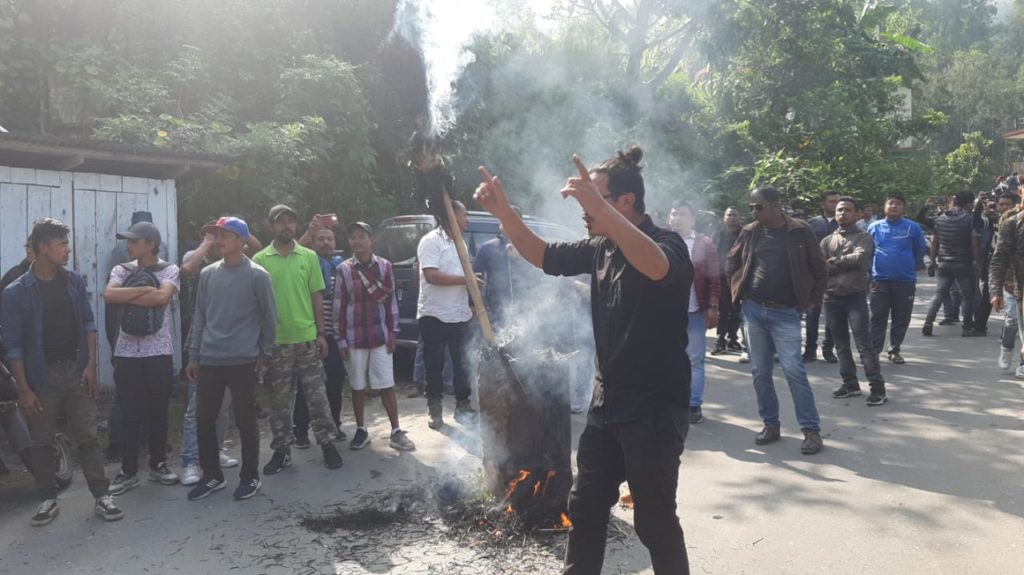 Bista has decried the attack and has vowed to fight back, he said, "Democracy for all intent and purpose in dead in West Bengal. BUT I refused to be cowered, I refuse to give in to the bully tactics of TMC. I avow to get this glorious land of Dal Bahadur Giri, Ari Bahadur Gurung, Netaji Subash Chandra Bose, Swamy Vivekananda, Gurudev Rabindranath Tagore rid of this undemocratic, dictatorial and murderous TMC party."