The sad thing that has happened to Mirik is, people here are going sentimental, and why wouldn't they? My senior one, who is at the wrong side of the '30s tells me that they have been clapping for three consecutive parties at this age – just because they all announced the betterment of the lake and the garden.
The biggest reason why I am writing this is, I was totally disheartened when I came to see my lake without any boats. There are employees who come, stay, talk a bit and go home. Imagine no boats in our lake! And one should come to visit the lake too.
What it really was: a beauty, sacred and spooky too. There are tales of and around the lake. Make sure you ask one, we are great storytellers.
Eventually, no boats, so what next? Is this still the lake where Buddhist monks would release catfish and the Biharis celebrate their Chat Puja?
The picnic comers who are all so clever, and think our lake is a flowing river do their dishes in the lake and throw whatever waste, wherever they like. And you must see them, they are the happiest. Thankfully they don't excrete, but the drunk vomit, and sometimes they take the leak. What happens to them now?
Our lake was a beauty, roads were good and most importantly there were people to take care after. Vehicles were less and nights were dark. Everything has changed now, it's not the same place. It feels strange and sad, but I feel the dark side and break down with the things that should be changed like a myth or a fairytale.
To talk about, Mirik, we were the only constituency where TMC, the first Bengal-based party from plains to wins an election at hills. We are already done with CPIM, GNLF along with Gorkha League, GJMM. Now I think we wanted to give a chance to TMC, but we all know none of them will work.
I remember someone recently, like almost two years ago promised to make a garden and a lake within 100 days (*warning: this is fictional).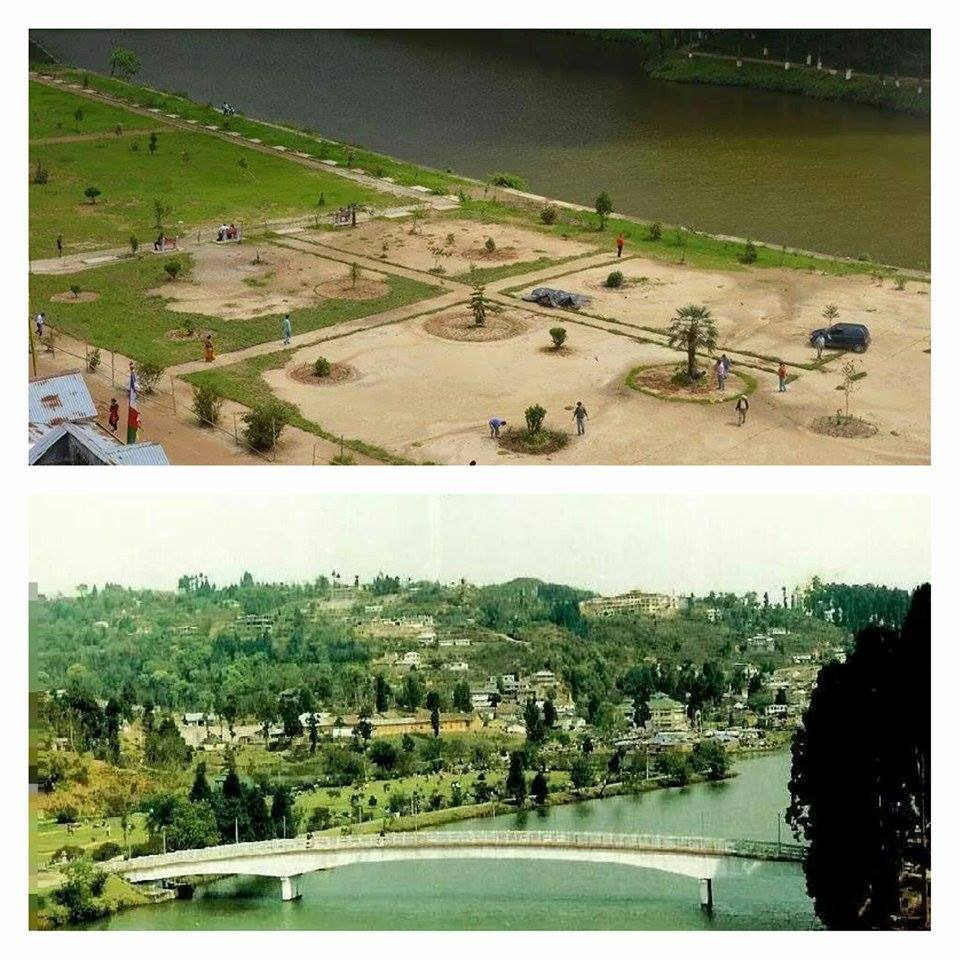 What I don't understand is, if we public are to look after this or the government? We public surely don't care much, for we are the ones to dirty the lake and encroach the land around it. There are government places taken up by religious sects, there are shops who don't own a liquor license, yet sell them (Anytime Credit). There are rented rooms to gamble, forest to trip on. Empty winter houses to sleep on an empty stomach, while the policemen and government officials who need an extra bribe to fill theirs abound. In the meantime, the monks and the priests keep saying their chants, and bells in all the holy places chime. Incense and milk are scattered over the ground and stones, while the people somewhere die of hunger, but yet they hug each other and wish them a good new year.
There's a belief "Everyone is the same". I say Political Leaders are, but I find it amazing how they manage to be the sentiments of so many. Varieties of colours representing positivity in a party flag. With motto and promises to keep the land sacred. I haven't really found a real party or the honest one that would keep all the promises.
They had the plan to make a floating market at Mirik Lake. It's not floating, its two small boats with Siliguri merchandises and few handicrafts, which is just not sinking.
The lake and the garden was supposed to be made from the very time I was born but it has not yet been completed. Let's not forget Rai Dhaap, aquarium and many more that might come.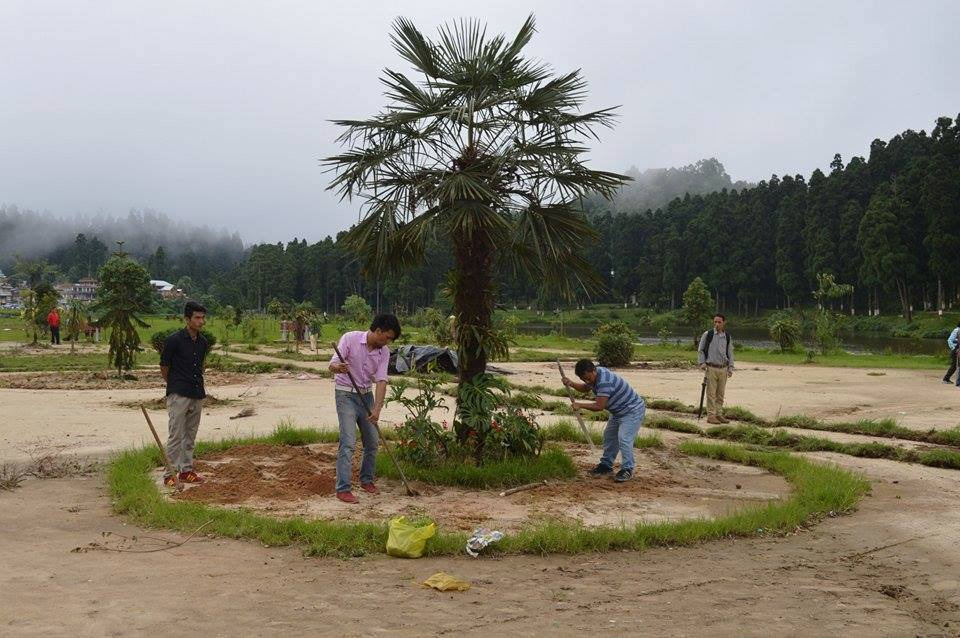 I have to share this incident that recently happened with me when I was home this winter for a vacation. A lonesome Bong guy from Calcutta asked me if this was the Mirik garden, which I hesitatingly replied, "Dekhti parishna?". And he was like, "please don't be an offended brother but I had quite an expectation about the garden and the lake. I am not bragging but my locality's children parks are much better than this". Then I replied, it was better when it was natural. It's your kind that made it a man-made lake and gardens. We had "Chawurs" (Green Fields) and "Dhaaps" (water sources) with pure water and less of your kind who is sucking every piece of our land like Britishers did to India and us too. Then I think he realised or found me better as someone to be avoided. He smirked and left. And my date was literally shocked to see me that way, she never dated me again.
I am from Mirik and my family right from my great grandfathers never worked in a tea estate as labour. They had agriculture and money didn't have much value then. Whatever we grew, we ate. As the currencies started having values, they were into business, selling things at small "haat bazaars" in and around places.
The simplest formula to explain why Gorkhaland is "Our people were here before Britishers. They took our lands, turned them into money-earning machines with our people as labours. What Bengal and the elite companies are doing now is of no difference". That's the reason I really don't know whom to vote for, because of no matter who it has been, it really hasn't made any difference.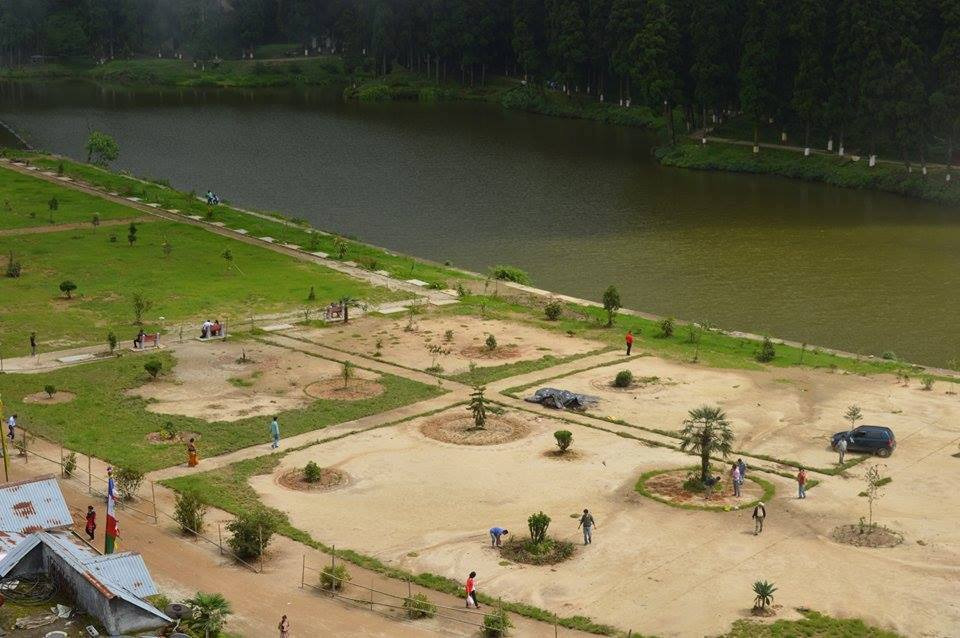 My people who wake up with the factories siren as an alarm have faced worst of situations, but have always stood more firm and become stronger. For example; Modi had said many things about Gorkhaland when the vote approached. This is not a myth but unfortunately, his juniors had to suffer the wrath of Darjeelinge' people. They had the balls to come to Darjeeling after 110 days of "Andolan" and throw a speech at Gundrukay bazaar. They came, got thrashed and left. This is also not a myth part 2 – hard to digest for any Darjeelinge'.
Once upon a time in 1986, when Subash Ghising revolted. The strike was for 40 days but on average along with the CRPF, it is believed that around 1200 people died in that myth – as heard from most of the locals. Guys would be taken by CRPF and never returned. Police Stations were captured by our people. So eventually, the recent accident of 44 CRPF who died and made a single airforce guy famous didn't melt my heart much. Though I was not born to experience such a terror, but the blood that has been spilt in my land, will not be forgotten. You know during that time a ballot box was sent empty without a single vote but yes "Khada" (traditional garland) was tied over and sent to the central government.
With so much of revolutionaries who haven't given up on Gorkhaland, all of them that I know and I might not. I would love if the ballot box was once again sent with "Khada" but we know it's not possible. It was just a thought, what if? What if these parties didn't exist. What if the concretes could be deleted. What if the tigers at tiger hill are back. What if the Kharsang is again the land of orchids. What if the tea estates are all gone and there are enough trees that give you fruits instead of that stubborn pine. What if Muglan was never there? What if tea estates could be harvested? What if Siliguri was more of us and fewer immigrants. And FYI did you know Rohingyas have occupied land at Chimney (Kharsang) these days? And so much we all see, that you know and I don't.
Let's go with "Khada" during the election. "The Khada Movement", not possible, I know.
But what if?
[Writes: Aditya Mangar]