FLASHBACK ONE
"Khuchhing taala maitala
Dus paisa ko suntala"
This was a fun oriented chant which we choired jerking our shoulders upwards and downwards in order to ridicule someone. But there is a hidden truth in these lines because we literally used to purchase suntala (oranges) for dus paisa.
Our childhood days were the most joyous one with rough edged half-pants jingling with marbles while we ran with 'ring gaadi' stroking dust with Pashupati made 'hatti chhap chappal'. Girls were usually dressed in 'putali jaama', they stiffened their hair with colourful 'hairben' and 'kilip'.
The official way of establishing friendship was by twisting our small fingers with one another uttering "milung la". The official trademark of cutting away someone from friend circle was by uttering- " doodh bhaat maasu saasu aara aara kattil."
Utterance of 'kattil' was simultaneously made by swiping your thumb beneath the chin. The ecstatic melody of 'amliso ko paat ko pyar pyaraay' still ignites the flame of nostalgia in me. We played 'lukki chori' reinterring 'kuku…ha" , 'chor police', 'ambal dambal', 'bhada kutti', 'lakku', 'amrite'. There are some muttering words that still echoes in my flashback while we played these games which go like:
"Ek tupa ek, ek tupa dui, ek tupa tin"
"Yetti yetti paani ghey ghey raani, chiso chiso paani ghey ghey raani…"
"Ambal dambal khairo paat…"
"Chingg chhyaang chuush"
"Khoi mero baasi bhaat ? Biralu ley khayo… Khoi biralu? Musa marnu goyo….."
"Inchu minchu London ma, ghoda ko babu paltan ma…."
" Badam ko laagi ko auchha…ko auchha ko auchha?…"
" Dhuku muku dhuku muku k ko haath?…."
We had self innovated toys such as, 'baas ko pot pottay', made of a slim hollow bamboo, punched in by a bamboo stick which would fit into the hollow bamboo and the stick had widened flat base. We used to chew paper and launch it into the hollow bamboo and push it with the stick… two installations and there was a sound- "paaat!" Hence, it had the onomatopoeic epistemology- "pat pattay!" 'Mali bas' was regarded as the best bamboo for making 'pat pataay' and 'asaaray' was considered to be the best bullet.
There was ambience of fun even at the moment when someone farted silently. The smell of fart while being in a group would make you point each individual in a group and call out
aadey paadey nunu chadey tamang paadey thuus
aadeyra gudiya ganda aayo fuuss…"
The last word "fuuss'" would decide who the victim was.
Every chasm of simplicity, truth and happiness surrounded us.
The world was not knotted and entangled with websites, it was not buzzing busy with ringtones nor was it flying speed with Mbps and Kbps. Though we did not have the facility of high-speed and high data storage memory card, the smell of titaaypati is still in our memories; the taste of 'bhuteko makkai ra fikka chiya' is still in our memories, the joy of 'sutli dori ley badheko plastic ko goli' is still in our memories.
And we have those memories…tons of those memories… "khabaar kagaaz ko khol bhako kitab", "khoppi ko khicney", "dip goli ko toppa", "machaa kaada ko ek khuttey", "chapleti dhunga ko sulsuley", "labar, banmara ra tittaypati ko chungi", "teen chhakay byaaring gaadi", "ghuraah, pangra ra matengra ghumai" ,"iskoos ma sinka ghochera banako sungoor", "baas ko khopayta ko fir firaay". We still can recall back those innocent pauses in "ambiss" and "dumara."
Flying a kite was another fun which required a devoted skill and vigour. Kites were made either from thin coloured plastic or a thin colour paper… we called it 'taau'. There were many shops which sold ready-made kites but making it with your own hand ensiled a different taste in you. Slicing a bamboo for the 'kanni', fixing it with glue and thread added more to the excitement. If a kite remained still in the air without any swing, we used to call it "laata guddi".
There were competitions amongst the kite flyers…the competition of cutting away the rival kite…locally termed as "manja khelnu". Preparing manja for this type of competition was another skill one had to acquire in the art of kite flying. There were ready made manja available in the market, such as 'Kalkattay manja', 'Bombay manja' etc.
We often made manja by rubbing tube lights' dust on the thread glued with the paste of flour and 'saabu-dana'. Our hearts flew with the multi-coloured square shaped papers swinging in the blue sky. And of course, who would forget the excitement that shrilled while you chased a 'bhageta'.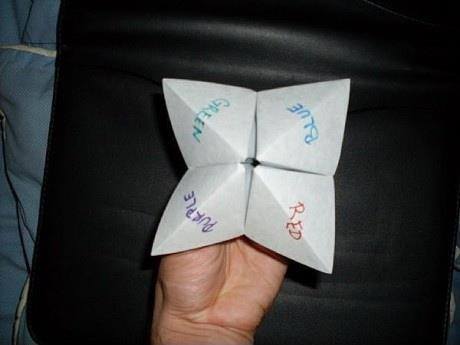 FLASHBACK TWO
Most of our childhood was spent without multi news channel which dominates the brain decorum and informative calescence today. The only TV channel with which we could entice and entertain ourselves in leisurely time was 'Doordarshan'. Doordarshan reined our childhood prescience, amusing us with visual delicacies.
We watched seriels like- Kakaji Kahin, Hum Log, Fauji, Circus, Jassos Karamchand, Mungrilal Ke Hasin Sapne, B.R. Chopra's Ramayan and Mahabharat, Byomkesh Bakshi , Dada Dadi Ki Kahaniyaan, Honi Anhoni, Kahan Gaye Woh Log, Katha Sagar, Malgudi Days, Mirza Ghalib, Nukkad , Tamas, Tenali Rama, The Sword of Tipu Sultan, Vikram Aur Betaal, Wagle Ki Duniya, Bharat Ek Khoj…etc.
There were some informative programmes like Surabhi, Turning Point (I remember Mahesh Bhatt hosting this show). Wednesday night was jostled up with 'Chitrahaar'. The most interesting part while watching Chitrahaar was engrossing into 'chittha' or a lucky draw. People would write down names of actors and actresses on a slip of paper folding it to ask the members and neighbourhood mates to pick any one of it. These folded slips of paper had an equal estimated price and if the actor whose name had been mentioned in your slip appeared to be in the song featured then you would win the prize money.
The songs that featured in Chitrahaar had a charisma of its own. They intensified the stretching treads of our fantasy. One can vividly recall a very lean and thin Sanjay Dutt with over-grown back hair, almost touching his shoulders, and brushed frisk at front dancing in 'Tamma tamma logey, tamma tamma logey tamma…
"Some may recall Govinda wearing a multi-buckled leather jacket and a leather pant with pointed boots and gloves dancing and singing – "I am a Street dancer, I am a Street dancer…" A grave reminiscecnce of my grandma's words still hits te unknown zone of my head, she often said, " yo Mithunaay ra yo Gobindaay chai k saaro nacheko.."Actually she was referring to Mithun Chakraborty and Govinda's dance but she addressed them as if they were some local and well known lewd inhabitants of her own village.
Sunday was a carnivalesque day. Sunday meant that taking a bath was compulsory but there were amazing prizes which came along with the parallel subsequence. Generally, very few people owned a television during those days. One who did not own a television visited the house of neighbourhood who owned it. To watch television at other's house was both an act of excitement and disappointment…
The main entrance door of the house which owned television was always occupied with huge stack and piles of slippers, sandals and shoes. One who entered early got a chance to seat on sofa or a stool but as the crowd increased one could hardly get a place even on the floor. So, some were seen peeping from the slight gap of door and some from the ventilation. This was a craze of time, a craze just to get a glimpse of images featured on a black and white screen. This was how we watched 'Mahabharat' at our neighbourhood place with watering nose, dried cheeks and peeled knees and elbows.
Much later we were introduced to cartoons. Walt Disney's Donald Duck, Mickey Mouse, Mini Mouse, Pluto, Goofey became our favourite visual inhalers. And we had Jungle Book which dozed and delivered the greatest childhood ecstasy.
"Jungle jungle pata chala hai, pata chala hai
Arey chaddi pehan ke phool khila hai phool khila hai"
This became our childhood anthem.
Next was 'Potli Baba' which stirred an aroma of tales in the flowers of our imagination. We would sing,
"potli me hari-bhari parioyn ke per,
mandiron ki ghantiyan, kalisaaon ka bagh,
hey.. aya aya chhenu wali jhunnu ka baba…
aya aya chhenu wali jhunnu ka baba…
aaya… re baba aaya
And there was also a two dimension cartoon on 'Alice in Wonderland' which began thus:
"Tap tap topi topi tope me jo doobe,
Pal pal farmaishen lete hai ajoobe
Ulat palat ralat salat saii
Jubilee jillette ja"
Much later we became glued to Shaktimaan, featuring Mukesh Khanna. We would imitate the great spinning take-off of Shaktimaan and reverberate the "Power" of Doctor Jaikal and "andhera kayam rahey" of Tamraj Kilwish. When the show ended, we would run back home singing:
"Adbhut, Asambhav, Anahat Ki Paribhasha Hai
Ye Mit Ti Manavta Ki Ik Aasha Hai
Ye Divya Shaktiyan Wardaan Hain
Ye Avtaar Nahin Hai Ye Insaan Hai
Shaktimaan! Shaktimaan! Shaktimaan"
One of the best mythical tale telecasted during the same period was Chanrakanta. It had a jingling opening sound track and eventually the song went "Chandrakanta Ki Kahani,Ye Maana Ke Puraani ,Ye Puraani Hokar Bhi ,Badi Lagti Thi Suhaani …Naugadh, VijeyGadh Me Thi Takraar ,Naugadh Ka Tha Jo Raj Kumar ,Chandrakanta Se Karta Tha Pyaar".
The most remarkable character of this particular serial was Kroor Singh with his signature line "Yakoo Pitaji".
He made such an impact on our immature mind that one who came to school with uncombed hair was often given a name "Yakoo Pitaji"
And how can one forget those Sundays' Rangoli and the movie featured on every Saturday and Sunday night.
The most celebrated rite while there was a heavy wind was fixing the television antenna. One would turn the antenna towards different direction to clear the visual and shout- "bhayoo?" from outside. The one inside the house checking the visual on the screen would yell back- "aghi ko patti farka na!" People used to hang "moktu" beside the antenna… because there was a popular belief that it would formidably give a good picture quality. Some would even pierce multiple holes on a steel plate and hang it beside the antenna.
This was the joy of living in the land of innocence.
We had no Mp3 of latest audio gadgets. We listened to the audio square shaped cassettes with rolls in it which was technically played in the audio cassette player (locally called 'tape'). In order to save the battery or electricity we rewinded or forwarded the cassette by inserting a pen into one of the holes of the cassette and spinning it until our guess met the desired number.
There were no home theatre or surround sound equipments. So the only medium to throw a loud audio was a square shaped "sound box" or a funnel shaped loud speaker called "mike". Watching movies in VCR Player was a common pass time. But very few people owned them. So, one had to rely on local video hall to watch the latest movie.
Watching television was even more tormenting at rural areas which had no electricity connection. The only source of power for television at such places was- 'battery'. Battery was charged at a nearby market or adjacent area which had electricity.
Life was harsh but harshness bloomed into indelible experiences.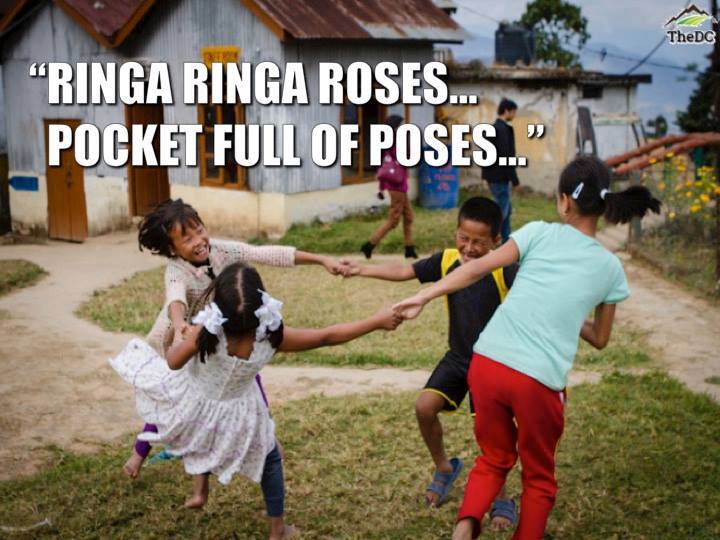 FLASHBACK THREE
Though most of our days were spent playing outdoor at 'amlisho baari', 'baas ghaari', 'ghuriyan', 'siru baari', 'khet bari', 'galchedi', sikuwa', 'aagaan', we still spared some amount of time for reading and studying.
I still remember the cover of 'Nepali Sajilo Pat' which had a two dimensional figure of a boy and a girl holding a book with a mountain and a rising sun at the background.
That book had ample of such contents which we used to sing aloud while we were at home or when we were in mid of our outdoor game. It contained the poem of 'Singarey patha'; story which described 'Padam ko Pencil Harayo' and, few childlores and songs like:
"Tara tuli batuli, katti ramri putali
Saani pani chaina hai, thuli pani hoin ahai…"
"Dugur dugur kuiro, tero ghaar ma chor pasyo…"
"Aduwa khai pieo mani. Aama bhandai aucha naani…"
"Mero saano pusi, aaja katti khusi…"
"Mero saanu kharayo, aaja kata harayo…"
"Ek- lauro tek, dui-naani buui, teen- cheparo chin, char- machha maar…"
"Ghaam lagyo jhilimili hera sun ko dara
Paani paryo rimijhimi indreni ko maala…"
There were certain English texts which could afford to be mind-friendly and infused our fantasy with multiple visionaries. We had the tales of 'Alice in Wonderland', Little Red Riding Hood', 'Alladin and the Magic Lamp', 'Story of Robert Bruce', 'Fox and the Crow', 'The Hare and Tortoise', 'Akbar- Birbal', 'Ali Baba and Forty Thieves'…etc.
Comics served in a great way to deliver graphic tales with certain fable story frame and certain parable story frame. We grew up reading comics like Tinkle, Super Commando Dhruv, Nagraj, Doga, Parmanu, Inspector Steel. The famous characyers featured in Tinkle comics were- Sikari Sambhu, Kalia The Crow, Tantri Mantri,Suppandi, Kapish The Monkey, Ramu and Shamu and Suppandi. Other comics included Amar Chita Katha, Cha Cha Chaowdhary and Sabu, Phantom, etc.
We also read certain magazines like Wisdom, Reader's Digest etc.
There were many dares and challenges that we would pose on our friends such as:
Challenging your friend to scrub 120 times on the forehead and see what the result would be
Challenging your friend to touch the tip of nose with tongue
Challenging your friend to push the thumb backward to touch the forearm
Challenging your friend to make a house, ship or a wallet with a piece of sheet paper
Challenging if your friend could do the moving thumb trick
Challenging if your friend could do the trick which made the piece of paper shift from one finger to the other
Challenging your friend to make pieces of paper hover and stick to a plastic ruler when the ruler was frequently rubbed on the hair.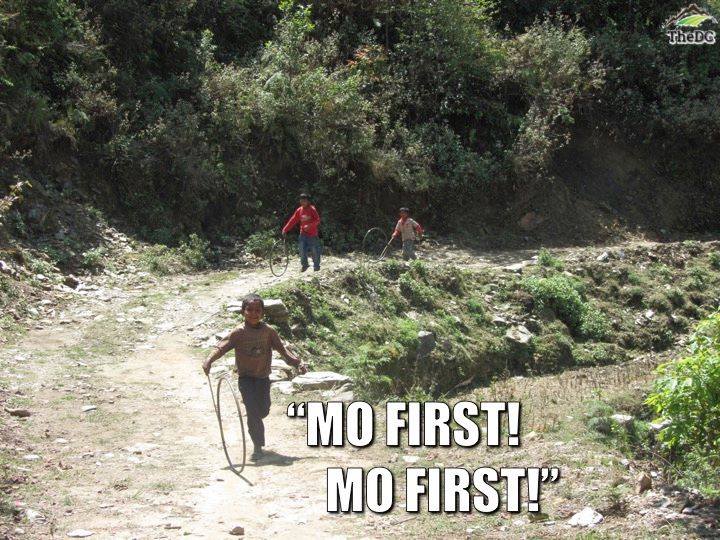 FLASHBACK FOUR
The tastiest part of our childhood was sweets and things we ate. Those delicacies still stimulates the saliva gland and fetch a sand of recollected time on the palm of age. We ate sweets like 'ghurrah mithai', one which could be twirled on a thread; 'andaa mithai'; 'mala mithai'; 'suntala mithai'; 'machha mithai'; orange flavoured Boy's called 'orange mithai'; mint flavoured Boy's called "halls mithai"; Banana flavoured Boy's called "Pahelo mithai"; coconut flavoured mithai called"nariwal mithai". There were other items made out of jaggary like "laal pathhar" (also called rasta ka pathhar); "til mithai"; badam mithai"'; "kaat mithai" and "dhunga mithai".
Other items were "murai ko dalla"and "makkai ko dalla".

We also have the experience of eating raw fruits, seeds and stalks from the nearby forests like: "aishelu", "kimboo", "thotnaay", "bhadrasaay", "lapsi", "naspatti", "ambaak", "suntala", "chiuri", "bhakimlo", "chari ameelo", "mell", "bhotay paan"…etc

We even smoked "sukeko iskoosh ko munta", "tamarkay ko phool" and " makkai ko dhord" , chewed iskoosh ko sukeko patta" as khaini.
We would rush and fight to eat "doodh ko kurauni" or "gheew ko khar" or "mauri ko chakhha". I can recall how we contributed money to buy a packet of "Thin Arrowroot Biscuit" which we distributed in terms of each row to the contributor. Well, that was the best snack we had after our tiresome game. And of course, "bhuteko makkai, bhatamash", "gillo rooti", "kodo ko roti" or "makkai ko dhedo" had a finger-licking quality.
Amongst these all… we literally enjoyed to stand in queue before the village I.C.D.S. center to collect "bulgar". Eating "bulgar" spreading it all over the cheeks was a pictorial memento that will be patched on the canvas of yesteryears.
We often hear that childhood is dying in. I feel lucky that I lived a childhood which was full of life.
Sometimes I silently hum the tunes these long gone days in following lines of Gulzar Sahab:
"Ye Daulat Bhii Le Lo, Ye Shoharat Bhii Le Lo
Bhale Chhiin Lo, Mujhse Merii Javaanii
Magar Mujhako Lautaa Do Bachapan Kaa Saavan
Vo Kaagaz Kii Kashtii, Vo Baarish Kaa Paanii"
Writes: Binod Pradhan