The National Council for Teacher Education Permits RK Mission B.Ed College to Intake 1 Unit – 50 students for the Upcoming Session
The NCTE has restored the recognition of Ramkrishna B.Ed College for 1 unit i.e 50 students. This development came following the meeting of Eastern Regional Council of NCTE, which was held on the 24th and 25th of August, 2020.
According to the proceedings the recognition of B.ed course of Shree Ramakrishna Mission BT College has been restored for 1 unit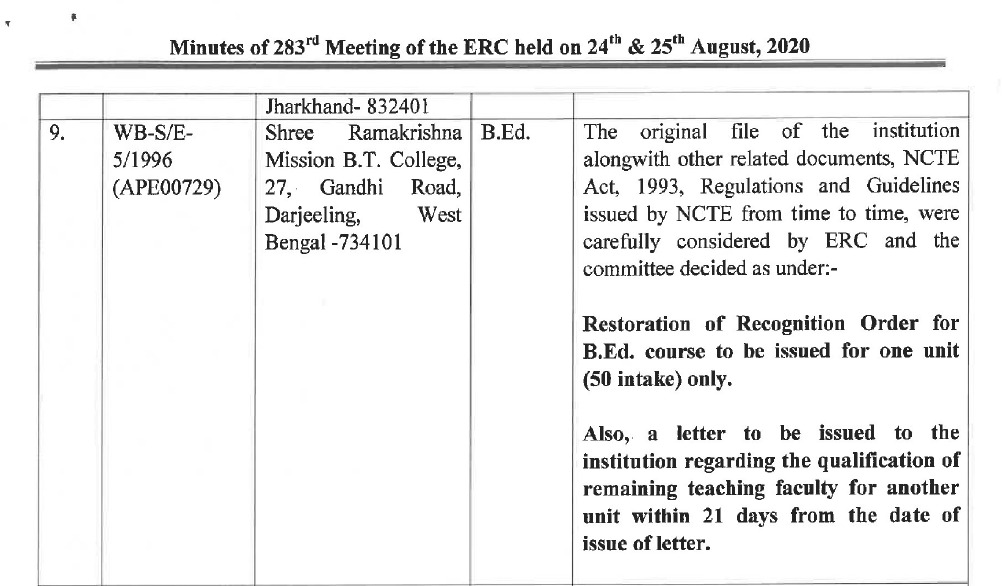 As we had reported earlier, their recognition had been withdrawn and now it has been restored for 50 intake.
The order reads, "The original file of the institution alongwith other related documents, NCTE Act, 1993, Regulations and Guidelines issued by NCTE from time to time, were carefully considered by ERC and the committee decided as under:-
Restoration of Recognition Order for B.Ed course to be issued for one unit (50 intake) only."
The order further specifies, "Also, a letter to be issued to the institution regarding the qualification of remaining teaching faculty for another unit within 21 days from the date of issue of the letter."
This move is bound to benefit students from Darjeeling and Kalimpong region whose future had been put to jeopardy due to mismanagement by the college authorities and West Bengal government.
Reacting to the development, Darjeeling MP Raju Bista said, "I am grateful to Hon'ble MHRD Ramesh Pokhariyal ji whose intervention on behalf of the students from Darjeeling hills, Terai and Dooars has made this possible. However, for the smooth functioning of the oldest and only B.Ed college in our region, I request WB Govt to recruit proper faculty members and ensure all the facilities as stipulated by NCTE are put in place at the earliest."