The 274th Meeting of the Eastern Regional Committee (ERC), National Council for Teacher Education (NCTE) held at Chandrasekharpur, Bhubaneswar, under the Chairmanship of Prof. Kshiti Bhusan Das has withdrawn the recognition given to Shree RK BT College, Darjeeling effective Academic Session 2020-2021.
According to the report published online at: http://www.ercncte.org/pdf/274th_Proceedings.pdf
Rama Krishna Mission BT College, Darjeeling was issued multiple Show Cause notices regarding lack of Qualified Faculty members, and also Fixed Deposit Endowments of Rs 5 Lakh and Rs 7 Lakhs.
Here is what the report says:
"1st show cause notice u/s 17(1) issued on 15.05.2018, followed by final show cause notice dated 14.12.2018 and the institution is still deficient on the following grounds:-
(i) Faculty list is not as per NCTE Regulations, 2014 as only 5 faculties are regular and 2 part-time. Required faculties (1+15) qualified as per NCTE Regulations, 2014 need to be appointed and list of fresh faculty duly approved by the affiliating body is to be submitted.
(ii) Total land area and built up area not mentioned in the building plan.
(iii) Building completion certificate is not in the NCTE prescribed proforma and not approved by Govt. Engineer.
(iv) FDRs Rs.5 lakh & Rs.7 lakh towards endowment and reserve fund in joint operation mode as per NCTE Regulations, 2014 are not submitted.
(v) Website not maintained and updated.
No reply received and the stipulated time period has already been over.
Recognition granted to B.Ed. course is withdrawn under section 17(1) of NCTE Act, 1993 from the academic session 2020-2021."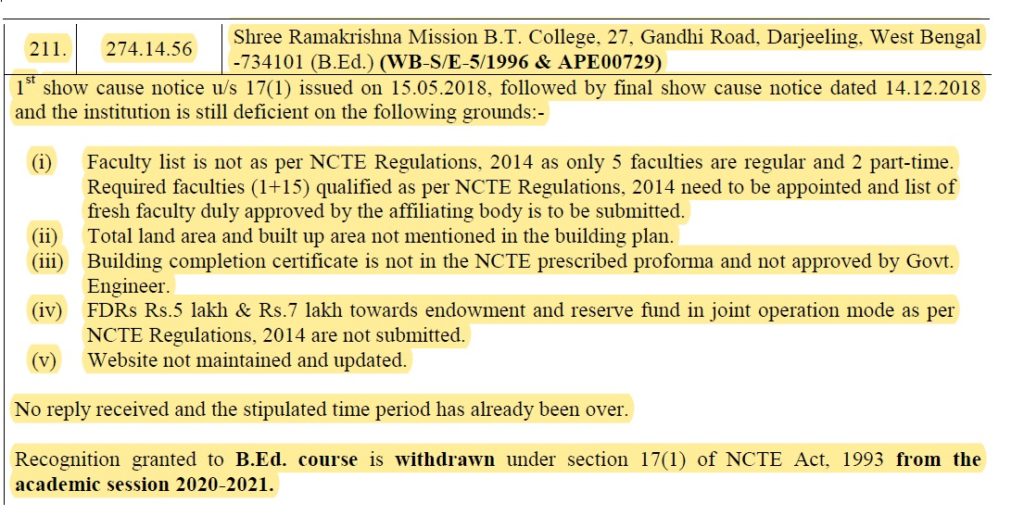 Also Darjeeling Universal Campus, at Takdah has been show-caused for not fulfilling the criteria of appointing NET/PhD. As for the approved norm, 15 faculty members were to be appointed, but the appointed faculty members are not NET/PhD qualified.
NCTE has issued a "Show Cause Notice u/s 17(1) of NCTE Act, 1993 be issued to the institutions covered under above categories giving 60 days time to comply the deficiencies as mentioned against the institution"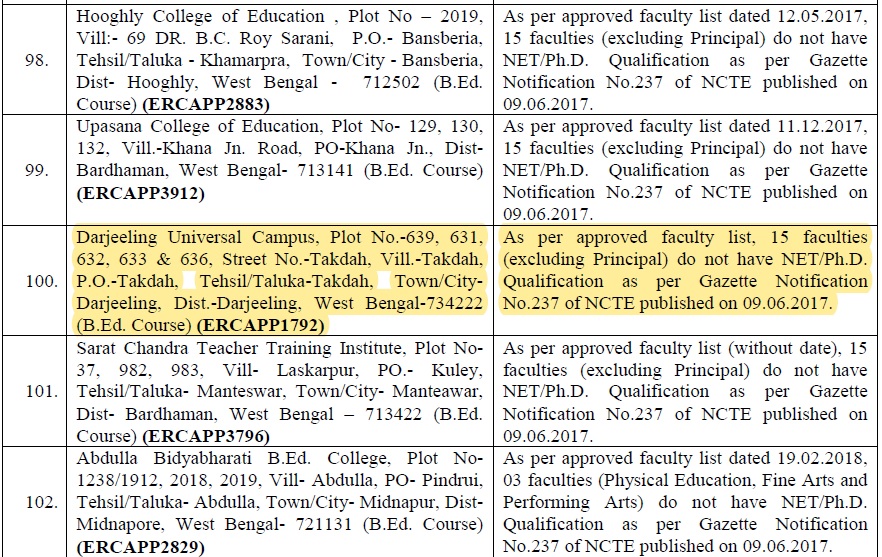 While it is tragic that NCTE cancelled the recognition of RK BT College, what is more shocking is that the college was running without requisite faculty members, and they didn't bother to respond to repeated request for clarifications.
The College Principal and other GTA/WB Education officials concerned with the monitoring and running of the college should be held responsible for this fiasco.
The authorities need to explain, how such a situation was allowed to develop?