Did you know that a book has four parts? Front cover, pages, back cover and a spine. I didn't notice it at all till I was six.
I grew up in a small community area in Darjeeling where there were and still are, no motorable roads. There were no taps in our houses because there was no water. You could only 'play with water' when it rained. I still remember the day I played in the rain for three hours, it was the best day of my life, ever.
The electricity of the place or the lack of it was so infamous, we had a poem written on it called 'Darjeeling ko Bijuli Batti' – Darjeeling's Electricity – a comedy of errors of what happens when lights are out and you have long nights.
In the days of rebellious agitation the town was facing, we had something called 40-day strikes (bandh) when we couldn't go to school or move around. Talking about school my brothers and I used to walk with our little feet, two hours uphill to reach because our mother was particular about which school we should be attending. She said she was preparing us to get out of there.
What was 'out of there' was difficult to fathom because we had no TV or internet to find out. What we had was something more. My mother, a doctor doing community service, as it turned out, was an avid reader. Amongst her stethoscope, common medications and syringes, she had piles of books lying around. It was in the reading we saw the life we could live and the people we could become.
Oh, and we could only read in the few hours before nightfall because of the electricity issues. That was 'the life', I have heard people pay to live like this for a few days, just for a getaway!
Just like we judiciously used up every drop of scarce water, my mom always made us read every word there was in a book. I was six, had a hardcover Ladybird 'Puss in Boots' in my hands, borrowed from school, I was already in my second chapter and she asked me,
'So, where did you start?'
'Chapter one', I said.
'But did you read the spine? The year of first publishing? The preface?'
Always the tough cookie, that Dr Pradhan.
Ever since I read everything in sight. The bible while in a convent to pieces of oily newspapers where they used to wrap samosas in while growing up. Cover to cover of instructions booklets in a flight to notice boards behind hotel room doors while travelling. Sweetshop boards in Kolkata to back of the trucks in Delhi. Guidelines in the tube stations of London to the names of plants in the Swiss Alps. Hundreds of books and thousands of articles and among other things, spines of all the books of a favourite author lined up on the shelves of book stores.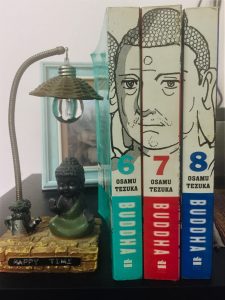 The benefits of reading are innumerable, mental stimulation, knowledge, improved thinking and comprehending skills, self-improvement and better writing skills among others. I have understood over the years that reading has helped me adapt well when I travel, network better and especially helped me in my career as a Corporate Communications professional where conversations, story-telling, networking and great writing skills are key to success.
If you have seen the movie 'The Reader', Kate Winslet's character confesses to a crime she didn't commit because she doesn't want anyone to know she cannot read or write. Far-fetched as it sounds, I have actually met people like her. It is a great movie. I consider being able to read, the greatest gift as well. Which is why on most weekends you will find me curled up in a comfortable chair (I have a book nook) with a hot cuppa, reading.
In a profession where writing is an important skill? Read more!
This article was originally posted here.
Writes: Ira Pradhan, Ira is a Corporate Communications Leader with experience in Healthcare, Consumer Electronics, IT, Retail and the Automotive industry. She hails from the small and beautiful state of Sikkim and considers herself a complete Mountain Girl. In a career spanning over a decade as a communications expert, she has championed and led programs on several sustainable business practices, diversity and inclusion programs. She loves to read literature and books on management and development in technology and economics. She mentors young women students & entrepreneurs in her home state, Sikkim.