TheDC team fondly remembers and salutes Subedar Niranjan Singh Chhetri – 1st Gorkhali Shaheed in India's Freedom Movement on his 130th Saheed Diwas.
Subedar Niranjan Singh Chhetri led the contingent of Native Gorkhali soldiers for revolutionary Manipuri hero Jubraj Tekendrajit Singh.
When East India Company was taking over different parts of India bit by bit and entered Manipur, the Manipuri hero Jubraj Bir Tekendrajit Singh decided to fight against the British than surrender. Much like Chattrapati Shivaji and Rani Laxmibai, Jubraj Tekendrajit Singh became a martyr in the battlefield.
According to Manipur Who is Who – 1891, published by the Government in 1990, Niranjan Chhetri was sentenced to death on June 8, 1891. He left the British Army to join the native force of Manipur led by Prince Tikendrajit and Thangal General. Niranjan Chhetri was appointed as a Subedar in the native rebel army by the Prince himself.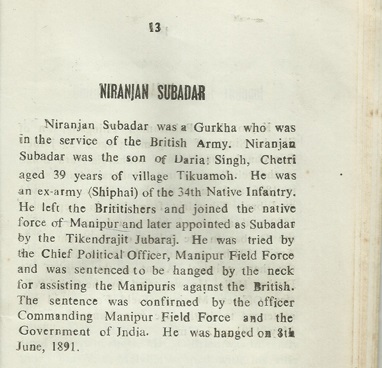 On this day, the Gorkhalis of India remember, salute and celebrate the brave heart Subedar Niranjan Singh Chettri, who was hanged by the British in 1891 for his role in the "Revolt of Manipur". His bravery and patriotism was unparalleled, yet his act of patriotism, much like acts of patriotism from the rest of North-East India was lost in pages of history.
His last words – "My birthplace is my Motherland, I am ready to die for this land, and I am ready to kill for this land… but I am not ready to accept surrender and subjugation of my own land"
TheDC team also salutes Shaheed Niranjan Singh Chhetri who was the first Gorkhali martyr in the freedom movement of India.
[We are grateful to Boigram Gorkha Bhandari for this report]