The West Bengal Chief Secretary Rajiva Sinha has written to the Chairman of the Railway Board Vinod Kumar Yadav stating the willingness of West Bengal government to bear the "entire cost of movement by special trains to West Bengal, of migrants of the State stranded in various parts of the country".
Yesterday, West Bengal Tourism Minister Gautam Deb had yesterday alleged that the Central Govt was charging money from the stranded people.
Reacting to which Darjeeling MP Raju Bista had released a scathing Press Release, in which he had accused Mr. Gautam Deb of "lying".
Mr. Bista in his release had said, "These claims are blatantly untrue.
These claims also showcase how even in this period of crisis, TMC is indulging in politics of lies, fabrication and deceit.
The simple fact is that the West Bengal government has REFUSED to pay their share of the train fare, and instead they have charged the fare from the stranded people directly.
I would advise Goutam Deb Ji to inquire with his TMC Party Leader and Hon'ble CM of West Bengal Mamata Banerjee Ji as to why their Government has refused to pay for the tickets of the migrant's workers, students, medical patients, and pilgrims who are stuck outside the state? In fact, I encourage him to file an RTI inquiry into who's responsible for charging fare from our beleaguered people, when they are struggling to make ends meet in distant cities.
People have a right to know, let the truth come out in public."
He had further accused WB Govt of not doing enough to bring back the stranded people.
"As such West Bengal government has failed the people of the state who are stranded outside and deliberately delayed their evacuation. Until today, States like UP has run 490 Shramik Special trains to evacuate their people, Bihar which is our neighbour has used 254 trains to evacuate their people, and even a small state like Sikkim is evacuating their people from all over India.
Whereas, till today only 9 trains have come to Bengal. Will Gautam Ji kindly explain to the people of our state, who is responsible for this? Whose failures have caused this delay?" MP Bista had said.
MP Bista had outraged, "It is wrong for anyone to lie or mislead people and particularly so for someone who holds the Constitutional post of a Minister in the State Cabinet.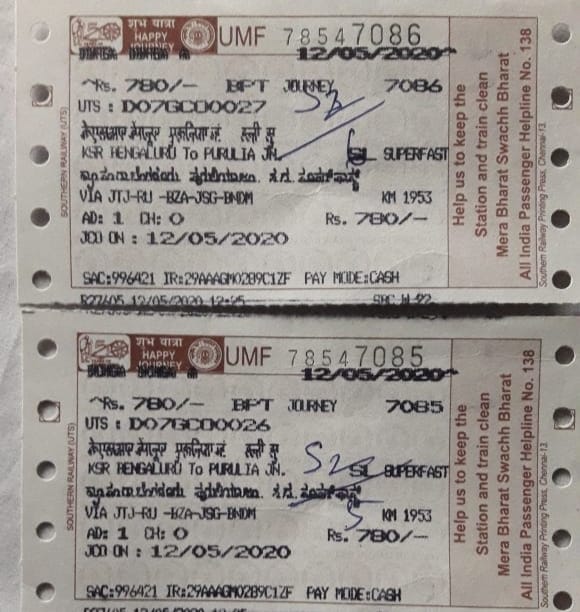 I request Gourtam Deb Ji to apologize to our stranded people for lying to them and seek their forgiveness or he should prove that the Central Government has not paid its share of the train cost.
It is highly unethical of the TMC government, which has failed the people of West Bengal because of their gross incompetence to continue to lie and misinform the people, to hide their own failures.
I believe such an immoral and unethical government have lost all rights to govern our state."
According to Siliguri Times, Mr. Deb had yesterday said, "although the Railways and the Central Government had earlier announced that 85 percent discount will be given on Sramik Special train tickets, no such facility has been provided to the passengers travelling in such special trains in Bangalore, but instead they were allegedly charged with an extra amount of 80 rupees."
The Minister further stated that "a shortage of food and water was also faced by the passengers in their journey. Such a situation raises a question on the role of the Central government and the Railway Department amid the pandemic."