"What is freedom of expression? Without the freedom to offend, it ceases to exist." – Salman Rushdie
Freedom is a very fragile phenomenon. Ask those who have spent years or even a day in jail for no fault of theirs.
Lalit Pokhrel Sharma, a research scholar at Sikkim University, who was arrested by Sikkim Police on the 10th of May over a Facebook Post, was released on bail on 12th May after strong protests were put up by several associations against the arrest.
He wasn't arrested for any crime other than being a curious, concerned citizen. All Lalit Pokhrel had done was, tried to highlight the poor condition of a Quarantine Centre in JNV School, Pakyong by posting some pictures on facebook that were shared to him by his friend from the place.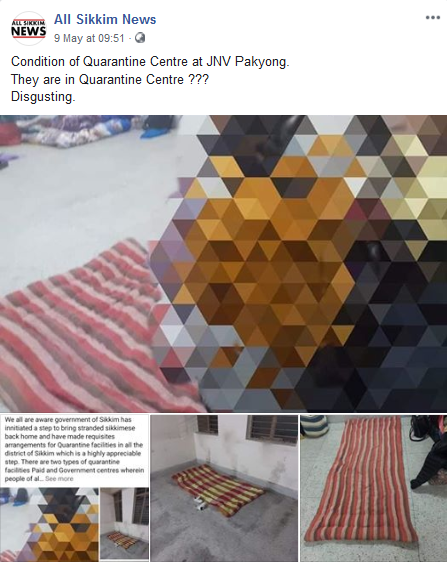 It is worth mentioning that Lalit Pokhrel himself is a resident of Pakyong, who is now based in Gantok as a PhD scholar at the Department of Geology at Sikkim University.
A part of Lalit's actual post that initiated the action read, "This is a picture of Quarantine Centre of Pakyong JNV School with only mattress. More than two people in a room like dormitory is seen. How can they survive for 14 days in such a situation still the area being so cold. If this is the reality of the ground zero then, I would like to request Sub-Divisional Administrators to resolve the issues and provide requisite facilities at the earliest. We all believe in you all." [sic]
The post attracted a lot of attention among the people, who started questioning the position of the administration on the issue. Realizing that the post had gone viral in no time, the Sub-Divisional Magistrate immediately filed an FIR on 9th May against Lalit Pokhrel along with Bishnu Dulal who had also shared the pictures, stating that the facebook posts were bereft of the fact and that the concerned parties should have verified the same with the authorities before sharing them over social media. Lalit Pokhrel was arrested under IPC 505/188/34 following the FIR on the 10th of May.
After an initial silence, gradually an outpouring of outrage among the netizen and several organizations/associations around Sikkim has caught everyone by surprise.
The Sikkim University Student's Association (SUSA) immediately started posing a strong protest against the action taken, citing that the "arrest went against the essence of freedom of speech and expression and that he should be released immediately."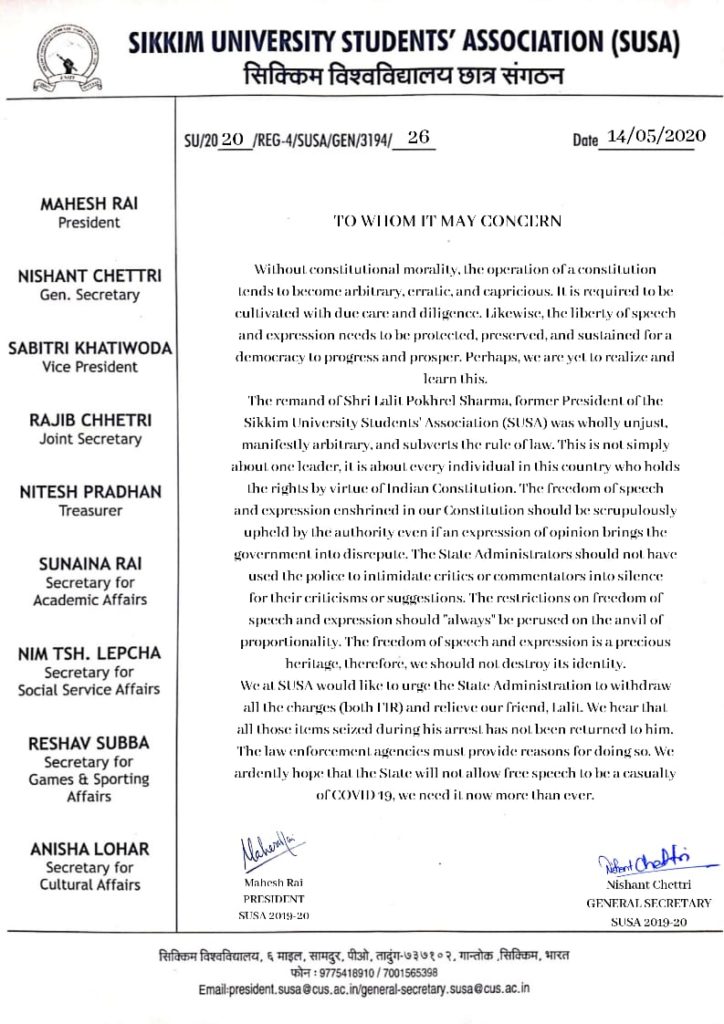 The protest, along similar lines, was joined by the Sikkim University Teacher's Union (SUTA) and the Sikkim University Non – Teaching Staff Association(SUNTSA), who went on to maintain that the arrest went completely against the values of Democracy and free speech.
It was also brought into notice by the protesting bodies that the facebook post in clear interpretation didn't mean to offend the authorities but was more on a note of a request to act for the better.
Lalit Pokhrel himself has been actively vocal through the years on issues surrounding the society, students and politics of Sikkim and he has also been the President of the Sikkim University Student's Association for 2018-19.
Lalit Pokhrel was released on a bail after being kept under arrest for 2 days.
Even though our Constitution guarantees us certain Fundamental Rights, it is often the party in power or the bureaucrats who decide what "Freedom" is and also how much of Freedom a citizen can actually enjoy. This is what makes ours a very fragile democracy with fragile freedom. We are free only as long as the government or the bureaucrats think it is ok for us to be free.
But, that is not how it should be. That is not the essence of our Constitution.
In arresting Lalit Pokhrel the SKM Government and their bureaucrats have exposed how petty they can be. The Government led by Chief Minister PS Golay had this rare opportunity to showcase how different they are, how they will usher in true democracy and uphold the spirit of our Constitution, as envisioned by our Founding Fathers by showcasing the truth and confronting facts with facts, instead of arresting people.
A small state like Sikkim can turn dictatorial very fast, we know, as we have lived under semi-dictatorship for decades. In the past 30 years or so multiple newspapers have been banned in our Darjeeling hills – Sunchari was banned, later Aja Bholi, later Himalaya Darpan – all because the ruling dispensation wasn't pleased with what was written.
Even today, in their desperate bid to shut us up or shut us down, the powers that be have filed against TheDC too over concocted charges , but irrespective of it all, we will continue to write the truth, because Freedom is worth taking a stand for.
It is commendable on the part of Sikkim University students, Professors and non-teaching staff to have taken a stand against this arrest. Their stand also showcases why we need a Central University in Darjeeling hills.
Universities, colleges and schools are the conscience keepers of the society. When all else, including the media choose to remain silent, it is the students and teachers who carry forward the responsibility of speaking the truth. Their stand in support of Freedom of Speech in Sikkim, fills our hearts with hope that an educated and knowledgeable Sikkim will never allow a few powerful politicians and bureaucrats with very fragile ego to subvert democracy, just to assuage their insecurity.
The Govt of Sikkim will do well to drop all charges and apologize to Lalit Pokhrel, and instead punish the bureaucrats who are actually responsible for this mess.
We stand with Lalit Pokhrel, because we know what kind of courage it takes to write the truth and showcase a mirror to the administration and the rest, who have conveniently decided to turn a blind eye.
The answer for a letter can be a counter letter, the answer for a post can be a counter post, it should never be arrest or violence – be it by the state or individuals.