Aahal Sunrise Viewpoint is gradually coming up as a major tourist destination around Sittong valley and playing a vital role in establishing tourism in Sittong Valley.
The main attraction in Aahal Sunrise Viewpoint is its natural landscape, a 360-degree view of mountains and tea garden. Located between Shelpu Khashmahal and Mahananda Wildlife Sanctuary, the viewpoint is a hidden place for the world. It took a lot of effort for the inhabitants of Shelpu and its surrounding area with to promote Aahal Sunrise Viewpoint through different modes – social media, tourism festival, installing Signboards, etc. Today, it presents itself as one of the most attractive tourist destinations of North Bengal and tourists can witness nature in full bloom from this point.
It is to be noted that till date Aahal has received not a single scheme (except MGNRES) for beautification from the Government. The present status of Aahal as a major tourist destination is due to the tireless efforts of the local inhabitants. In 2013, Mr Padam Gurung and Mr. H.K Rai constructed a 500-meter Kutcha road on their own investment to link Aahal Sunrise Viewpoint after they constructed a Homestay and started cultivation of tea on a small scale.
The road passes through a boundary between Latpanchor Cinchona Plantation and Shelpu Khashmahal with a certain portion at the main entrance within Latpanchor Cinchona Plantation. On petition from the people of U.P. Shelpu, an MGNRES scheme was implemented by Sittong-3 Gram Panchayat in 2016 to upgrade the road. Literally, this road was extended more (1.5 km approx.) inside the periphery of Aahal region and Shelpu with their own investment because these areas did not have road facilities. Today, this kutcha road serves an important role for everyone.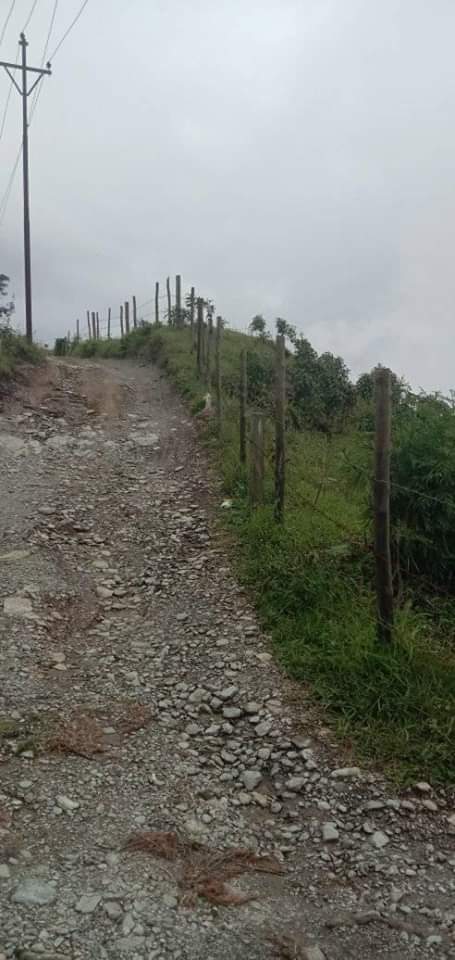 The main concern, however, is that the management of Chinchona Plantation have installed a drop-gate at the main entrance of Aahal Road without any consent from Government bodies and are collecting money from vehicles passing through the gate.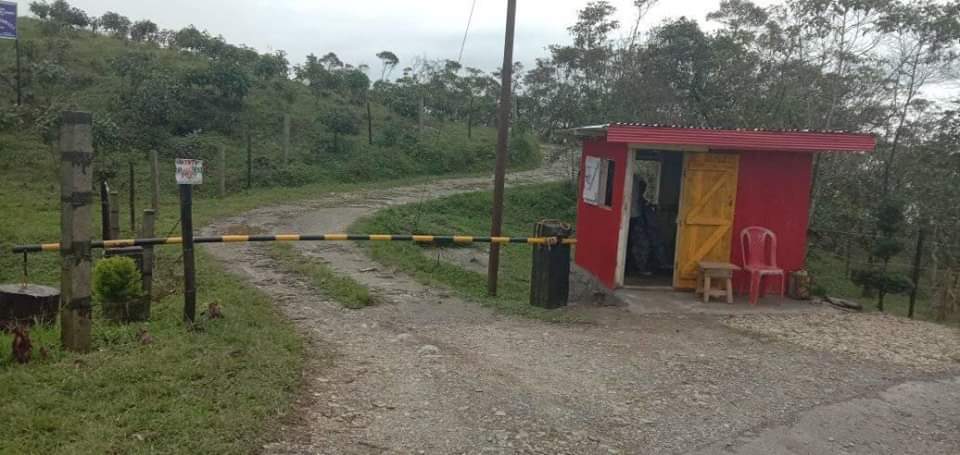 The issued entry ticket is printed in the name of Office of Gorkhaland Territorial Administration but the ticket does not have any serial number or registration number. The amounts levied are Rs. 100 for outsider vehicles, Rs. 50 for local vehicles, Rs. 20 for two-wheelers, and Rs. 10 for a single person. However, it must be noted that the road for which they are charging the tax was neither constructed by Latpanchor or Chinchona Plantation, or the GTA.
A similar gate has also been installed at Joghighat at the entrance of Mungpoo by the Directorate of Cinchona Plantation at Mungpoo but no fees is charged for person or vehicle. That gate was used to control illegal smuggling of Cinchona wood. Interestingly, the present gate installed by the plantation authority and the entrance of Latpanchor-Cinchona plantation are opposite to each other. From the initial establishment of Latpanchor-Cinchona Plantation since 1943 till date, there has never been a stark example of hypocrisy and discrimination.
The road not only falls on Latpanchor-Cinchona Plantation, but some part of the road also shares area under different landlords of Shelpu Khashmahal. Further, this road was extended at the periphery of Aahal by the people of Shelpu with their own investments. Now, they are denied access to use the road they have constructed for their own interests.
They are forced to pay taxes when they are carrying household materials or cash-crops for selling. This action has an adverse effect on sustainable growth, and it denies the rights of people. The authority appeared suddenly and started collecting tax without consulting the landholders or the people of the locality. The locals of Shelpu-Sittong-Latpanchor who are proud of their place and have worked hard for this place now have to pay Rs 10 to enter their own village.
Today, there are more than 20 homestays in Sittong valley (Shelpu, Tham, Ghaletar, Sabje, Sittong G.C.P, Latpanchor, Rolak, Mana, 6th mile, Jogighat, Maldiram, Mamring). Most of the tourists who come to Sittong valley love the Aahal Sunrise Viewpoint. While the government has failed to provide any funds to develop tourism here, it is wrong to charge such huge price even for locals to pass through the roads. The number of visitors in Aahal is increasing day by day and such action would certainly discourage tourists and hamper the flourishing business, which is also generating local employment and sustainable economic growth.
The collection of tax by the Latpanchor Chinchona Plantation in the name of GTA is unlawful. Without proper verification and knowledge of its geographical location, the taxation should not have been allowed.
We, the people of Shelpu, strongly condemn the action taken by Latpanchor-Chinchona Plantation. The installation of the gate at the entrance of Aahal Road and charging of taxes to people and vehicles is unlawful. The checkpost and the gate should be demolished as soon as possible. We would like to appeal for help from all the concerned higher authority to investigate and take significant strict action against the ones who are linked to the collection of taxes in the name of GTA.
A few questions that could not be left out and needed to be addressed:
Is Latpanchor-Cinchona Plantation collecting tax in the name of Gorkhaland Territory Administration or has GTA given the permission to collect tax?
If GTA had permitted to collect tax, what are the conditions under which the permit was issued?
What right do they have to collect tax without implementing a single scheme or supporting the locals to develop the tourism site?
Before issuing the permit, was it not necessary for GTA to verify or consult with the locals about its advantages and disadvantages?
Who authorized the gatekeeper to sign in the name of GTA? Does he/she been provided authority by GTA?
Why is there no receipt, registration number, or any tracking number in the receipt?
Or, is Latpanchor-Cinchona Plantation allowed levying taxes on people?
Who gives the right to the plantation owners, or GTA to impose such taxes on the locals living there for generations? That too without contributing anything for them.
Can anybody hear our woes and appeal for help?