One of the main focuses of TheDC team has been to highlight Gorkha achievers who despite all odds have excelled in their field. While the whole nation is celebrating the success of Jitu Rai, there are those whose names are yet to catch the popular fancy. Mr Sisir Rai is one such sportsperson who has stood against all odds and kept his passion for shooting as well as the Gorkha name flying high.
This is his story.
Name: Sisir Rai
Father: Sh. Dil Bahadur Rai,
Mother: Smt Harka Maya Rai,
Wife: Smt. Leena Rai (married in 1997)
Daughters: Nivedita Rai-15 yrs and Sanjina Rai, 6 yrs.
Permanent Address: Village Pochak, PO Gitdabling, PS Kalimpong, Darjeeling (WB),
Present Address: New Police Lines, Kingsway Camp, New Delhi-09.
Academic Qualifications
Primary School: Govt. primary School, Pochak.
Matriculation: Sita Ram Junior Memorial School, Gitdabling
Higher Secondary: St. Georges Higher Secondary School, Pedong
B. Sc : Kalimpong Govt. College.
Mr Sisir Rai was an excellent sportsperson right from his childhood days; however, it was during his NCC days that his knack for shooting and natural talent in the same came to the fore. Perhaps it was his love for Shooting that drove him to join Delhi Police as a constable in 1997, that same year he got married to his sweetheart. It has been 19 years since he joined the Delhi Police and in 2007 he was promoted as the Head Constable.
After joining the Delhi Police, he made his mark in shooting and in 2001 was made a part of the Delhi Police Central Shooting team. In the first year i.e. 2001 of his shooting career, he participated with his team (Central team of Delhi Police) in Delhi State shooting Championship and succeeded to prove his capability when he won one Gold and one Silver medal in .22 prone free rifle.
He also participated in All India Police Games and All India G.V. Mavlankar Shooting Championship (Big Bore) at Phillaur, Punjab in .38 revolver and 303 Rifle.
But such is the life of policemen, he was transferred to North West District from the Central Team, however, he gave in his best and he performed various law & order duties assigned to him during his tenure in the District. During his posting in North-West District, he did Post-Graduation in Computer Science from Allahabad University.
His passion for shooting brought him to fore and in the year 2007, he was once again selected for Delhi Police Shooting Team.
Since 2007, he participated with his team in all events/ tournaments/championships and in every events/ tournaments/championship he succeeded in winning numerous medals for his team.
Some of his best performances include winning:
2 GOLD: 59th National Shooting Championship (Big Bore) 2016, Team
GOLD: 58th National Shooting Championship (Big Bore) 2015, Team
GOLD: 58th National Shooting Championship (Big Bore) 2014, Team
GOLD: 23rd All India G.V. Mavlankar Shooting Championship (Big Bore) 2014, Individual
GOLD: 7th All India Police Shooting Sports Championship 2013, Team
GOLD: 32nd North Zone Shooting Championship, .22 prone 2012, Individual
GOLD: XXVIII Delhi State Shooting Championship, 10mtr Air Rifle 2012, Individual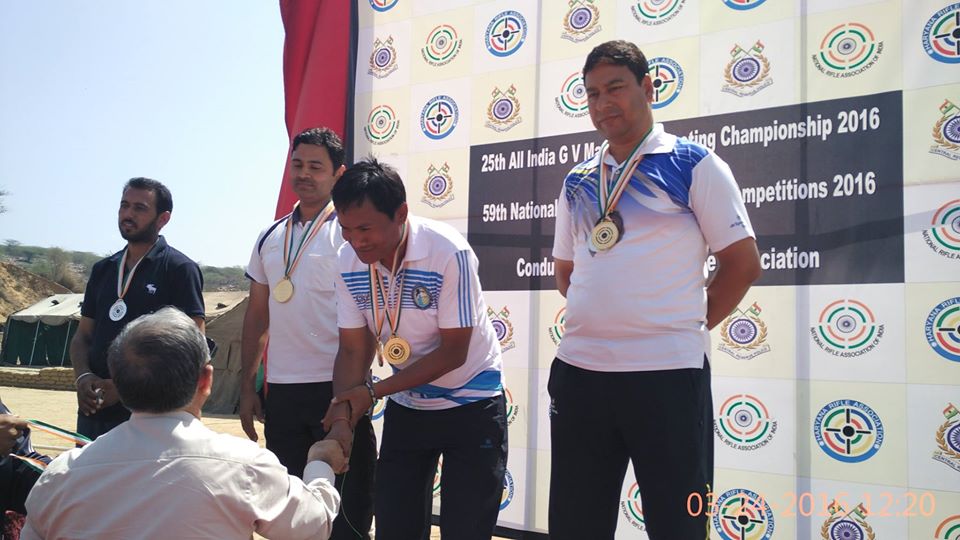 His Struggles
Every success they say is measured in 1% inspiration and 99% perspiration, despite his knack and natural talent for Shooting, life as a Shooter wasn't easy for Mr Rai. He states, "I was transferred on a regular basis from one unit to another, so it was difficult to pursue my shooting career… moreover, we don't have basic training facilities like coaching, shooting range, rifle, pistols, ammunition, even target papers for that matter."
Despite these drawbacks, Mr Rai has continued to persevere. He managed to buy his own shooting rifles and pistols from his own salary to improve his capabilities.
Such is his passion that in the year 2012, he managed to import a shooting rifle from Germany at the cost of Rs 225,000 all of which he paid from his own savings. He also prepared a 10 mtr air pistol/rifle shooting range in his room and continued to practice in his spare time.
However, life is not easy for Mr Rai as the cost of ammunition are very high and he could not afford to import sufficient ammunition for training and he could only import them for competitions. As such proper shooting kits are crucial for a shooter to perform at his best, but without any financial support from the authorities, Mr Rai has not been able to afford the best quality shooting kits as they are very expensive.
Despite all the hardships and financial constraints, Mr Rai has continued to perform to the best of his abilities and won numerous Gold, Silver and Bronze medals for his team.
When asked to comment on his struggles, Mr Rai says, "Shooting was my dream from childhood and I could achieve the same after joining Delhi Police. I want to continue my shooting career and want to represent for my country at International level and prove my capability to win a gold medal for my country."
Currently, Mr Rai is coaching his daughter Nivedita Rai in pistol shooting and proudly states, "she has improved herself and got a chance to participate in Delhi State inter School Shooting championship, Open Delhi State Shooting championship in the year 2015. She also qualified for All India Inter School Shooting championship and Sports Crafts shooting Championship."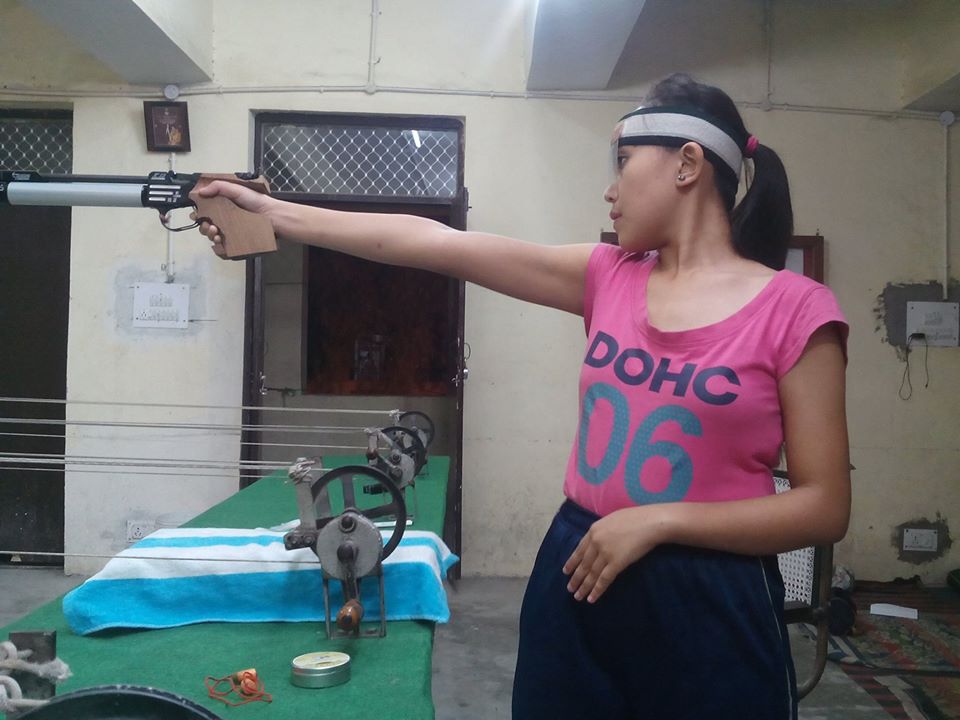 We are hopeful that the Delhi Police, Gorkhaland Territorial Administration, Bengal Government and Sports Ministry will come forward and extend financial support to Mr Sisir Rai and his prodigiously talented daughter so that they can make the entire nation proud by winning Gold at international tournaments.
If any of our readers want to financially support Mr Rai and his daughter Nivedita, we'd request you to contact them at:
Phone: 8588855997
Email: sisirrai64@gmail.com
Writes: Rupesh Tamang