"Life is what happens to us when we are busy making other plans"- John Lennon.
When I look back in time I see a lot of changes that reflect in every aspect and dimensions of my life as well as the life of the hills. Fortunate enough, our childhood days didn't see the arrival of computers and mobile phones and even more fortunate that a bunch of friends and one laal-patthar each were enough to call it a smooth day.
I look at kids these days and notice how they are indulged in gaming and social networking, they hardly know the fun of outdoor sports, unless of course it is a formal playing at school or sports clubs. Times were different when we were kids. Most of the time was spent outside and we had a variety of games and sports that kept us busy for the whole day.
If I went on talking about all the games that we had, it would take days and still wouldn't be sufficient. I however vividly remember a few outdoor street sports of our time, just thinking of which gives me a beautiful nostalgia.
Darjeeling is a football crazy place as we all know and it had an important contribution to our childhood. We would play football through all stages of a ball's life- from a new ball to tubeless 'bora haaleko' ball with all cobbler stitches around. That doesn't mean we didn't enjoy other sports. We had equal enthusiasm about cricket and we used to enjoy it to the fullest during the cricket season.
Life was not as easy as these days. Cricket bat used to be a rare kit and usually only one guy in a group would have a bat, luxury items of our time. And about ball, playing with a tennis ball would be a once in a blue moon affair, that too if we were to visit somewhere else for a cricket match (bet). Else, handmade balls (kaagaz/plastic ko) would compensate to the lack of funds and ensure that we never went out of play.
The ball, I must say required skilled hands and systematic process to get ready. The process started by selecting a perfect stone for the core of the ball, round and of the desired weight. It would then be wrapped by layers of paper, addition of each layer would be followed by the step of compressing it to make the ball compact. The endless supply of papers would come from the used notebooks of the past (asti ko paali ko khaata haru) or old newspapers. The last layer would be of that of a plastic to save the paper layers inside from the friction of the concrete road. When the ball would be ready with perfect weight and structure, it would be tied up with rubber bands all around, to keep it intact and give it a bouncy finish.
The only thing we needed to buy that way were rubber bands which would cost 1-2 rupees, the amount of money we used to get 'mithai khanu' from home those days, to which I am sure many kids these days would laugh. But those were the reality of the days, kids got see a beefy amount only on very lucky days. And sometimes when you didn't even have that 1-2 rupees, the only alternative left would be to look for "katteko chungis".
So now having everything ready, the cricket match would start (a serious one). Rules were simple: Generally, the off side would be closed (as for the fear of losing the ball down the off side). The bowler should be bowling round arm delivery without bending the hand (Toppay bowl not allowed). Wicket would usually be a big Tin Box (Pujari Tel ko), or a Chair or Pira held on to the road using a brick, or stump made of cardboard or sticks… and it would be the wicket keeper's duty to remove the wicket if a vehicle came. The other wicket at the bowler's end would be a brick. The game would be paused if the vehicles and people were to pass by. The run distribution would be declared in clear words "Straight ma sulkera goko Chauka, Urera goko Six, Maathi vitta ma laageko Duggi (two runs), Off ma sulkera goko run chaina, ball kattako out."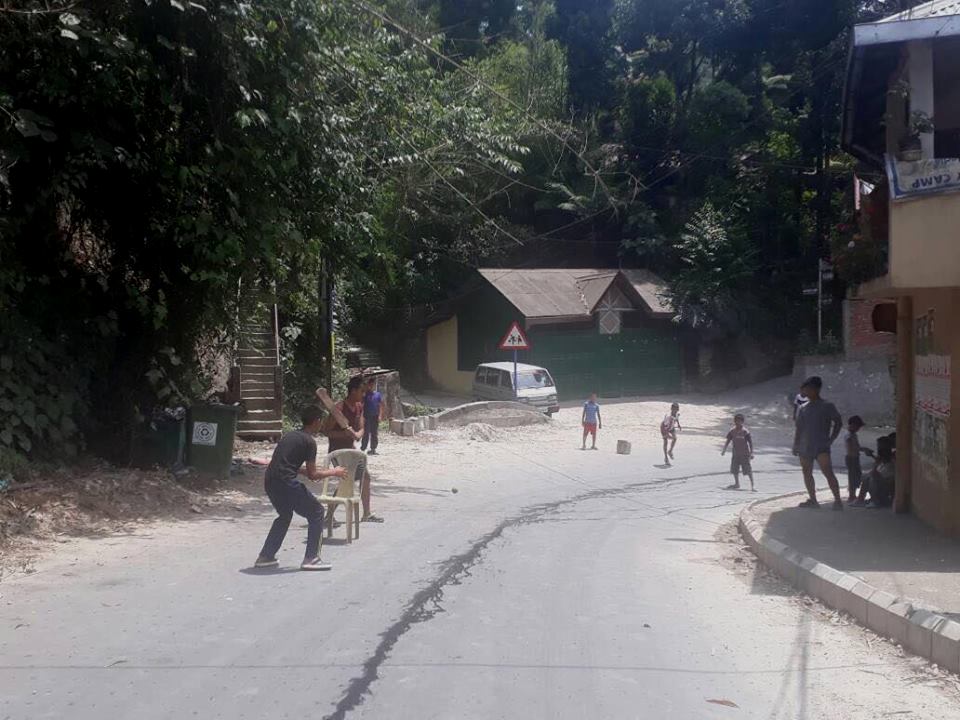 And the most important rule "Joley kattawcha tesle Ball tipera/khojera lewcha".
The ball would roll down the culprit side as many a times and searching for the ball would be a normal practice throughout the match. Most of the times, habituated to the exercise of looking for the ball, one would already know where to look first.
In our case, it was the root of a nettle plant where the ball would go and get stuck most often (sisnu ko jhyang vitra).
Failing to find the ball by oneself, the other guys would finally come down to join the search with praises and compliments like "Yesle ta aankha dekhay po ball khojthiyo" and "tero aankha ho ki aalu ho?"
The ball used to be an asset in itself, a way to the happiness.
What remain fresh are the memories of hitting the ball at someone's roof to losing it into the drains; From making perfect balls for cricket, to making lighter version of the same to play luckoo/pittu (I don't know what they call it in English or what other names they might use to refer to it).
The road now has beautiful houses on both its sides and no longer serves as a playground. The passerby no longer give expressions like "kasto maanchey hidney baato tira kheleko, aafnu aafnu ghar agari gayera khelnu ni". Baato muni ko Badi no longer has to say "aabo ball aayo vaney chai kattai dinchu".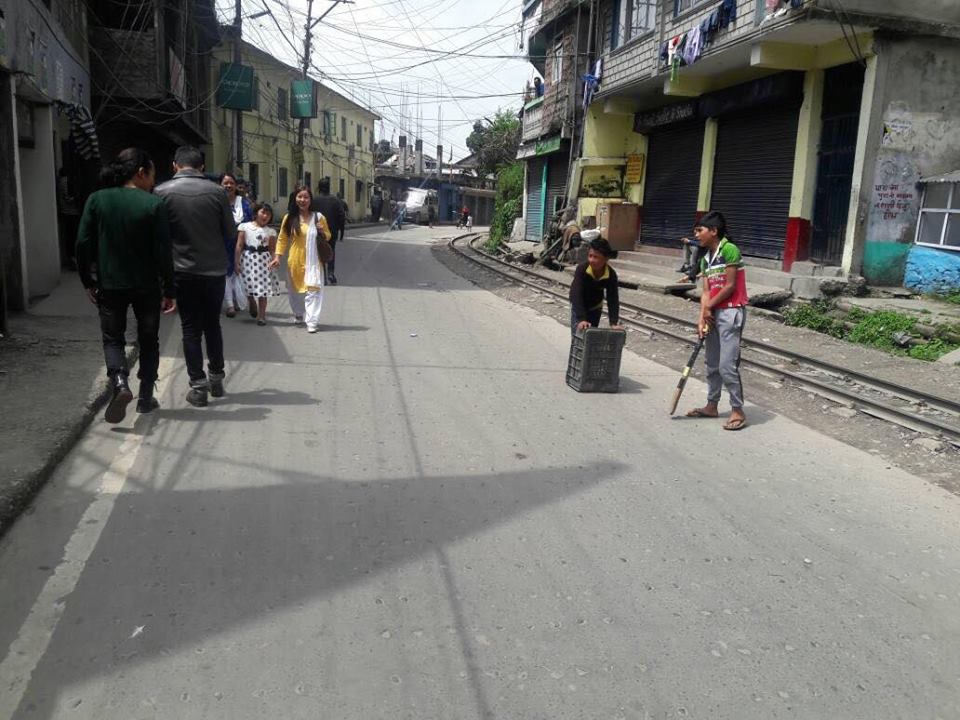 Kids are safe before the screens and no longer need to find an explanation for the bruises on their hands or knees.