In a new twist of events, Lakpa Sherpa, Councillor from Ward 28 has alleged that he was duped into signing the motion calling for No Confidence against the Chairman of Darjeeling Municipality.
Yesterday, 17 Darjeeling Municipality Councillors, led by Noman Rai had submitted the motion, following which Gorkha Janmukti Morcha spokesperson BP Bajgain was later detained by the police.
In an FIR filed at the Sadar Police Station, Darjeeling, Lakpa states four councillors including Noman Rai, Ambika Sharma, Anup Hang Subba, and Mahima Rana had visited him, along with BP Bajgain and about 20 other people at his residence a few days earlier.
He alleged that he was made to sign a blank paper saying it was meant for a Municipal Scheme.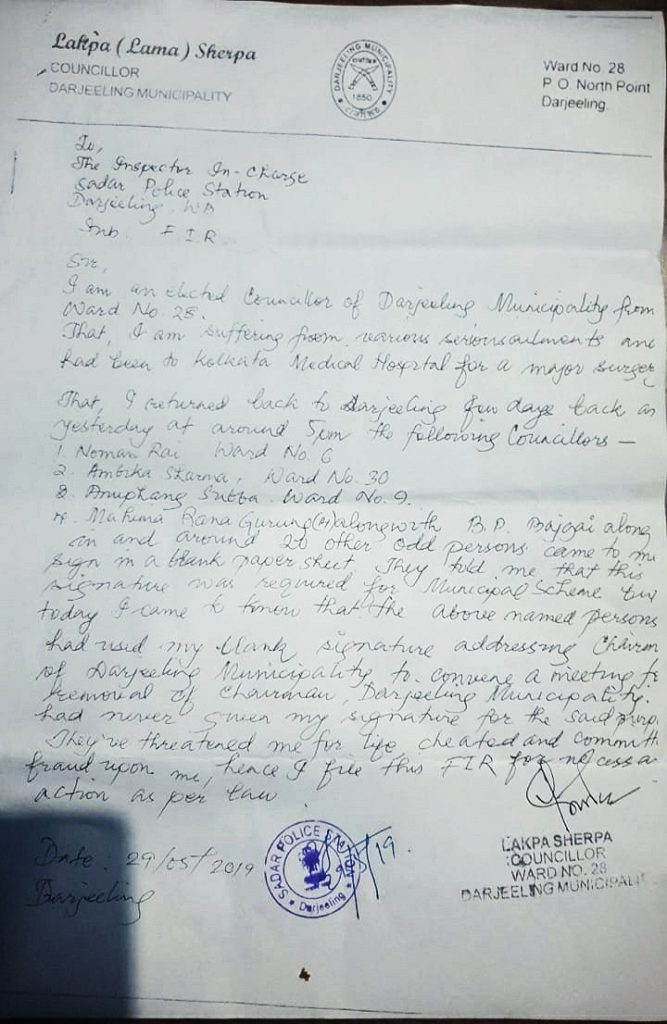 He claimed that the same document was submitted to motion the no-confidence vote against the Municipality Chairman. Stating that he was threatened and cheated by fraud, the councillor demands necessary action to be taken against them.
In 2017, Binay Tamang and Anit Thapa, close aides of Gurung had joined hands with the Mamata government and had joined hands to head the Gorkha Territorial Administration (GTA). While many observers felt that the Gurung era was over in the hills, the Gurung faction joined hands with arch-rival GNLF and extended support to BJP candidate Raju Singh Bista. Bista defeated the Bimay-supported TMC candidate Amar Singh Rai with a huge a margin of 3 lakh more votes. The Darjeeling assembly bypoll also went in favour of the Gurung-GNLF and BJP trifecta.
GNLF and GJM called the victory a mandate against the atrocities of the Mamata government. The trifecta demanded that GTA board be dissolved, they alleged that the nomination of Tamang and Thapa was 'unconstitutional', contradictory to the GTA act.
Ever since, GJM-GNLF had asked for councillors from all four municipalities in the hills to either resign from their post or switch sides from GJM(BT) to some other group, citing lack of public mandate for team BT.
'What kind of councilor is he to sign on a blank page? do you really believe it to be true, in this day and age? It's plain and simple, some anti-social elements yesterday visited him and threatened to burn down his house, he got scared and was pressured into filing that FIR' claimed one of the rebel leaders.
Darjeeling Municipality has 32 Wards, out of which currently there are only 30 occupying the seat. GJM-GNLF-BJP had yesterday shown support from 18 councillors, the rebels still have the majority.