Many years back, I had seen these beautiful flowers on a trip. It was so much fun to play with the paper-like petals that I had to be told off!
The once-in-a-blue-moon gardener in me was tickled. Not wanting to waste any time, I put on my thinking cap to decide on the plan of action.
Step One — find the name of the flower. Believe me, it took me a week to find out that these were the famous Ajambari flowers immortalized in many Nepali songs.
You see the problem of coming from a multilingual background (ahem, ahem!) is that sometimes you know the name in one language but don't know what it is called in the other language.
At least I had the name in Nepali for a start. I return home and the first thing I do is — you guessed it — ask my friends on Facebook. No sir, no one including the self- claimed botanist knew the name in English/ Hindi nor do they know what it looks like. I blame the new generation for not keeping in touch with their roots (remember all those songs people?). I turn to Google and Wikipedia, only to draw a blank.
I completely forget about them till one fine day on a road trip — Aloha! I find the seeds of this flower in a wayside restaurant with a small shop that sells everything on the planet. Trust me, you gotta explore these shops! Once home, we (Mom & I) plant them and wait patiently. After a few months it flowers. However, it turns out to be a tiny soft flower and not my Ajambari. My search for this flower is turning in to an obsession.
Frustrated, I call my man-Friday back in my village in Darjeeling. 'Hey, find me an Ajambari plant'. 'Okay di, bhayi halcha (shall be done/ will be taken care of)'.
I fly to Darjeeling, all gung-ho to finally find the flower of my dreams. Alas, my trusted Lieutenant has failed me for the first time. I go from Nursery to Nursery in the Kamaan (tea estates). Darjeeling hills -home to world famous Orchids, Rhododendrons and other flora disappoints me. I ask my Darjeelingey friends (people of Darjeeling are fondly referred to as Darjeelingeys) — the rich bourgeois jeers at my proletariat taste! 'Why are you so stuck up such things?'
My mission impossible takes me on a hike around the valley visiting bastees/ bastis (small hamlets with no motorable roads), asking for Ajambari. An old boju (Grandmother) tells me 'Nani, sano ma dekhe ko thiyen, Kagaz ko phool jastai huncha'. (Child, I have seen it in childhood, it looks like a paper flower). Houses blare with a popular nepali song ' Laali guras Ajambari, champa chameli'… the entire hill resonates with 'Ajambari, Ajambari, Ajambari….I want to shoot someone!
My search for Ajambari is turning in to the search for the Shangri-La and wait, I don't even know the English name yet.
Today after a long time (many years later) I hear the song playing again and decide to ask Mr Google one last time: you know, I have a love-hate relationship with him. I type #PaperFlowers, Voilà! I find something that looks familiar.
However, my joy is short-lived as the internet is filled with too many confusing names and pictures. I see paper-flowers that are pink, violet, orange, white, yellow etc. with names like Xerochrysum, Helipterum, Rhodanthe, Accrolinium etc: there seem to be too many 'paper flowers'. Ever had a 'reach into your cupboard full of clothes and unable to find anything to wear' moment? Well, if you are a woman, you will understand. If you are a man then you better understand! That's how the internet is sometimes. I am totally confused and frustrated.
I spend hours and days scanning the net. This is what I could garner from the Wikipedia:
Most of the 'paper' flowers belong to the Asteraceae family (Sunflower family). However, there are over 600 species of this plant. The scientists are still declassifying/ reclassifying the different genus of the plant. e.g., Several Australian species, such as H. acuminatum and H. bracteatum, have been reclassified in the genus Xerochrysum in 1991, resp. as X. subundulatum and X. bracteatum. Many Rhodanthe species were formerly classed under different genera, including Helipterum, Podotheca, Acroclinium and Waitzia. Most online sites in India (Amazon, Flipkart etc) and stores (including where I bought those seeds from) — sell Helichrysum (which are actually Xerochrysum since '91).
If this sounds like gibberish, please look at a video by this kind lady:
What I deduced is that Ajambari is not just one type of flower — there are several varieties. Ajambari means never dying — immortal. That is how the lovers promise ajambari maya PS: Did I tell you that I had been looking for Xerochrysum bracteatum.(immortal love) in those songs.
Therefore friends, if you want Ajambari — look for Immortelle flowers/ Paper flowers/ Straw Flowers and pick the one you like.
As for me, I have a pot of Ajambari waiting for me in a small bastee in Darjeeling!
PS: Did I tell you that I had been looking for Xerochrysum bracteatum
PS2: I could still be wrong and my search for the flower could turn Ajambari (never lasting).
However, I shall leave you with the picture below to tempt you to come to the Darjeeling hills and join me in my search. Will you?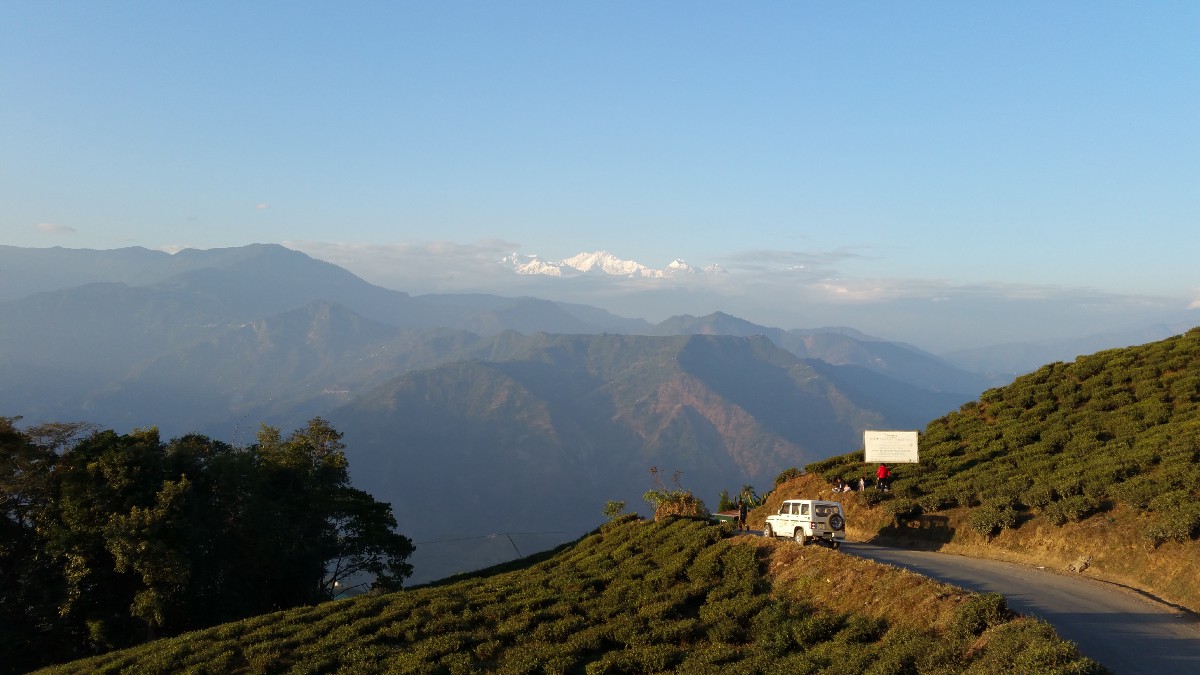 Writes – Roshni Pradhan