The ongoing G20 Tourism Meet in our region, as welcome as it is, is turning out to be nothing more than a farce. The delegates have been put up in 5-star "tea resorts" owned and operated by major corporations. The venues Mayfair Tea Resort in the outskirts of Siliguri, or the Taj Chia Kutir Resort & Spa in Makaibari in the outskirts of Kurseong, are being touted as epitome of "sustainable tourism". Nothing could be further from the truth, but we will come to that later.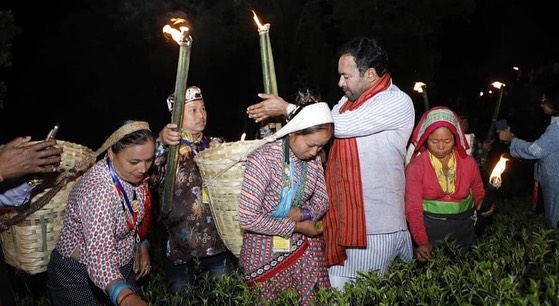 What I find most infuriating is the tragic irony of organizing tea tourism summit in 5-star hotels situated in the tea estates, where the tea garden workers, the original owners of the land don't have any land rights.
'Tea Tourism' is the buzz word WB Govt has used to justify diversion of tea garden lands for constructing commercial real-estate. Is the much vaunted "Tea Tourism" in Darjeeling hills, Terai and Dooars region benefiting the locals? or is it another form of exploitation?
No Land for the Locals
The tea garden workers despite working for generations, are still deprived of their right to land – Parja Patta, they are paid less wages than what other workers, even unskilled labourers make in West Bengal, the facilities they are entitled to are rarely provided. Adding salt to their woes, the WB Govt has allowed the tea garden owners to build commercial real-estate labeling it "tea tourism".
Today 5-star hotels have been built in the tea gardens, whereas the tea garden workers who have toiled in the same garden for generations are forced to seek "company permission" even to bury their dead.
Imagine the level of hurt a child of a tea garden worker must feel, when s/he sees opulence and grandeur in her garden, but they like all other tea garden workers and their children are not even permitted to walk on the hallowed grounds of those very hotels that have been constructed uprooting the tea bushes, which their great grandparents had probably planted.
How much is our labour worth?
A cursory look of the price of stay in these hotels shows why we need to put an end to this exploitation.
"Taj Chia Kutir" in Makaibari Tea Estate charges from Rs 21000 to Rs 77000 per room per night in off season (I had checked the tariff for one person for one night).

Get this, for a tea garden worker who is only paid Rs 235/day (the new revised daily wages announced by WB CM Mamata Banerjee recently) will take her/him 328 days to be able to afford the high end room at "Taj Chia Kutir".
Nothing can be more exploitative than this.
Unsustainable Tourism
The so called "tea tourism" venues chosen for this summit is the prime example of unsustainable tourism. The UN Environment Program and UN World Tourism Organization defines Sustainable Tourism as "tourism that takes full account of its current and future economic, social and environmental impacts, addressing the needs of visitors, the industry, the environment and host communities."
These massive constructions in a fragile mountain ecosystem are not at all sustainable. Further, I would be surprised if any of these 5-star resorts that have come up had their Environmental Impact Assessment (EIA) done. The impact these massive hotels place on local resources are huge, and other than working paltry jobs, these massive hotels don't benefit the local communities in any way, shape or form.
Moreover, the tea industry has a very dark past. The Tea Plantations are MONOCULTURE. The British destroyed our old growth forests to plant tea-trees, and ruined our entire ecosystem, they cannot be sustainable. Just because it's green, it doesn't mean it's sustainable. What's happening to the rainforest of Indonesia, that is being destroyed by palm plantations today, has happened to our region 200 years ago.
Moreover, the tea Plantations are feudalistic and have ZERO local participation in tourism activities. As a friend most aptly put it, "when the tea gardens came into existence the locals became bonded labourers from land owners."
Speak Up
In the western countries, G20 summits are used by activist groups to highlight local issues, but in Darjeeling, I am told activism has been banned. Funny thing is we have more political parties than we can count, but not a single one has bothered to highlight the exploitations faced by our region or people.
This is the 21st century India, and I feel by keeping quiet over this rampant exploitation of our land, and outright discrimination against our brothers and sisters who work in the tea gardens and cinchona gardens, we too are silently supporting their exploitation.
It is time we all spoke up.
As Edmund Burke reminds us, ""The only thing necessary for the triumph of evil is for good men to do nothing."