I was at a hospital in Siliguri, a town in North Bengal a three-hour drive away from Darjeeling, on June 8. I was there to meet my younger brother. The morning visiting hour had just started and I was happy to see he looked better. My parents in Darjeeling were coming to visit him later in the day. Siliguri was hot and I was hoping it would cool down by the time they arrived as they are not used to the stifling heat of the plains.
Why was I at a hospital in Siliguri and not in Darjeeling? The lack of even basic healthcare facilities in my town means that people there have to make regular trips to Siliguri and beyond for their medical needs. Why it is like this even 70 years after Independence is a story for another day.
My parents arrived way before the day visiting hour as they did not want to waste even a second of this precious time with their son. But within half an hour of their arrival, my older brother who accompanied them told us that he had just got the news that the police had fired teargas shells at supporters of the Gorkha Janmukti Morcha in Darjeeling as they were marching to the venue of a cabinet meeting presided over by West Bengal Chief Minister Mamata Banerjee. There was the talk of a shutdown in the hills. My parents had to leave immediately.
The violence on June 8 was a fallout of the West Bengal government's announcement on May 15 to make Bengali a compulsory subject in schools across the state till Class 10. The matter has since snowballed into a movement for a separate Gorkhaland and an indefinite shutdown, now well into its second week, cripples the hill district. But it is not an unwillingness to learn a new language that has angered the people of Darjeeling. Rather, it is the state government's move to impose Bengali on them that they are resisting, as they sense a threat to their freedom to choose. By the time the state government realised the repercussions of its move and hastily clarified that the order was not binding on Darjeeling, the hills were burning.
Choice, not compulsion
I attended a Nepali-medium school till Class 7, studying Bengali in Classes 5 and 6, in the 1990s. Failing in Bengali then did not stop a student's promotion to a higher class as it was not a compulsory subject. Hence, we were learning a new language without it being a burden. The language I learnt in school came in handy when I went on to do my post-graduation in zoology at the Darjeeling Government College, where the lecturers came from various parts of the state and struggled with English, never mind Nepali or Hindi. They taught us in a mix of Bengali and English, and this gave me an opportunity to polish my basic Bengali. The majority of my classmates were native Bengali speakers while among the Nepali speakers, there was just another person apart from me who could follow what the teachers were saying.
I personally feel that learning a new language can be highly useful, almost like a survival kit. Now, my nephew has chosen to study Bengali as a fourth language in a reputed school in Darjeeling, not out of compulsion but by choice.
Linguistic politics in Bengal
The popular perception is that it was the imposition of Bengali as a subject in schools across West Bengal that ignited this round of unrest in Darjeeling and the fresh demand for a separate state. I would like to disagree here. As a common resident of Darjeeling, I say that the resistance has been brewing for the last two years or more. It first caught my eye when a group of concerned citizens protested against a banner put up by the West Bengal Police in Chowrasta, the heart of the town. It was the first time an official banner in Bengali had been put up in a place where the majority reads and speaks Nepali. An observant group of people protested against this while the rest of the hills were busy with their Dussehra shopping. None of the political leaders seemed to be aware of the incident or saw it as a threat. In hindsight, it seems to have been a deliberate act of the state.
Following the protest and several online petitions, the police changed the banner and put up a new one at the same spot. This time, it got everyone's attention because it was written in the Devanagari script, which is followed by both Hindi and Nepali, but was a direct translation of the Bengali message. It read "Sarad subhecha, aapnader sakalke janai, saradiya priti o subhecha… aapnader sathe, aapnader paase, Paschim Banga Police" (Season's greetings to all of you, love and best wishes for the autumn season, with you and beside you, West Bengal Police).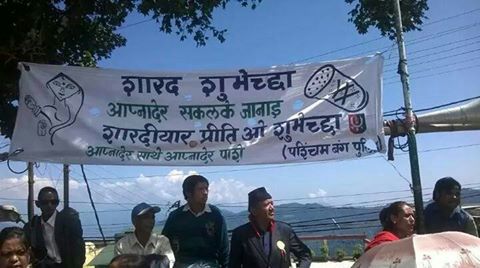 Dussehra is the biggest festival for Nepalis in Darjeeling and Nepali is one of the recognised national languages of India included in the 8th schedule of the Constitution. Yet, the state machinery chose to greet the people in Bengali. This, to me, showed disrespect of my mother tongue and of the sentiments of the people of the hills. The worst part, it seemed to be deliberate.
Bengal: One state, one language?
One can choose Nepali as an optional paper in the Union Public Service Commission exams but not in the West Bengal Civil Service exams. The state civil service offers a choice of languages such as Bengali, Hindi, English, Sanskrit, Urdu, Santhal and even Pali, Arabic, French and Persian. Nepali, a recognised language under the Constitution, continues to be discriminated against by the state government.
Even if one cracks the West Bengal Civil Service, a candidate must clear all the departmental exams – which include a Bengali paper for non-Bengalis and a Hindi paper for Bengalis – to be regularised in service. If a candidate fails to clear a departmental exam, all increments are stalled and the service confirmation is withheld. So, if a candidate is from the hills and has never studied Bengali, it puts them at a distinct disadvantage. I personally know senior officers with the West Bengal Civil Service who have not yet cleared their exams. Some of them don't ever bother to.
I recall another instance of the state's "language politics" in Darjeeling. It was 2014 and a friend of mine, working relentlessly despite her poor health and her family's financial problems, had cracked the West Bengal College Service Commission – which recommends candidates for appointment as lecturers in the state's universities and colleges. She was thrilled, as were her parents. Knowing her, it came as no surprise to me and I felt inspired by her. But the West Bengal College Service Commission denied her the job she had earned because she could not read and write Bengali – although she spoke fluent Bengali, having done her graduation and post-graduation in Kolkata. She was not the only one: that year, six students from the hills and the neighbouring Dooars and Tarai regions were denied jobs by the commission for the same reason.
How is this fair when my Bengali college lecturer in Darjeeling taught me in "Bonglish"? The state government showed neither fairness nor uniformity when it denied jobs to candidates from the hills, who had cleared the exam, only on the basis of language.
There are endless examples like these: schools not receiving their Nepali textbooks, supplied by the state government, even till the half-yearly exams, government forms being available only in Bengali or Urdu in a linguistically rich Bengal, and so on.
I love to travel, to discover new places and their history, culture and practices. I especially love the look in the eyes of my hosts when I utter a few words in their language. That is when they open the doors not just to their homes but also to their hearts. The present state of Darjeeling that you see on your television sets ­–people being killed, street protests, the military out in force – is a result of the systematic killing of thousands of ever smiling and welcoming hosts by the state in the name of "one state, one language".
Writes: Urbashi Pradhan