In another case of Racism against people from North East, a lady from Darjeeling was refused from entering into a club in Delhi, for no reason, or better to say for a reason that all of us know, but the culprits won't accept – that she belonged to Darjeeling and thus looked different than others.
Talk about stereotyping and racism, people from North East have heard this all, but the venue where this took place is what sets this incident of blatant racism apart. This incident took place at Privee the Club which claims to be "Nestled amongst the heart of New Delhi at Shangri–la's Eros Hotel". The irony of it all is that the very name SHANGRILA is a Tibetan word which means "safe heaven"
The lady, who is in her 40's and has been working in Delhi for the last 16 years, in a very rare event had decided to go out with her colleagues to celebrate one of her colleague's birthday. As they were deciding about a suitable place, a friend of suggested the club Shangrila Privee at Cannaught Place in Delhi, of which she also booked passes for all of them.
The 7 friends cum co-workers reached Shangrila Privee in to celebrate the birthday at 12:15 in the night. On reaching there, they were told that the passes were over and that only 4 of them could be allowed. When they informed them that their passes were already booked, a lady named Neha along with some bouncers corresponded on the Club's side saying that only 6 would be allowed. Neha, as we have been now been informed, happens to be the PR Manager of the club.
When they were all not being allowed to enter, the friend who had helped to book the passes volunteered to stay back saying that she would manage to enter after some time and join the rest of them. They all agreed to the plan and the 6 of them were entering the club when Neha again intervened stopping the lady from Darjeeling specifically from entering the club. The friend who volunteered to wait outside was instead asked to enter in her place and they were told that she too would be allowed to enter in 2 minutes.
Thinking that it would only be a 2 minutes wait, she agreed to wait outside while her friends went in. Her friends too didn't enter inside the club area without her and waited behind the barricade for her to enter. But then, she ended up waiting for a long time and she was never allowed to enter. On this, not wanting to face the embarrassment any longer, she decided to leave and her friends followed her too after a prolonged argument with the woman Neha.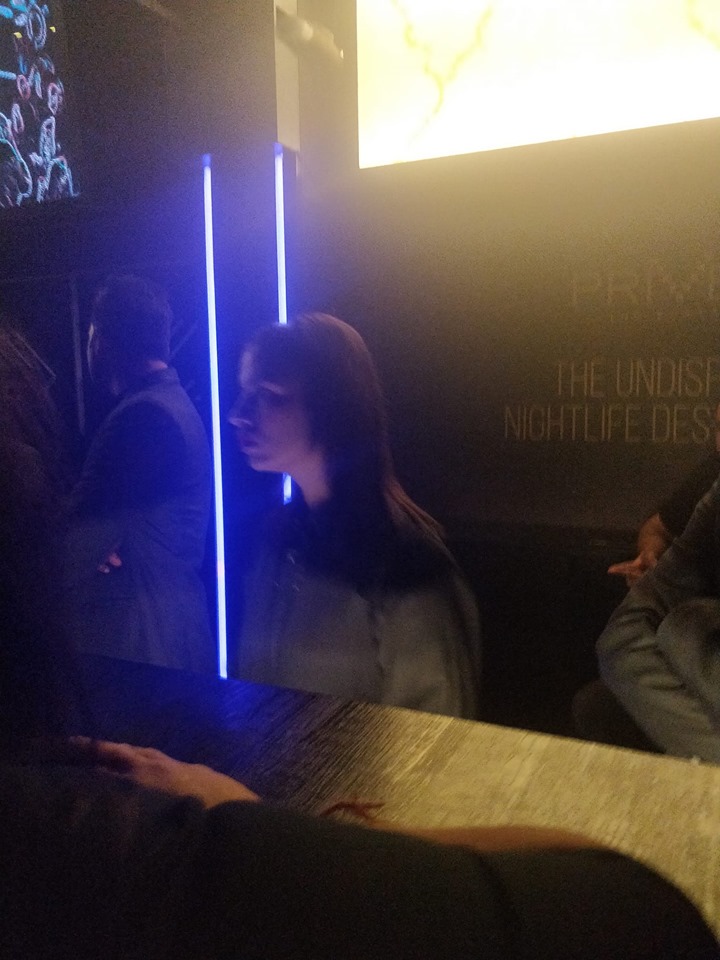 Describing their ordeal, Meghna Chawla who was present has written in Privee Facebook wall
"Ms. Neha, apparently PR manager at a club of one of the upscale hotels in the city, doesn't have the basic ability to behave with her customers. Staff of Privee specially Manager Rajeev Rajan (atleast that is what I was told his name was) and his so called staff member Neha, who are in-charge at the help desk to decide who goes in the club based on how you are dressed, how old you are, how much money you have and the most important WHICH PART OF INDIA are you from!!!

Well I am literally feeling sick that people like these are actually are a part of our community and specially in the service sector!! Here's the incident – 7 of us this evening (who work together), go to a club to celebrate my birthday- in a good mood, very relaxed, very rare for us to come out together like this and we decide (my bad really in the first place) find a friend who had pre-booked us and after a wait of about 45mins, when we are right there about to enter suddenly only 6 of us are allowed and we are being pushed to go in and for some strange reason our one friend (colleague, senior and most of all 40year old person who can possibly not be less than age limit and she also has an ID) isn't allowed to go in.

We are all in some sort of rude shock and we refuse to go in and come from the other side asking them all sorts of questions and all we are being told that she can't come in.. well Ms. Neha who is asking for 2000rs per person practically for entry doesn't want money, so called male staff all they can say is Neha isn't allowing and we don't care if you leave but SHE WON'T BE ALLOWED TO COME IN!! Guys well I will tell you what was wrong with my beautiful stunning friend who was doing this the very first time– she forgot she is from DARJEELING and just like some wierd old crazy loser shitty immature attitude of so-called professional staff, not to forget #Neihaghaiprivee, this is the reason she isn't allowed,,,, ARE YOU BLOODY KIDDING MEEEEE???

THIS IS WHO WE ARE?? ARE WE REALLY STILL LIVING IN THIS WORLD THAT TOO IN A METRO CITY LIKE DELHI????

I AM STILL SHOCKED BY THE KIND OF NIGHT WE HAVE HAD AND I HOPE NOBODY GOES TO A PLACE SPECIALLY BECAUSE YOU ARE BEING CHOSEN TO GO INSIDE A STUPID CLUB BASED ON WHERE YOU ARE FROM????

I REALLY EXPECT AN ANSWER AND WILL BE TAKING THIS TO THE MANAGEMENT." [sic]

Stereotyping someone from North East and denying them service has been reported from many higher-end hotels and restaurants in Delhi, but this is perhaps the first time that a 5-star Hotel has indulged in what seems like a blatant case of racism.
Speaking to TheDC, the victim said, "I felt so humiliated and hurt. They singled me out based on the fact that I was from Darjeeling, and my Mongolian features. This is not done."
A very senior police officer from North East who is currently with the Delhi Police said, "In all such cases we encourage the victim to file a police complaint. Delhi Police has a dedicated team Special Police Unit for North East Region for responding to such cases. I will encourage the victim to contact our unit by calling 1093."
The victim has said that she will definitely be taking up legal action against the establishment.
——————————————————————————————————————–
Shangri-La's – Eros Hotel, New Delhi Claims Priveé Night Club Not part of their Establishment
Yesterday, We had reported Racism on the part of Privee Night Club situated in the premise of Shangri La Eros Hotel when they denied entry to a lady from Darjeeling. Today, Shangri La Eros Hotel reached out to us with their explanation.
"We were deeply concerned to learn of the incident at the Privee Club which is adjacent to Shangri-La's – Eros Hotel, New Delhi. Privee, is a privately managed entity, with separate entrance access and management staff.

As we are not involved in any of the Privee's operations, any further enquiries related to this incident must be addressed to the Privee management directly."