For people from the Northeast and Darjeeling regions living in Delhi/NCR, it is most likely that they have the contact number of Robin Hibu, IPS and Special Commissioner at Delhi Police in their phones, if not in the easy-dial option. During any emergency, there are more chances that someone from the Office of Robin Hibu will reach out to you faster than your closest friends or even family. A true son of the soil, and a Gorkhey by heart and spirit, Robin Hibu has been a guardian, father, and a brother to thousands of students and people from Northeast and Gorkhas living in Delhi/NCR.
The COVID Lockdown
When the COVID pandemic set its foot in our country, our country was quick to get into a state of breathlessness and we locked ourselves up. Businesses were close, schools, colleges, offices were shut down, and we were gripped by the scare of Corona. The country is still in chaos and our ways around our lives have changed. But still, we have created a space to breathe even while being in the clutch of the deadly virus. We have learnt to live with it and accepted that the fear may be serious, but having the world and our lives to stop is way scarier. We have learnt to trade our fear with two squares of meal and pretend that things are normal. In fact, in the 'new normal', the increasing number of infections no longer scares us. With a mask over our face and a bottle of sanitizer in the pocket, life keeps moving on.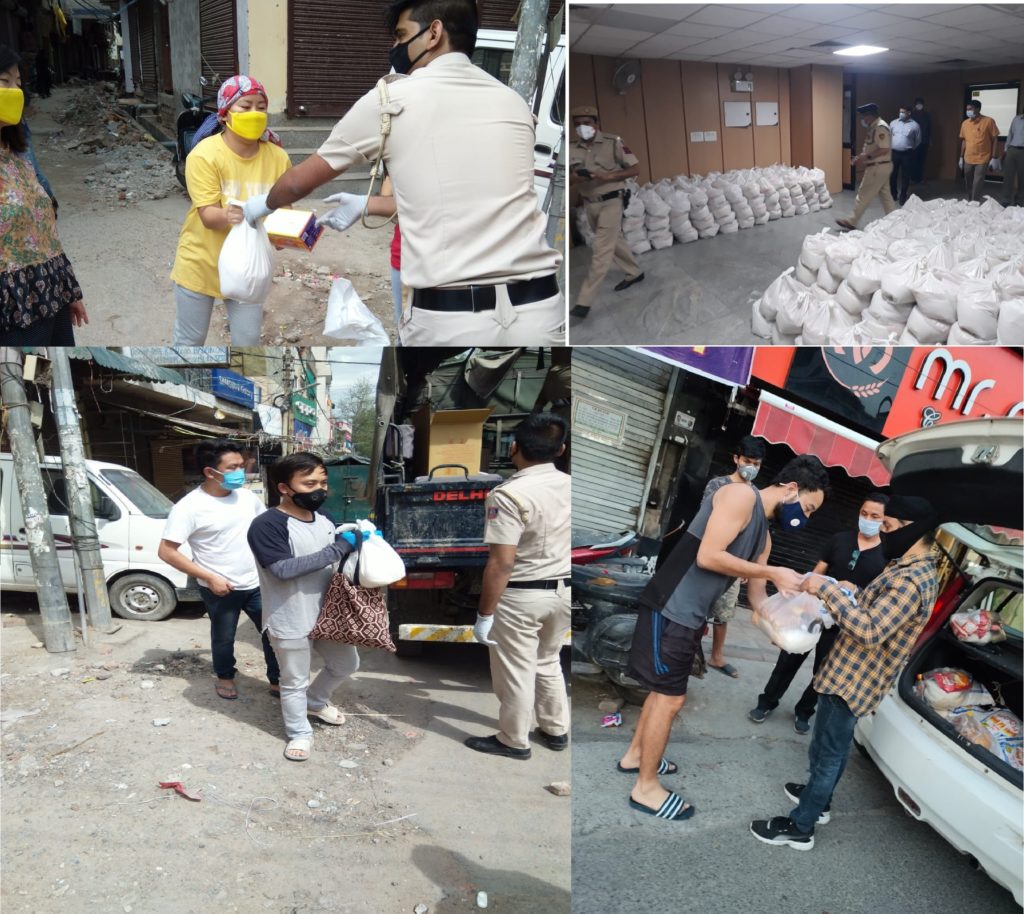 But, things weren't the same when the pandemic hit us. When we think about the chaos prevailing during the initial weeks of lockdown, it still feels unreal and something that never happened. Migrant workers, students, and families who live along the margins were seriously affected. People had no choice but to look up and hope that someone would extend a helping hand so that they could be secure about their morsels of food for the next few days.
Amidst such crisis, one person emerged as a beacon and a leading light who made sure that help was extended to lacs of families in Delhi and across the country, mainly for those from Northeast, including Darjeeling and Sikkim. And yes, it couldn't be anyone else leading the charge, but Robin Hibu IPS, Special Commissioner at Delhi Police, a faithful servant to the country, and a friend in need.
Helping Hands
As soon as the news about the distress caused by COVID lockdown to stranded people from Northeast in Delhi began to surface, Robin Hibu's social initiative, 'Helping Hands', through the contributions of its members and donors immediately got into action. The 'Helping Hands' team set up a helpline so people could reach out to them for any help or assistance. Anyone from the Northeast, including Darjeeling region, could reach for help if they were in need of food, medicines, and other essentials.

Prior to this, the 'Helping Hands' team frequently organised various service drives like blood donation camps, free civil services coaching to the needy aspirants, and other social initiatives for people from the North East. But the real metal of the group was tested when the COVID lockdown started spreading the chaos and destruction.
Taking the lead, Robin Hibu used his one month salary to help people in need. Graually, this initiative went on to develop as one of the biggest initiatives undertaken Helping Hand. Various individuals and groups came together to lend their support in the noble endeavour.
Volunteers and Delhi Police personnel chipped in to support the initiative and took charge of running the helpline, mobilising support, and distributing relief materials. Yogchen Lama from Delhi Police, who originally is from Mirik in Darjeeling, and a member of Helping Hands, Deoraj Gurung from NECC, and Rajen Chhetry played a crucial role through the operation. The effort was also supported by people and organisation who believed in the idea. Various other organizations like the Northeast Chamber of Commerce and many other individuals, including Darjeeling MP Raju Bista pitched in to help in this noble initiative.
Slowly, the initiative started spreading outside Delhi and across other communities. Till now, the group has distributed ration to more than 1,60,000 families. Helping Hands was perhaps the first initiative to address the plight of the struggling families from the Northeast, Darjeeling, and Sikkim region when there was no one to help them.
The Man who understood the pain
The story of Robin Hibu is inspiring and the fact that he himself has made his way through poverty and struggle has allowed him to understand the pains and troubles of those in need. His memories of being educated by a single teacher till class 8 for all the subjects are never fading away. He would walk kilometres everyday to school and also help his family with the household chores. His willingness and determination to get himself out of the situation he was born in, inspired him to work hard relentlessly and he rose to be one of the brightest students in his entire district.
Later, he joined JNU for higher education from where he completed his MA in Sociology. It was during his stay in Delhi that he came across the situation that the North East people were facing. It was right then that he resolved that he would go on to take a stand against it. His commitment led him to work relentlessly for the IPS examination. He fulfilled his commitment when he was posted as the Nodal Officer of the Special Cell for North East People in Delhi. His passion to serve the people only went up exponentially since then and he has never looked back.
Not one to forget his roots, Hibu has also built a library and a small clinic at his village in Arunanchal Pradesh. The Mahatma Gandhi Library today has over 22,000 books donated by Rashtrapati Bhawan.
Robin Hibu's crackdown against racist attacks and crimes against Northeast people, including the Gorkhas, in Delhi, as the Nodal officer of the Special Cell is well known to all. But even after being released of his responsibilities from the Cell after getting promoted, he didn't step back from serving the people in his own capacity. In his attempt to share the burden of his fellow people, he convened some like minded people to a common platform where they could extend help to whoever may need. Thus, an organisation by the name "Helping Hand" was born under his initiative, supported by numerous volunteers of Northeast and the North East Chamber of Commerce.
Robin Hibu: The Gorkhey Heart
Robin Hibu, through his entire tenure, has never treated Gorkhas differently from the people of Northeast. It was him, who included the Gorkhas in the Special Cell for Northeast in Delhi, even when there were technical constraints. He has always loved and supported the Gorkhas as he has done to any other Northeast person. In an interview with TheDC, he spoke about his attachment to the Gorkhas and also expressed his concerns about the problems that they have been facing.
He said that his love for the Gorkhas was born way back during his school and college days, when he had found loving and loyal friends from the community. He expressed how he has been in touch with the Gorkhas for as long as he remembers and how closely he understands their problems. Not speaking politically, he stressed that the Gorkhas didn't have any guardian figure in the Capital and that even though the community has produced many able and successful people, the community as a whole has no one to look forward to, at least in Delhi. This is where he thought he needed to fill the Vacuum. He understood the problems that the Gorkhas faced, so he also had to stand and fight for them.
In his own words, he says, "I have special care and love for the Gorkhas and that will remain till my last breath. I attend all the Gorkha events and try interacting with as many Gorkha youths as possible. In my last life, I must have been a Gorkha."
He also stressed the importance of a Pan India Gorkha Organisation, the need for a Gorkha Bhawan in Delhi and also the need for preserving the culture and education. The efforts that Robin Hibu has put in his effort to fill the gap between what govt provides and what the community needs on his personal capacity and also through the group Helping Hands is beyond appreciation. He has truly emerged as a hero and a role model for the youth of today from our region. We wish more power and success in serving those in need.