In a development that can create tornado-like storms in the political circles, of all hues and colours, in the region, the Frustrated Youth Association of Darjeeling (FYAD) has unanimously decided to support the newly formed "Lalu Rabri Morcha" party of Tej Pratap Yadav, the younger son of Laloo Yadav. In their press release from only-god-knows-from-where, they claimed that the frustrated youths of Darjeeling has unanimously decided to support Tej Pratap.
Shy of facing the media and the public, their president, who did not want to be named, declared:
"We, the frustrated youths of Darjeeling, from all social and political backgrounds, have decided to support Tej Pratap's "Lalu Rabri Morcha" this time. We are impressed by the many new and challenging roles Tej has assumed in his life: from playing Chief Minister of Bihar in the Bhojpuri film "Apaharan Udhhyog" to becoming Krishna to forming a brand new party. Who better else can inspire the frustrated youths of Darjeeling than Tej Pratap!".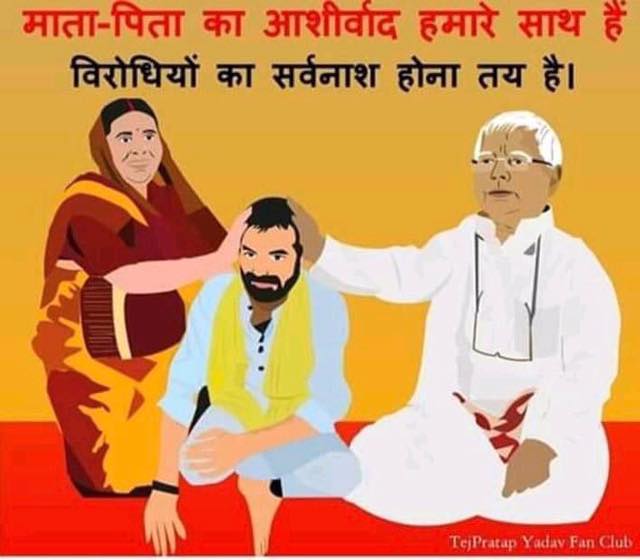 Claiming that their membership runs into thousands, and even lakhs, he confided confidence in the strength of their organisation,
"You see, ours is an open organisation where anyone is free to join. The only criteria is that he or she has to be frustrated by whatever means – politically, socially or economically. We are all frustrated in life in one or the other way, and that is our distinct feature. We are bonded together by our frustration".
Asked what their agenda for the election would be, the secretary, who is a 40-year-old bachelor youth, informed: "We have no agenda. We are so frustrated that no agenda can help us come out of our frustrations. Not even development boards or contractor jobs. We are just as frustrated as Tej Pratap, which is why he is our idol".
It is to be noted that the Frustrated Youth Association is not contesting Lok Sabha election from Darjeeling this time. No one has filed any nomination. Nor any buzz created to annouce their arrival on political horizon of Darjeeling. A member, who did not want to be named from the fear of being insulted for being frustrated all his life, informed: "We didn't have enough money to file nomination in the first place. So none of our members wanted to contest. Besides, since nobody trusts us, not even our own members, there weren't any nominees to nominate anybody. Also, we did not want to confuse the voters given that there are already 16 candidates in fray from Darjeeling. In a way, we are helping the voters".
On being asked why they are not supporting any candidate in Darjeeling Lok Sabha constituency, the new member, who joined the association just when this report was being prepared, said
"There are so many associations in Darjeeling. All of them, including those that doesn't exist or has come about overnight, has announced their support to one or the other candidate that we felt there was no point in supporting any candidate. Actually, by keeping aloof from the political scenarios, we wanted to protect our identity without being seen as frustrated".
They claim that once they have enough new frustrated members – their target is 20 lakhs in Darjeeling district – they may think of formally launching themselves, both on TV and Facebook.
Disclaimer: The content of this report is a work of pure satire. Readers are requested not to believe in any of the claim or account or content of this news report.