In Darjeeling Vidhan Sabha (MLA) elections slated for May 19th 2019, a party with less than fingers can count followers Akhil Bharatiya Gorkha League (ABGL) has fielded a greenhorn Biplov Rai as a candidate, who from what friends tell me, has been tagging people on the Facebook post of a former Gorkha Janmukti Morcha (GJM) leader Swaraj Thapa who is contesting as an Independent candidate, supported by the Communist Party of Revolutionary Marxists (CPRM) and Indian National Congress (INC). While the ruling party in West Bengal, Trinamool Congress (TMC) is supporting an Independent candidate Binay Tamang, who broke away from Gorkha Janmukti Morcha (GJM), Sarada Rai Subba a TMC leader till a few days back, is contesting as an Independent candidate. As if the matters weren't complicated enough, GJM (original) is in turn supporting the candidature of Neeraj Zimba, who originally belongs to their arch-rivals Gorkha National Liberation Front (GNLF), Neeraj is now contesting on a Bharatiya Janata Party (BJP) ticket. Not to be left out is the candidate from CPI (M) KB Wattar.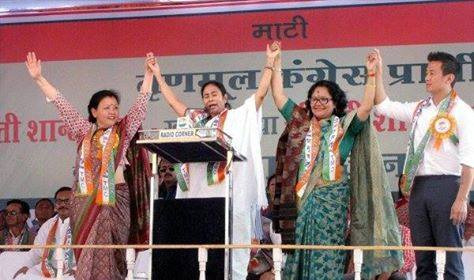 Honestly no one will blame you, if you cannot make sense of the clusterf**k that is Darjeeling Vidhan Sabha elections.
But then, there's enough blame to be passed around.
History as precedence
In the aftermath of former PM India Gandhi assassination on Oct 31, 1984, the elections to Lok Sabha was won overwhelmingly by the then Congress (Indira) – popularly known as Congress (I). One of the major exceptions was Darjeeling Lok Sabha seat, where Congress (I) candidate Dawa Norbula had lost to Anand Pathak of CPI (M). No thanks to Siddharth Shankar Ray the former Chief Minister of West Bengal loyal to Congress (I), who had by then become a spent force in politics, had contested as an Independent candidate from Darjeeling Lok Sabha seat. Mr. Ray had then polled around 85000 votes in Darjeeling municipal area, which ensured that the official Congress (I) candidate Dawa Norbula lost the elections.
Back then, the Left Front led by CPI (M) and Telugu Desam Party (TDP) were the main opposition parties, and they were on the attack against Rajiv Gandhi and Congress (I). In order to tame CPI (M) which was strongest in West Bengal, Rajiv Gandhi and his advisors supported an upstart from the hills Subash Ghising.
Those in the know claim that thanks to central government support, Subash Ghising went onto form the GNLF and he demanded the formation of a separate state of Gokhaland comprising of the Darjeeling Hills, Terai and Dooars. His very first recruits were the Congress (I) supporters who had voted for Siddharth Shankar Ray.
A bloody agitation for the separate state followed, and between 1986-88, Gorkhas, supported by the then West Bengal and Central government ended up murdering and maiming fellow Gorkhas – mainly supporters of GNLF and CPI (M).
The blood, gore and violence ended in 1988, when Subash Ghising signed a tri-partite agreement with the West Bengal and Central governments to form the Darjeeling Gorkha Hill Council (DGHC).
Following the formation of DGHC, Subash Ghising ruled the hills with an iron-fist, and became its undisputed leader. His reign lasted till 2007.
The raise of a usurper
On a fine October day in 2007, Bimal Gurung once a trusted lieutenant of Subash Ghising emerged to the fore as a rebel leader, and started to question the supremacy of Subash Ghising, who had till then remained unchallenged.
By then, Ghising had become a spent force himself.
Another round of agitation for the separate sate of Gorkhaland followed under the leadership of Bimal Gurung from 2007-2011. Those in the know state that Bimal had tactical support from the then CPI (M) government in West Bengal.
In 2011, Bimal Gurung and his GJM signed another tripartite agreement with the West Bengal and the Central government leading to the formation of Gorkhaland Territorial Administration (GTA).
Following the elections to GTA in 2012 Bimal Gurung and his supporters, of which Swaraj Thapa was the Chief Advisor went on to rule Darjeeling for another five years.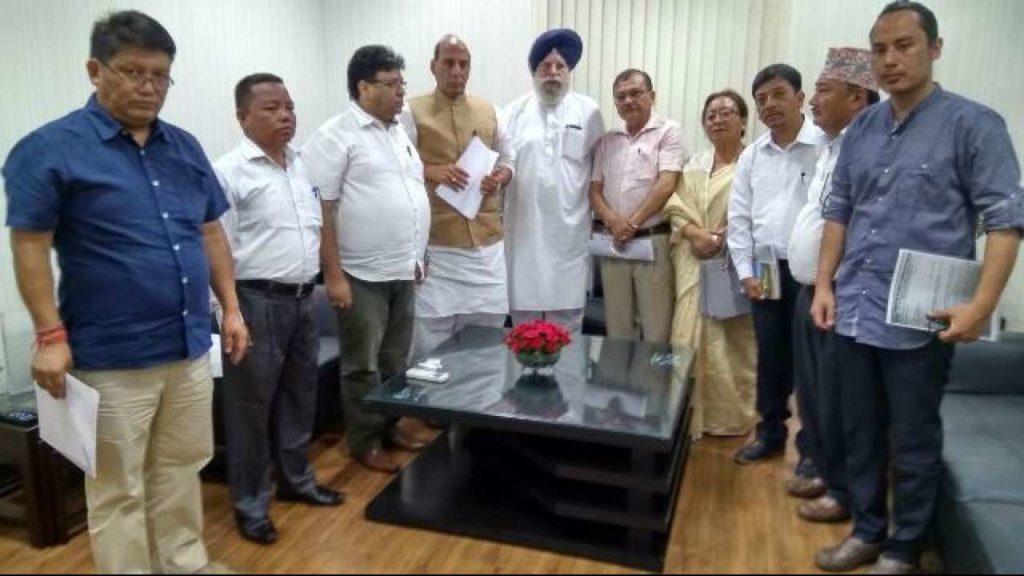 Those who rebelled
In the interim, Subash Ghising along with his followers were forced to leave the hills. Neeraj Zimba was one of those who had chosen to leave the hills and join Subash Ghising during his exile days.
On May 30, 2010, ABGL leader Madan Tamang was assassinated in broad daylight, following which the then GJM leader Amar Lama quit the party. Amar Lama happened to be the younger brother of slain leader Madan Tamang.
Usurper usurped
In 2017, GJM rose in rebellion against West Bengal government, originally it was against the imposition of Bengali language across the state, which later transformed into a full-blown agitation for the separate state of Gorkhaland.
The agitation for a separate state of Gorkhaland in 2017 was a very well orchestrated show. Whenever the movement seemed to ebb, the security forces would invariably end up shooting to death one Gorkhaland supporter or the other, thus continuing the public outrage and support for the agitation and the indefinite shutdown. This agitation and strike continued for 105 days.
All this while, Bimal Gurung the leader of GJM had gone underground, and the show was being run by his trusted lieutenants Binay Tamang and Anit Thapa. With the entire region shutting down for 105 days, and GJM leadership remaining underground, bombs started to go off in the middle of the night.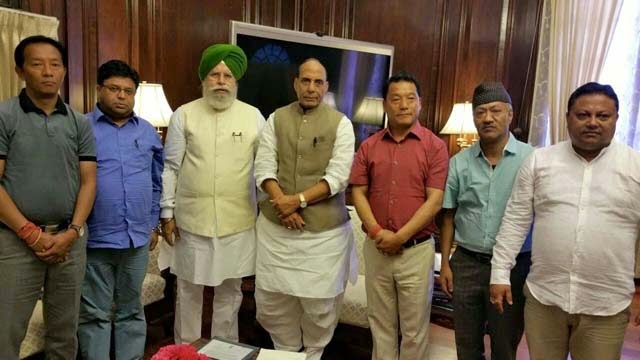 Taking advantage of the confusion, and lack of visible leadership, the West Bengal government slapped numerous cases against Bimal Gurung and foisted Binay Tamang to replace Bimal Gurung.
Binay declared himself to be the Leader of GJM, and for all purpose and intent usurped Bimal Gurung.
On September 20, 2017, Mamata announced the formation of a Board of Administrators (BoA) to run the GTA affairs. Binay Tamang was made it's Chairman and Anit Thapa his trusted lieutenant was made its Vice-Chairman. Among the six other names announced to the GTA BoA Amar Rai, the MLA for Darjeeling Vidhan Sabha seat was also one.
Return of outcasts
Following the death of Subash Ghising in 2015, GNLF started to reorganize itself under the leadership of his son Mann Ghising. Supported by prudent advisors GNLF Chief Mann Ghising pledged their support and loyalty to TMC. In 2016 Legislative Assembly and GTA Municipal elections GNLF extended support to TMC candidates, for them to survive in the hills support and shelter from TMC was necessary.
Also in 2016, Amar Lama and two other disgruntled GJM leaders Harka Bahadur Chettri and Anmol Prasad had gone on to form a new political outfit Jan Andolan Party. Everyone in the hills believed, it was just another front for TMC. But no one was really complaining.
Those who had been thrown out of GJM and Darjeeling were now back, under the protection of TMC.
Parliament elections googly
As the buzz for 2019 Parliamentary elections started, many names were thrown around as possible candidates for Darjeeling Lok Sabha seat. TMC named Amar Rai, a former GJM leader, GTA BoA Member and Darjeeling MLA as their candidate.
All eyes were now on ousted leader Bimal Gurung to reveal his candidate. Bimal, though remaining out of Darjeeling for over two years, retains massive fan following among the locals, and continues to remain a dominant political force in the region.
Most were expecting GNLF + TMC + Binay Tamang group to contest the 2019 MP elections together.
That is when the unthinkable happened. GNLF laying rest to all conventional political predictions freed themselves from the shadow of TMC and announced their alliance with Bimal Gurung and his GJM.
The rise of Binay Tamang and the group had made GNLF expendable in the eyes of TMC. Feeling the slight, GNLF had started to distance itself from TMC from mid-2018. In the 2019 general elections, they saw their opportunity to break-free from TMC.
Together GNLF and GJM decided to extend support to a BJP candidate in the Parliamentary elections.
Many names were speculated upon for the BJP ticket, former GJM Chief Advisor Swaraj Thapa was among the contenders for the ticket, but that was not to be.
Instead, GJM and GNLF agreed upon the name of a complete newbie Raju Bista as BJP candidate from Darjeeling.
As a result, Swaraj Thapa resigned from GJM.
Raju Bista being a successful entrepreneur helped, his management skills were showcased when even CPRM and some non-political but very vocally loud entities extended their support to him.
So the Darjeeling Lok Sabha elections went on to become a prestige fight between TMC and BJP, which saw many new egos being born, and many old egos getting crushed.
Clusterfk of a Vidhan Sabha by-election
Since Darjeeling MLA Amar Rai who had won the seat on a GJM ticket wanted to contest MP elections on a TMC ticket, he was forced to resign from the seat to be eligible. This is what has prompted the upcoming by-elections to the Darjeeling MLA seat, slated for May 19th.
Perhaps respecting the gathbandhan dharma, Bimal Gurung has supported Neeraj Zimba who belongs to their arch-rivals GNLF. The same Neeraj Zimba who had been forced to leave the Darjeeling Hills by the same Bimal Gurung and his supporters.
Swaraj Thapa who was once the Chief Advisor to Bimal Gurung is contesting as an Independent Candidate and is now being supported by CPRM and INC. The same CPRM that had supported BJP Candidate Raju Bista only a month earlier.
ABGL whose leader Madan Tamang was murdered in broad daylight has fielded their own candidate Biplov Rai, who as I have mentioned earlier, is helping Swaraj Thapa spread his online campaign by tagging people to his Facebook posts.
Amar Lama the younger brother of slain leader Madan Tamang who was also with GJM, is contesting as a JAP candidate, and Binay Tamang who was once a trusted Lieutenant of Bimal Gurung is contesting as an Independent Candidate supported by TMC, while one of the most important TMC leaders from the hills Sarada Rai Subba has been thrown out of the party, as she has decided to contest an Independent Candidate.
Who next?
At the end of the day, from my vantage point, what I can see is this – among this Clusterf**k two groups have emerged as clear winner GNLF and Anit Thapa.
Anit Thapa the onetime trusted lieutenant of Binay Tamang has now been made the Chairman of the GTA Board of Administrators, and if Binay Tamang loses the upcoming elections, Bengal may altogether dump Binay in favour of Anit.
In Neeraz Zimba, GNLF now has a vine into the BJP which may help them emerge as a possible alternative to Bimal Gurung and GJM, which Binay Tamang and his group, despite West Bengal government's support could never be.
Same old, Same new
Politics in Darjeeling has become so unpredictably certain that while everyone is anticipating someone to be thrown out, one never knows which entity or individual it may be.
Thus, continues to the "Game of Throwns" in Darjeeling.