India Nepal border dispute recently took a turn for the nasty, after India built a road via the Lipulekh pass, and in retaliation Nepal Government approved its new political map showing its claim over Lipulekh, Kalapani and Limpiyadhura territories. The move has been strongly condemned by India as "unjustified cartographic assertion".
Lipulekh Pass is an ancient pilgrimage route mostly used by Buddhists. The route was closed by India following the Indo-China war of 1962. However, lately in the beginning of May 2020, India reopened the route for Kailash Mansarovar pilgrimage after constructing 22 km long road on the pass.
Earlier in November 2019, India had released its new political map showing Kalapani as a part of its territory, which was objected by Nepal. Kalapani is the first big reason behind Indo-Nepal border controversy, followed by Lipulekh.
Lipulekh is located in a far west point near Kalapani, an area of territorial dispute between India and Nepal. Both the countries claim these regions as part of their territory. India claims Kalapani as part of Pithoragarh district of Uttarakhand's and Nepal claims it as a part of its Dharchula district.
Thanks to our contributor Rohit Vats we are able to bring to you some background to the whole controversy.
Historical Pointers
1) Nepal claims Kuti-Yankti River is MAIN Kali river
2) It originates at Limpiyadhura Pass on present Indo-Tibet border and flows till Gunji.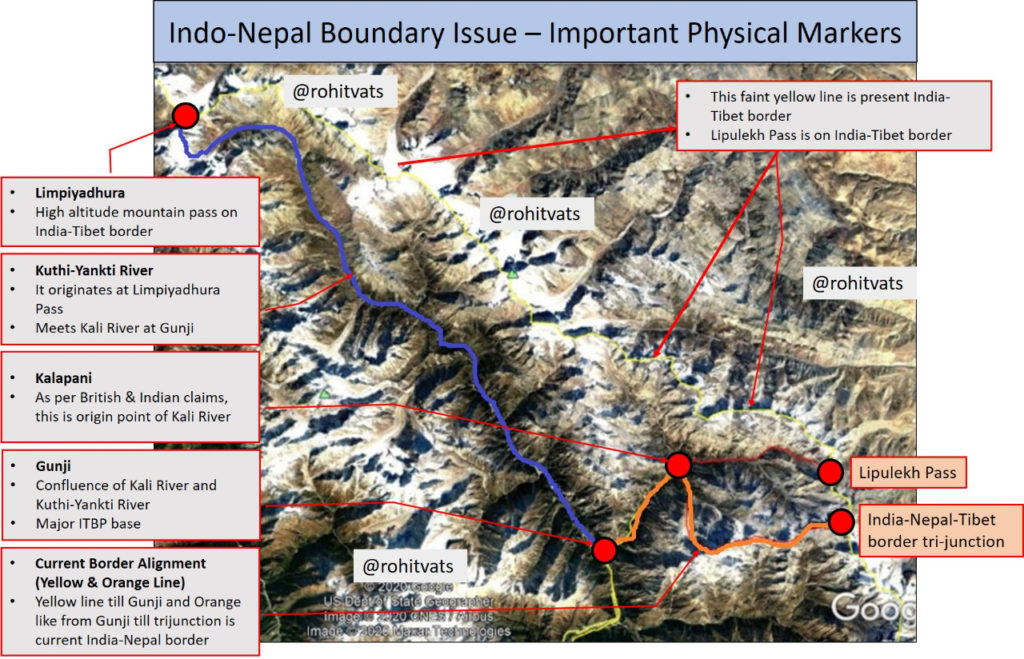 3) As per Nepal, all areas to the east of this river (blue colour in the map) 1816 Sugauli treaty should be part of Nepal.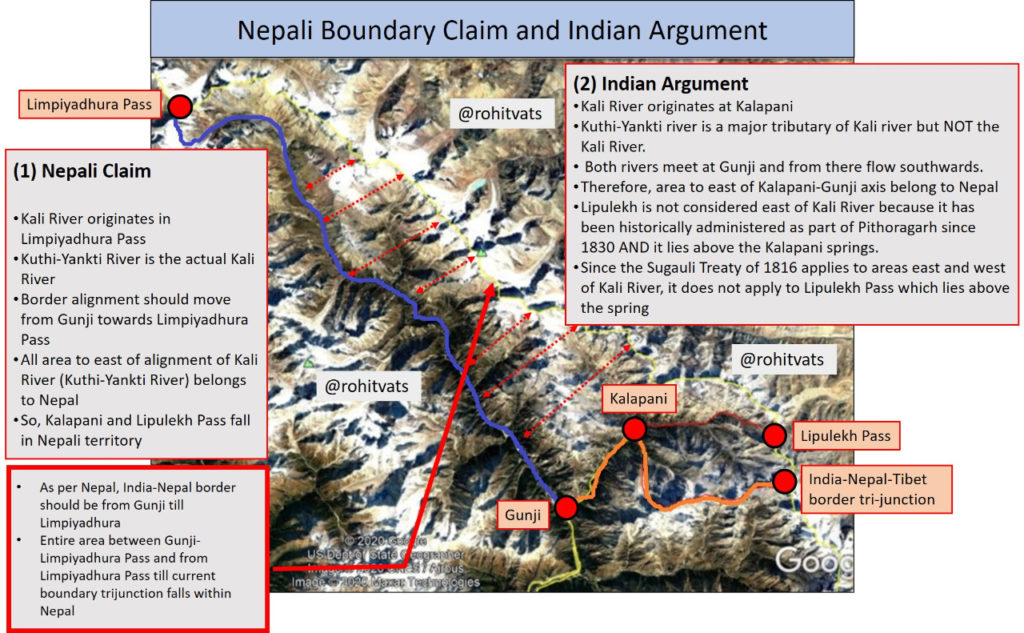 4) Hence, Indian-Nepal border should be from Gunji to Limpiyadhura pass.
5) Entire area east of this, including Kalapani, India-Nepal-Tibet tri-junction, and Lipulekh Pass should be in Nepal.
6) Indian claim based on historical maps from 1879 and administrative records of Pithoragarh district from 1830 shows that Kalapani is starting point of Kali River. That is how river gets it name.
7) Kuti-Yankti is a tributary of Kali River but NOT the Kali River.
8) Kali River flows from Kalapani till Gunji + where it meets Kuti-Yankti River; from there, combined river, still known as Kali river, flows southwards.
9) From Kalapani downwards, India-Nepal boundary is divided along center of Kali river that is the present alignment of the boundary.
10) Lipulekh Pass is not considered + as 'east of Kali River' and hence, part of Nepal because it lies beyond origin of the river.
11) Sugauli Treaty refers to areas west and east of the river and hence, Lipulekh Pass does not come under the definition.
12) Administrative records from 1830 show area beyond + Kalapani and including Lipulekh pass being administered as part of Pithoragarh District.
PART 2 – Few points on the historic basis of claims:
(1) Nepali claim – British maps of area from 1816 to 1856 which show Kuti-Yankti river as Kali River.
(2) India – Survey General of India 1879 map (below) which shows Kalapani as Indian territory.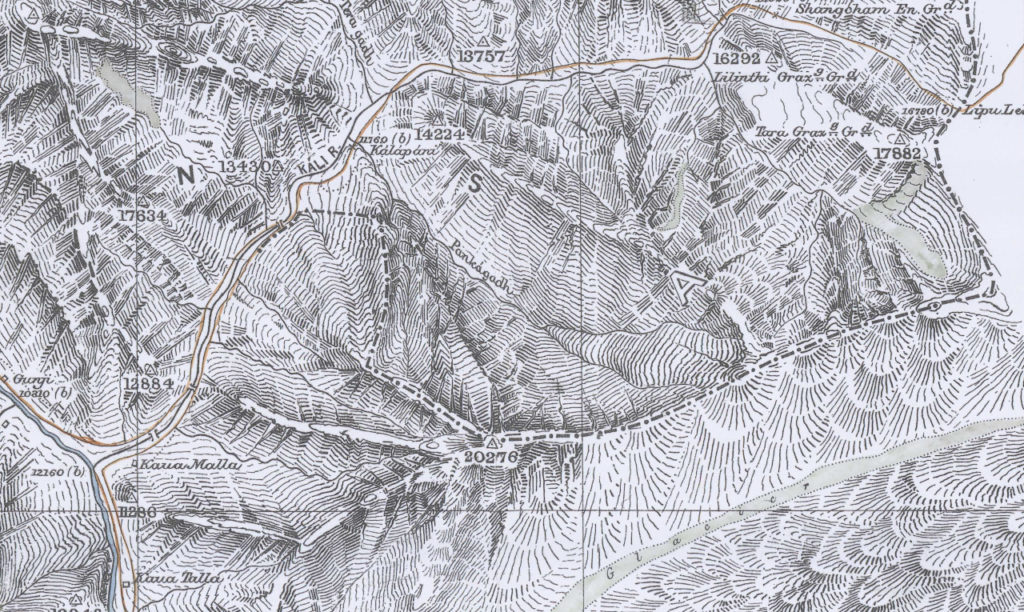 Present boundary map is based on Survey General of India 1879 Map. Just for reference, see this 1924 British map of the area, it's same as 1879. And shows Kalapani and Lipulekh Pass as parts of Indian territory.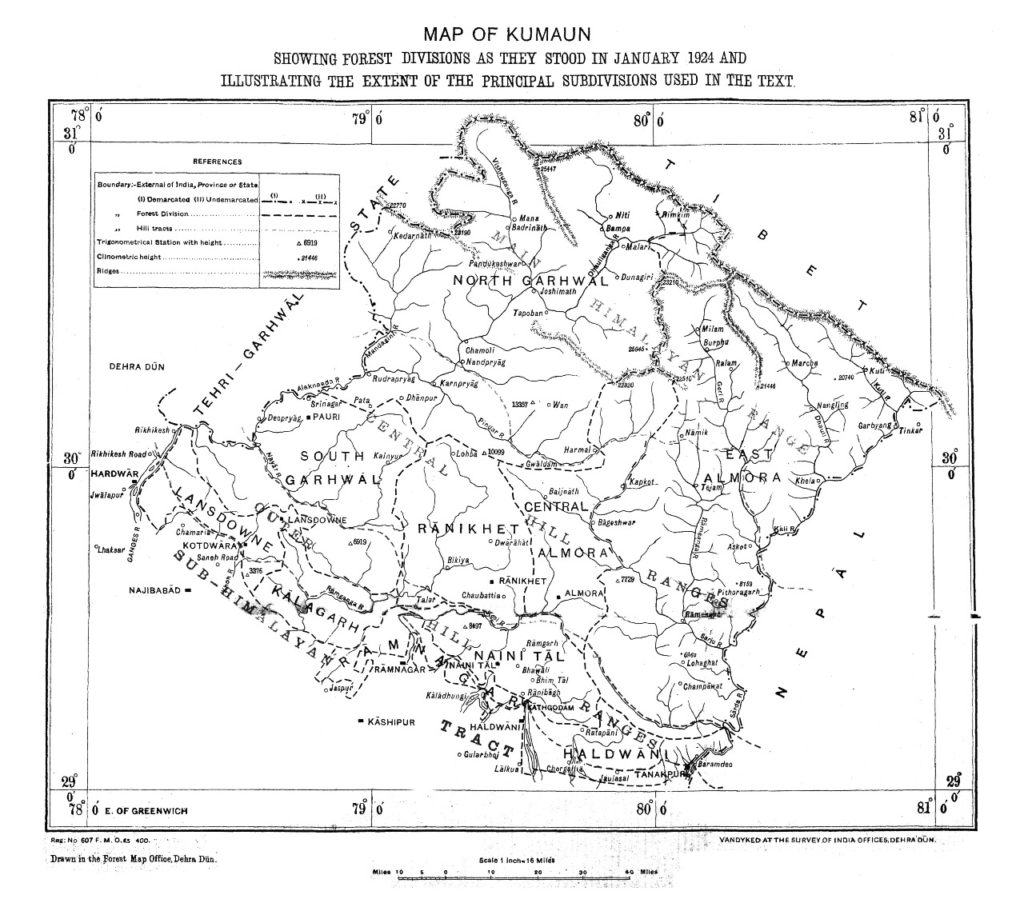 This is the new official map released by the Nepali Government. The finer like area jutting out (marked under red circle) shows the area east of Limpiyadhura – Gunji axis which has been added to Nepali territory.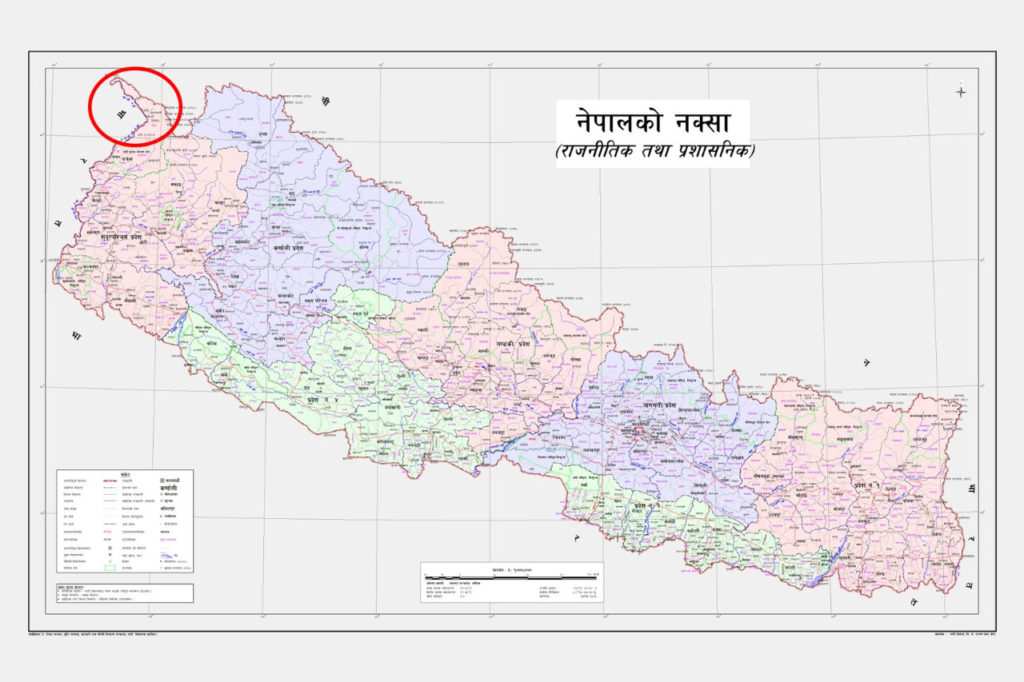 1827 Map of Garwhal Kumaon which shows Kuti-Yankti river marked as Kali River. This is one of the maps produced between 1816 and 1856 which forms the basis of Nepali claim.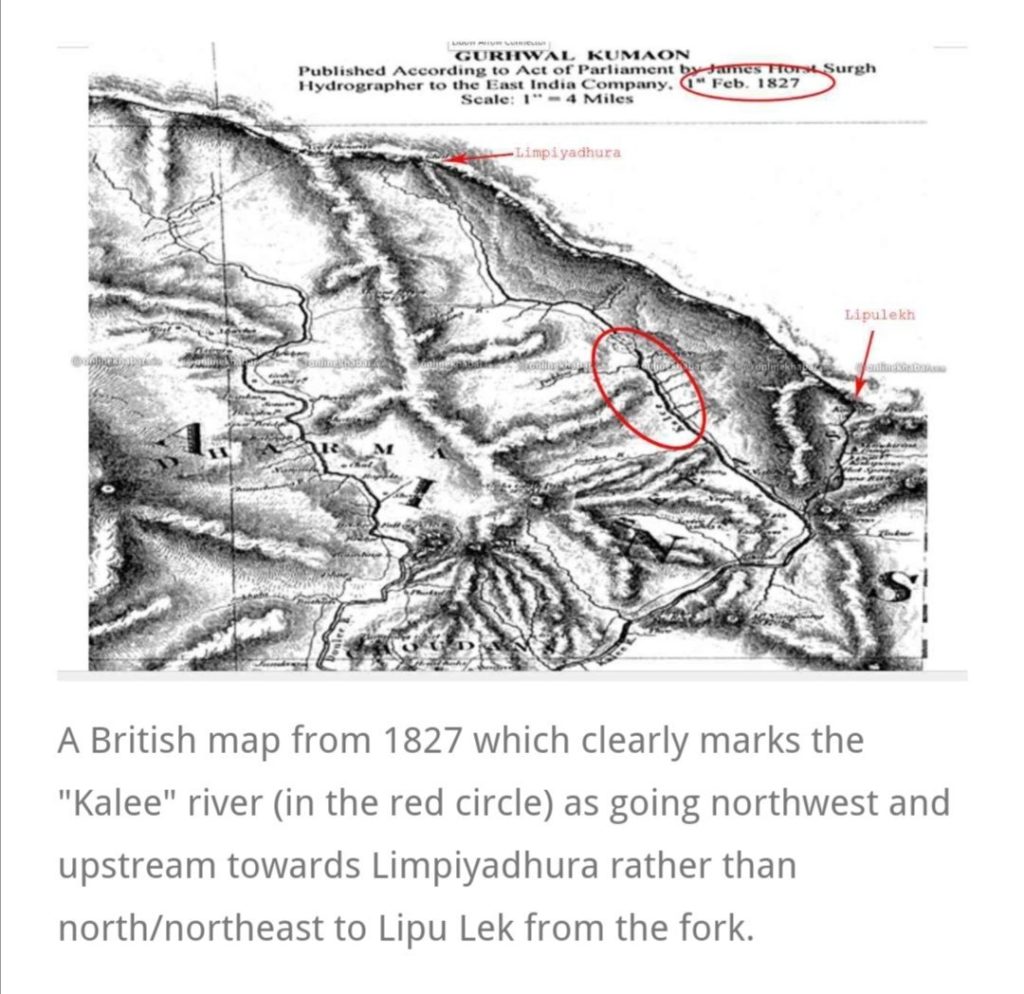 Article by Kanak Mani Dixit and another author about the basis of Nepali claims to Kalapani territory.
Note the tone of the article and mention post-1990 'awakening' of people.
BTW, don't miss this map in the article. See the significance below
It shows two areas:
1) Dark brown representing 62 sq.km area
2) Lighter one with 355 sq.km.
– Before 1990, boundary debate was about the smaller 62 sq.km area
– The larger one emerged after 1990 when Maoists came into power.
Video shared by Prem Thapa where a noted Nepali historian Professor Ramesh Kumar Dhungel explains the basis of historical Nepali claims. He makes maps produced till 1856 as the basis for Nepalese claims. And implies that India made changes which earlier Nepali administrations did not challenge.
What he does not mention, for reasons best know to him, is that 1879 map of British India corresponds to present boundary.
Three aspects of territorial dispute between India & Nepal
Treaty of Sugauli: Nepal and the British East India Company in 1816 signed the Treaty of Sugauli to end the territorial war. The treaty demarcated Uttarakhand's Kumaon with River Kali as a boundary between India and Nepal. However, the river Kali has been shifting its course from time to time.
Origin of Rival Kali: The place of its origin is also not known. India claims that the river origins from streams of Kalapani and Nepal claims that river originates from its Kuthi Yankti stream.
Gunji Village: River Kali bisects the Byans area and the southeast of Byans includes the Gunji village which is claimed by Nepal as its territory. Gunji village is the gateway for Mansarovar Yatra. The Byans and its areas were transferred to Nepal by Britishers following the Treaty of Sugauli.
[With inputs from Rohits Vats: He can be followed on Twitter at: @KesariDhwaj