We all know about the valour of Kargil war heroes, from Saurabh Kalia to Yogendra Yadav. But we seldom come across personal accounts from the people who fought that war. So here is one such rare account of our history and the heroics of our Gorkha boys.
I am the third generation in the army and that too in the same Regiment. After I was commissioned, I joined 11 GORKHA RIFLES, the Regiment that my grandfather and father belonged to – it's like a tradition. I got commissioned into 7/11 GORKHA RIFLES. This incidentally, was not the battalion that I led into battle. The battalion I was destined to lead, into a fierce series of battles during 'OP VIJAY' was 1/11 GORKHA RIFLES, the one my father had been commissioned into about 42 years ago.
I had been posted to various places, served in every type of terrain conceivable – from deserts, mountains, jungles, ravines, plains, high altitudes, super-high altitudes – you name it. And after various instructional and staff appointments, took over the command of the 17 RASHTRIYA RIFLES( MARATHA LI ), a newly raised battalion in J&K, designed to combat insurgency and militancy. Command of a RASHTRIYA RIFLES Battalion is considered a very tough and a challenging assignment. I had promptly agreed to the offer for the command of 17 RR. I took it as a big challenge, firstly, because the troops were from the MARATHA Regiment, mostly hailing from in and around Pune, quite different from the troops I had been commanding throughout my career till then, and secondly, commanding a battalion in a militant infested area has its fair share of risks and tensions. However, it did not take me long to realise that the Gorkha and the Maratha troops were so much like each other in so many ways, as events and achievements of the battalion would unfold later and substantiate my claim. I enjoyed and loved every moment of my command tenure with my MARATHA boys and we hit it off like a house on fire.
For my battalion, I had designed a memento using a grenade as my model. A Grenade looks so simple, but if you pull out the pin, you know what happens, right? Simple, but Lethal: that's the motto (which graces the base of the memento) I adopted for my battalion because that's what it was! This has since become the Motto for the 17 RASHTRIYA RIFLES, whom I'd christened the 'Stormy Seventeen' because we created a virtual storm for the militants, thereby making it extremely difficult for them to survive in our area of responsibility. We'd created some sort of a record there, by eliminating the maximum number of militants, and getting a sizeable number of them to surrender. Since our area of responsibility was very large with hundreds of villages under us, every day threw up different types of problems and challenges. All these incidents added richly to our experience. This kept me quite engrossed and extremely busy, throughout my tenure there.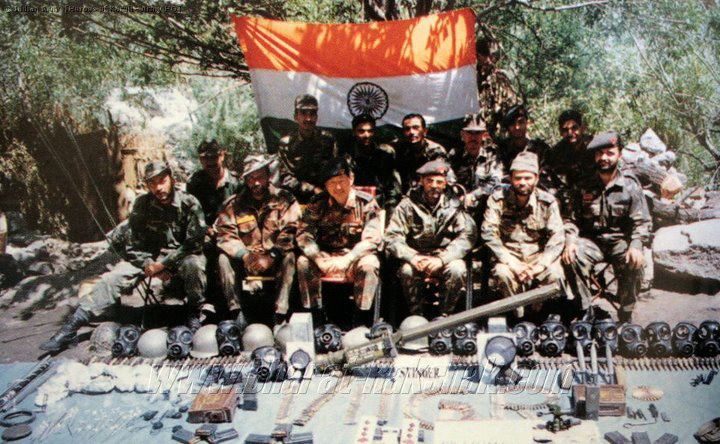 OPERATION VIJAY happened in Kargil, while I was busy combating militants elsewhere in the same state. This was somewhere in the first week of May 2001. By the time the actual fighting developed, it was almost the end of May and by now people had realised that the Pak army was fully involved and it wasn't just some militants. 1/11 GORKHA RIFLES had the privilege of being the first battalion to be rushed in for 'OP VIJAY'. At that point of time, my 'Colonel Of The Regiment' (a very senior officer of the Regiment is appointed as the Colonel Of The Regiment, to oversee regimental issues as also do the command planning for the battalions of the Regiment. He is considered to be the father figure of the Regiment) contacted me. He said, `The previous Commanding Officer of 1/11 GR has taken premature retirement and gone, the battalion is presently in the thick of battle,' and asked, 'Would you like to take over the fight and do something about it?' Lt Gen J B S Yadava, AVSM, VrC, VSM, who is presently the Deputy Chief Of Army Staff, was also my commanding officer in 7/11 GR when I was a young officer. I was his adjutant and I had learnt a lot from this veteran and Vir Chakra award winner of the 1971 Indo-Pak war. He probably had faith in me and was banking on me to do something for the battalion in that difficult hour.
I didn't hesitate; I said, `definitely.' But he also added, 'I know it is unfair on my part to ask you to take up this tough assignment, especially when the Officers, Junior Commissioned Officers and the troops are new to you.' (Remember, I was coming back to the Regiment after serving with the Rashtriya Rifles). Even the terrain was new to me, the information about the enemy at that point of time was not adequate; things were not all that clear. I wasn't exactly in a very enviable situation. I had however convinced myself that I would take a chance. I was anyway combating uncertainty day and night. Earlier, I had this huge guesthouse to myself in Doda district and every night I used to sleep in a different room, as we used to be under rocket and machine-gun attacks regularly. When days passed by without some firing or some incident, I used to feel that something was missing! All that, of course, changed later, as they never even dared to venture anywhere near us. We had successfully managed to dominate our area of responsibility fully, after months of relentless and successful operations against the militant groups.
Once I accepted the offer to command 1/11 GR, they moved me by helicopter within 48 hours and dropped me bang in the middle of the battle-zone. Many operations were going on in full swing at various places in the front. The moment I landed at the base, there was heavy shelling by the enemy artillery and my reception party ran helter-skelter for cover. My reception was now complete with the enemy also chipping in with their artillery shelling. All of us, of course, had to dive for cover, this gave me an indication of the difficult times that lay ahead of us.
In a month through vigorous effort, I improved and consolidated my battalions posture against the enemy. I got to know the boys, visited every piquet and reconnoitred the complete area of responsibility. By end, June I had learnt a lot about the enemy and his capabilitiesand was now adequately prepared, given the situation. In the Batalik sector where my battalion was now located, the terrain was tough and unforgiving, compounded with the most inhospitable weather. After due deliberation and reconnaissance everyone, right up to the highest commander, had more or less assessed that if the formidable and dominating enemy position at Khalubar was to be captured, the complete area would become more or less untenable by the enemy. But the problem was that Khalubar was located at an altitude of 17500 metres above mean sea level, with the enemy sitting well entrenched, with lethal and sophisticated weapons in a dominating position, it was also located deep in the heart of the enemy defences. This implied that the attacker would be under enemy fire right from the word go. The attack would also have to be made uphill under accurate and intense enemy fire. The next logical question was 'who is going to capture it and how? When I volunteered for this seemingly impossible task, people thought I had gone bonkers!
To cut the story short, I led my battalion to battle from the front, into one of the fiercest battles of 'OP VIJAY'. As a commanding officer you are expected to be sufficiently forward with the troops, but not lead the assault as I did. The main role of the Commanding Officer is to plan and coordinate well and provide good leadership at all times. Being new I had no choice but to lead physically from the front on that fateful day of July 1999.
It took us 14 hours of extremely torturous and dangerous marching with heavy loads of arms, ammunition, winter clothing, and other special equipment for negotiating the steep snow-covered slopes, rations, etc. to reach the objective. Throughout the move, we came under heavy enemy small-arms fire and artillery shelling. The intensity and the accuracy of the enemy's fire grew even as we laboriously plodded our way up through the snow and sharp jagged rocks at steep inclines. The prevalent temperature at this time was about minus 29 degrees Celsius. A real marrow chilling temperature, which numbs your whole body and deadens the senses.
We had started the attack with a few hundred people. We had closed into about 600 yards of the enemy position when the firing became very intense and effective and it seemed impossible to proceed further against this curtain of lead and fire from the tracer bullets. You could see the bullets and rockets hurtling towards us with fearsome intensity and sound. My heart still shudders when I remember the heart-wrenching screams and cries of my boys who fell under this wilting fire from the enemy's heavy machine gun as also from his Air Defence gun. The sight of my boys battered, torn and ripped apart by machine gun fire, bleeding profusely, still haunts me, and I often wake up sweating and gasping for air from such nightmares. It was a real test for me, egging the boys on, towards almost certain death, from effective and intensive enemy fire. To close in with the enemy and finish him off before he finished us off. At this point of time, I focused myself totally to the immediate task ahead of me – to capture the objective and nothing else. All thought of the family and home was blocked out, to rule out even one per cent chance of any weakening in my resolve. We pushed ahead despite heavy casualties with approximately 30 – 40 soldiers whom I could muster. The others were either injured or pinned down by the heavy enemy fire. Maximum casualties were being caused by fire coming from Khalubar top while the other was from a flank, which, we later named 'Bunker Area'. I decided to capture the top, with the 40 men I could muster and sent Capt Manoj Pandey to capture and silence Bunker Area with approximately 30 men. We charged up towards the enemy position, chopping enemy heads enroute and succeeded in capturing the top. When I took a quick headcount on top, there were only eight of us left, who were fit enough to fight.
It was an uphill task, almost like a scene straight out of Charge of the Light Brigade! The gradients we had to negotiate were between 75° and 80°! It was snowing and extremely cold. The rock that we were climbing was off the jagged variety that chops you to the quick if you make one false move! To top this worst-case scenario possible, there was that enemy fire coming on us right from the top! The enemy could see our every move from the top!
But my Gorkha boys proved their worth in gold and were unstoppable; I have to doff my hat to my boys! Where normal guys would have had a tough time even walking in those altitudes, my boys sprinted! They charged up and when we were at close quarters with the enemy, my boys did what they had been dying to do for so long, they removed their khukris and started chopping enemy heads. As we charged up, I could see the heads rolling down. When the enemy saw that – they couldn't hold themselves any longer. They just got up and started running away in sheer terror.
So like I mentioned earlier, we were just eight of us, bang in the middle of an enemy position. It became imperative that we hold on to it. It was equally critical for the enemy to push us out because we were not only dominating their replenishment route i.e. for additional arms and ammunition, rations and things like that, but we were also cutting off their route of retreat. So they launched counter-attack after counter-attack and there I was, with eight chaps holding on resolutely and repulsing attack after attack.
It was almost an impossible task. The enemy would muster up about a platoon (about 30 to 40 troops) and start creeping up slowly and attack us! And with just eight guys, you can imagine just how thin my defence was! Any direction of attack would have only met with one or two rifle fire, however, I had all eight guys facing every counter-attack. And that was only possible because on a parallel mountain spur, a few kilometres away, I had my troops holding defences against the enemy. So the company commander, whose company was on the other mountain spur, was watching our desperate stand through a pair of binoculars and he became my eyes from that side.
He would tell me, 'Sir, there are now 40 chaps to your left coming at you through the big boulder' and we would shoot those guys down. And I'm pretty sure that the enemy hasn't yet figured out as to how we managed to know their exact route up. I'm sure they must have thought that we were almost a company atop this position. Quite a few of us were already injured; I had got a bullet in my leg and splinters in my calf and had begun to bleed profusely. Towards the end, a situation arose where I had only two bullets left with me in my rifle – and that rifle belonged to my dead radio operator. In my hurry and concern for my boys and the task, I had taken off in my full uniform and I had even forgotten to remove my red collar dogs. I realized my folly much, much later; when I was in the thick of battle. So when I found out that I was down to the last two bullets, I made a quick resolve, one bullet for myself when it comes to that. As for the other one, I decided to take one chap with me before I went.
My boys were also quite tensed up when they all realised that our moment of reckoning was finally staring us in the eye. I mean, when you realize that your death is arriving within a few minutes, it becomes that much more agonising and difficult. On the other hand, when you don't know, and death comes to you suddenly, it is okay and is probably a part of life. But here it was approaching us in another few minutes so I quickly bid a mental goodbye to everyone I held dear to me. I was suddenly woken up from my reverie by the crackle of my radio set. It was my officer from the other mountain position, with a frantic message, 'Sir, I can see about 35 men moving up for another counter-attack;" I thought to myself, 'Boy! This is it; the moment has finally come to say 'adieu'
My boys also looked at me for some reaction, I could feel the palpable tension in the air. I have always believed: a dash of humour can relieve a lot of tension in your life. I had to alleviate their tension quickly and firm their resolve to fight to the end. The were- were cursing and using the choicest of abuses even as they advanced, I gave it back to them in equal measure, with all the Punjabi that I knew. I turned to my boys and said, ' Dushman tumhare commanding officer Saab ko gaali de rahe hain aur tum log chup-chaap baithe ho?!' Now funny thing is that a Gorkha Johnny doesn't know how to give gaalis, and as far as discipline and obedience goes, he is unmatchable.
So they looked at each other and I could read the look in their eyes, it said, 'Saab ne hukum diya hai toh gaali dena hi padega. They looked around and wondered, who could perform this difficult task, and finally nominated one amongst them to give the gaalis. He got up and bellowed seriously, Pakistani *, tum idhar aayega toh tumhara mundi kaat degaa! I turned around and told him, 'The Pakistanis will surely die but they will die laughing that Gyan Bahadur can't even give proper gaalis !' They all broke into laughter and that kind of revved them up and got their josh back up again and they all said, 'Abo tah kukri nikalera taeslai thik paarchhu (We will take out our khukris now and sort him out) we'll fight'
I radioed the Artillery Officer attached with us, located on the other mountain spur of 'Kukarthang' and asked him whether he knew where I was, and he replied in the affirmative. I then asked him to use me as a reference and give me several rounds of rapid-fire support. He was shocked! He tentatively wondered whether I wanted him to direct our Artillery fire, approximately 100-odd rounds on my head. We are talking about the Bofors round with its devastating effect – its such a powerful gun! I had to take a chance; I preferred to die thereby own gunfire, rather than get captured by the enemy. And by now, even the enemy knew that our ammunition was running low and as the seconds ticked by, the enemy crept closer and closer 40 yards 30;35 yards;25 yards I yelled at him and said that I didn't have the time and to just do what he was told! He did and I could hear the deadly whistling screech of the shells (usually the forebearers of death) coming at us, from the Gun position several kilometres behind us. My boys and I took shelter in the cracks of the huge boulders and the 100-odd rounds thundered and crashed all around us with a beautiful but deadly blast of shrapnel and flame. The temperatures suddenly rose due to the burning cordite and for a few seconds, we were engulfed in comfortable warmth, in otherwise the prevalent cold. We could see the Pakistanis (who were advancing in the open), being blown to smithereens right in front of us. They didn't know what had hit them. Several times they tried to close in for the kill since we had no ammunition left, but with the help of our accurate and prompt artillery gunners, we sent them reeling back with heavy casualties.
We held on to the position for 36 hours without a wink of sleep or a drop of water to drink. We had not eaten a morsel of food for over 48 hours and were weak because of hunger and the cold. After 36 hours or so, we shifted our position slightly away, as a deceptive measure. Meanwhile, my second-in-command moved up with the reinforcements and we finally consolidated our position. KHALUBAR finally was ours. The victory gained after such great sacrifice of my brave boys was perhaps the sweetest thing for me, and nothing, repeat nothing, can ever better that.
As correctly assessed by all of us, once Khalubar fell, the Pakistanis ran from all the adjoining areas! We subsequently routed them from 11 formidable positions and we quickly pushed them across the LOC – a line of control.
The 'GORKHAS' had created such terror and dread in the minds of the Pakistanis that when one of the Prisoners of war (POWs) was captured; his FIRST request was to see a GORKHA soldier. I asked one of my boys to go to him and pull out his khukuri, It was a funny sight.
The nations highest gallantry award, the PARAM VIR CHAKRA was awarded posthumously to young Capt. Manoj Pandey for his valour and supreme sacrifice in the battle of Khalubar. For its sterling performance, the battalion was awarded a unit citation.
We also earned the title of 'THE BRAVEST OF THE BRAVE' for having won a Param Vir Chakra and an Ashok Chakra (Lt Puneet Dutt had earlier won the AC in J&K in '98). For individual acts of bravery, we won a bagful of gallantry awards.
The President awarded me the Vir Chakra for inspirational leadership and conspicuous bravery of a very high order.