"Aabuieee hos hola tado ko deuta bhanda, cheu ko bhut nai kaam lagcha" says I, "hundaina" I verbally shudder.
So there we are, a beleaguered looking D'Mams and I, in that thado dokan by the terso galli. We are meeting after a long gap. He has remained vocally mute, and there I was like every other Darjeelingey, living my life on the margins, trying to get by, not make much noise, lest the cops take a note or the local Chema ko khema goons and have me arrested for a perceived slight or insult.
Since December, 2017 I have deactivated all my social media handles, I don't exist in social media. I did that after a bunch of college kids were picked by up the cops in the middle of the night, for allegedly writing posts in support of Aftero – you know that difficult one.
"Tiger Zinda Hai" is what he had written after Aftero had surfaced in Delhi to give ANI an interview.
That very night, local cops hauled him up and he spent some time in police custody and later judicial custody, where he languished, till his aging mother begged and pleaded with Chema ko Khema goons and pledged her 7 generation long allegiance to them.
Another one was picked up, simply because who was heard talking to his friend about the eminent return of Aftero – The Tiger. His father was smarter, he went directly to the boss of the bosses down in Siliguri, instead of spending time with the local Chema ko Khema goons.
The very next day that kid was released. Not only that, though he did his graduation by distance course, tyo pani jhundera pass, that kid has also been appointed as a teacher-in-charge in our local school.
To his credit though, he flipped the very next day of his arrest, and like a tossed coin, now posts profoundly insightful posts that read something like…
"Jojo ko boli, 
 banduk ko goli, 
 Nepal ma Oli, 
 India ma Koli
 Vote koslai Bholi?
 Only, for Chema ko toil" 
or the more subtle
"Old is old, new is gold"
or even subtler
 "Aju din ho bibar 
 Jaad haina nigaar
 Titiri ko achar
 Naya soch, Naya Bichar
 What'a combo, sir ji" 
or the subtlest of all…
"Mo ta khandina coffee
 Kina linu mo riks
 I don't want Bournvita
 I only want Horlicks"
So that, there, is why I quit social media.
I also quit supporting those in power. It was my silent protest. My personal-revolt against those scary midnight knocks. My tiny rebellion in solidarity with those who had gone underground, in support of our dreams and aspirations.
All that changed though, when Aftero and Azingar – the one who gobbles everything, decided to show up in Kalkata and declare their undying love for Chema, the very same Chema one of whose khema and cops had terrorized the entire hills.
I couldn't believe what was happening. For many days, I feverishly hoped that there was a greater plan afoot to fool Chema. Like a criminal mastermind, I had started to see conspiracy and connections everywhere. It's a master plan, obviously so that Aftero could return and secretly dig TMC roots? Actually, there is a secret understanding to fool Chema, I convinced myself.
I must confess, I went through all the seven stages of reconciliation. Till I arrived at a point where I have convinced myself that the Sapno ka Saudagar who equated our dreams to his, was just lying and using us for votes. I have convinced myself that, for our issues to live on, our regional parties have to live survive. In fact, I have now become a firm believer in this theory, so much so that I have re-joined social media and am today actively convincing people to vote against the Sapno ka Saudagar or his fascist, racist, communal party.
That is precisely what I was trying to do at that thado dokan by the terso galli.
"Buieee hos tado ko deuta bhanda, cheu ko bhut nai kaam lagcha" says I, "hundaina" I verbally shudder.
"Arey bhanich, kasari buddhi palayo timro?" asks D'Mams?
"No, I thought and thought and that's how I came to realize that fascist, racist, communal party was only using us for our votes" I said
"So, who do you think will fulfill their promises"? asks D'Mams? and even before I can answer, he goes, "Chema? or one of her Khema?"
The thought of voting for that ruthless Chema who is responsible for all the terribleness that has afflicted our hills or one of her Khema, leaves me enraged. Then I think of the fascist, racist, communal party not fulfilling their promises, and I am left confused.
So I do, what I usually do in such circumstances, turn to D'Mams for his insightful insight, and ask him instead, "espali ke kaso?"
D'Maams gives me a thoughtful look and goes, "Timro sunau na?"
"Buieee hos hola tado ko deuta bhanda, cheu ko bhut nai kaam lagcha" says I, "hundaina" I verbally shudder.
He gives me his impish smile and goes, "Thikai ho… tara have we become like a wife used to living with an abusive husband?" he questions me?
Unable to understand his flow of thought, I ask him to explain and he goes, "Haina… think about it… there are many wives who get beaten up black and blue by their husbands on an almost daily basis… the whole village advises the wife to dump that piece of shit, yet they don't leave their husbands and walk out… every once in a while when the abuse is extreme, the wife determines to leave… but finally stays back… she has her logic, she thinks of her children if they have one, she thinks of the little sense of security she gets in the familiar surroundings and hopes in the hearts of her heart that her abusive husband will change for the better… after extreme violence the husband too calms down for a few days, and tries to appease the wife with a few goodies and some words of love… but, eventually the man turns abusive again and the cycle continues…"
"Has our community become that desperate" he asks? I am thoughtful.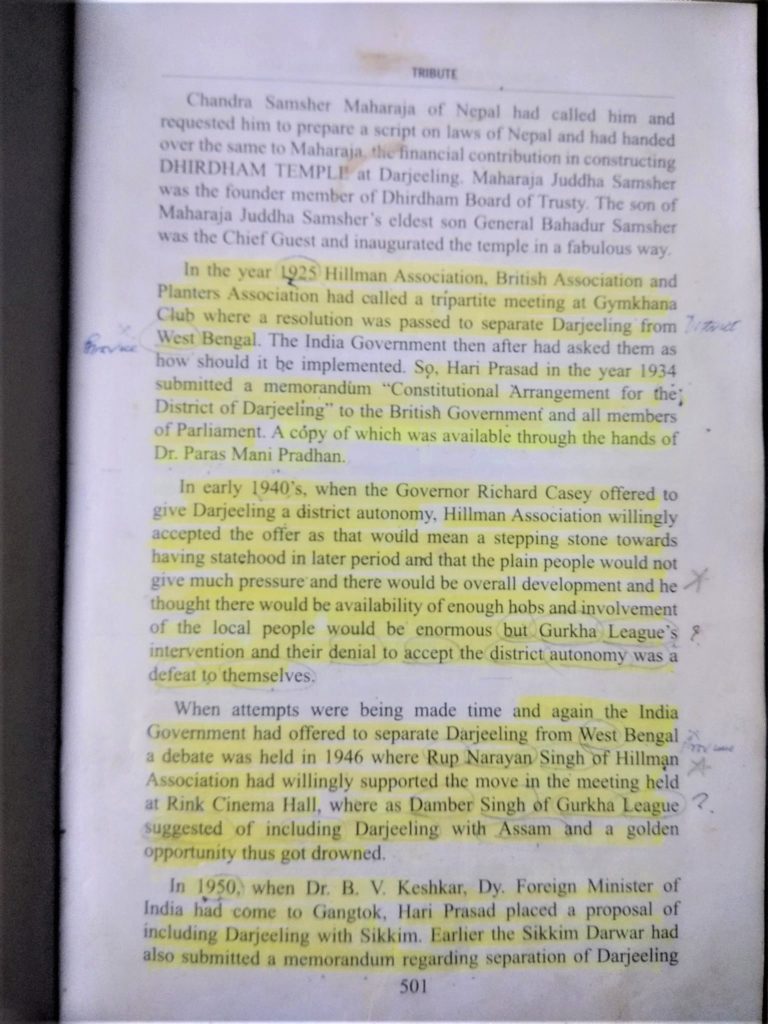 "I have never seen a community suffering from more Stockholm Syndrome than ours' right from before the Independence. In early 1940s it was All India Gorkha League which protested against granting of Autonomy for our district. They protested against separation of Darjeeling District in 1946 again, and ABGL's Damber Singh Gurung demanded that our region be merged with Assam instead. After 1986 andolan, Subash Ghising helped CPIM win the MP elections many a times under one pretext or the other – Vote Boycott, Leasehold Land, Ceded Land, No Man's Land, Hague, Article 371 he found many issues to distract the people with. Similarly, today the Original and Duplicate are in a race to appease their masters in Kalkata despite the innumerable atrocities our people faced under Chema – we are sympathetic towards those who killed us and are expressing our desire to see tyrant become the Chief Minister again…"
"What can be more pathetic than that?" he questions
I have no answers to his hate filled rants. Hate against my set beliefs and things I have convinced myself of.
So I do what all intellectuals and activists do, I give him a label and assert that he has "turned into a fascist, racist, communal party loving Bhakt."
"Tapai-lai chai darlagdo khale bhakti le tokeko jasto cha… tara yaad rakhnu ni Mam's tado ko deuta bhanda chai cheu kai bhoot kaam lagcha ni…"
He smirks at my jive and goes, "Bhanich tyo mili halcha… internet jamana ma kesko cheu… kata ko tado?"
I continue to drink in thoughtful silence… while he goes for his refill.